Each year the Food and Crop Assessment conducted by the United Nations brings bad news from Pyongyang. In late November the UN's World Food Programme (WFP) again issued a sombre warning: some three million people, especially children, nursing mothers, and the elderly, are in need of international food aid.
The reasons for North Korea's recurrent food shortage are manifold – structural problems, a planned economy, dilapidated infrastructure, a lack of agricultural machinery and inputs such as fertiliser, diesel, spare parts, tyres and plastic sheeting, limited arable land and acidic soil, a short growing season and, often, natural disasters.
The 2011 harvest has now been put in storage and distribution to the non-farming population has begun. With an increase in this year's (2011) domestic harvest of 8.5 percent over last year's poor crop, the North Korean government plans to increase rations to 380 grammes per person per day in 2012; up from 200 grammes a few months ago. But that is still only about 900 calories, the equivalent of five potatoes and three pats of butter for a whole day.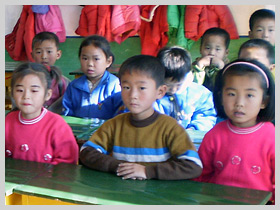 Children at school in North Korea
Yes, there will be some food on the table during the (always) very cold winter in North Korea. The real bottleneck will be next spring and early summer, when stocks will have been depleted and nothing can yet be harvested from the fields. Without international assistance, "belt-tightening" will again be the government's hollow motto - at a time when belts cannot be tightened any more.
But potential donors, particularly governments, have become tired of the WFP's annual appeals and show little interest in providing food assistance. They argue that there are other places in the world where the need for food aid is more obvious – North Korean society is regimented and the people suffer hunger quietly away from the world's gaze. But, make no mistake, the hunger and the suffering of ordinary North Koreans is very real.
Skeptics point out that the North Korean government could do more, could do better. No doubt it could - but will it? Many also express concern that international food aid might be diverted to the military, or be sold in the markets or hoarded. These are concerns with which aid agencies have been grappling for many years, and not just in North Korea. However, monitoring is far more effective today; 15 years of experience in implementing food aid programs in North Korea has gained the WFP unprecedented access.
Making sure food reaches the hungry
In fact, there are ways of substantially helping ordinary people in North Korea and ensuring that the risk of diversion is minimised. One would be a well-planned nationwide school meals programme for the children of poor families; this would not only improve their nutrition and health but also contribute to their education and to a better future for all in North Korea.
Ordinary North Koreans, adults and children alike, are almost all thin and short; they struggle for survival on a daily basis. They have neither the time nor the strength to change anything for the better. But North Koreans treasure education; there are educational facilities across the whole country and parents generally are eager to send their children to school.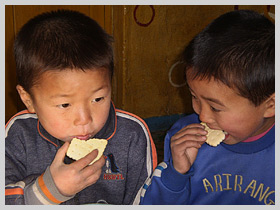 Children eating high-energy biscuits distributed
by the World Food Programme
Sadly, every day thousands of children arrive at school hungry, with little energy to concentrate. They fall ill easily, are often absent, and perform poorly. In winter the problems are even worse - the lack of heat in classrooms contributes not only to the general misery but also to illness, especially on the part of hungry and malnourished children.
For quite some time, the WFP has been distributing high-energy biscuits, produced in local bakeries in North Korea, to some 850,000 primary school children across the country. School officials readily admit that attendance is more regular whenever these biscuits can be offered. A snack of 60 grams (providing 270 calories) costs only five cents a day. Think of it: twenty happy children for one dollar! And recall the U.S. aid to South Korean children in the 1950s and the 1960s after the war: even today, South Koreans of that generation speak gratefully of the milk and cornbread they received in their schools.
But the provision of high-nutritional snacks to school children is not enough. Complete meals could be prepared in schools, kindergarten or nurseries, or by the community itself. Monitoring school feeding is far easier; the combination of the UN working at the source, and the parents and teachers protecting it at the destination, provides assurance that aid reaches the right people.
No funding, no food
The problem is that such a school programme can only have a lasting, major positive effect if it can be continued for a long period of time. It requires committed donors. The WFP has successfully planned and implemented school programmes in other countries and could do so in North Korea. But in 2011 the WFP received only 31 percent of the funding needed for its' work in North Korea; the prospects for meeting its latest appeal, for 120,000 metric tons of international food assistance to support three million vulnerable people for the next twelve months, are bleak.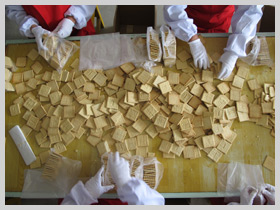 High-energy biscuits being produced
in a factory in North Korea
It takes eight or more weeks to source, purchase, bag and ship international food aid to North Korea, and then a few more weeks to have the food transported and distributed to hungry children throughout the country. To have a school lunch programme in place by next spring, funding needs to be pledged soon, and no later than early 2012.
About a third of North Korean children today, the country's future generation, are malnourished. Can we, the international community, really remain indifferent to this scale of suffering? Should we just ignore the long-term consequences not only in North Korea but for the Korean peninsula as a whole if the people in the north continue to suffer from chronic food deprivation?
School meals programmes are not the only answer, but they provide food for development, quite literally. Helping the malnourished children of North Korea is an investment in their future, and, above all, it is an act of humanitarianism.
Katharina Zellweger is a present the Pantech Fellow in Korean Studies at Stanford University. She has been involved in aid programs for the people of North Korea since 1995 with a focus on humanitarian, rehabilitation and development assistance, first working for Caritas Internationalis and afterwards for the Swiss Agency for Development and Cooperation of the Swiss Ministry of Foreign Affairs.
Views expressed are those of the author and do not necessarily represent those of The Elders or The Elders Foundation.