What do Kofi Annan and his successor at the head of the UN mediation mission in Syria, the Algerian Lakhdar Brahimi, have in common? They are both members of The Elders, an NGO which, since 2007, brings together former statesmen, Nobel Peace Prize winners and other international dignitaries, led by Nelson Mandela. A sort of council of elders of the global village, which aims to work for world peace. With varying degrees of success…
"We are a group of political has-beens", jokes Jimmy Carter, 87, in London, to members of a charity that helps young people into work. He isn't referring to former Presidents of the United States – most of the people in the audience weren't even born when he was in the White House – but to the former leaders with whom he forms The Elders, an NGO which brings together a group of former statesmen, "people who have held important positions."
The man behind the organisation is Sir Richard Branson, the British billionaire and founder of Virgin ("I'm sorry I can't shake your hand, I've just spent four hours kitesurfing across the Channel"). The idea came to him in a conversation with the musician Peter Gabriel, as they travelled on a plane back from a concert in support of Nelson Mandela. One of them mentioned that many communities entrust their elders with the task of resolving their disputes, while the other wondered why a global village could not have its own group of elders.
"A diplomatic Buena Vista Social Club"
"We had to convince Mandela to be part of this group. Since the idea was to bring together people with moral authority, he was our number one target," recalls Peter Gabriel, on the occasion of The Elders' fifth anniversary. So Mandela had to be onboard, but the group also includes other "ancients" of all ages – Carter is the oldest member of the Elders, whilst Mary Robinson, 68 years old, former President of Ireland and UN High Commissioner for Human Rights, is the youngest. They are from all continents – from the former President of Brazil, Fernando Henrique Cardoso, to the Indian microcredit pioneer, Ela Bhatt. The group includes half a dozen Nobel Peace Prize laureates in addition to Nelson Mandela (who won the prize in 1993): the President of the Truth and Reconciliation Commission in post-apartheid South Africa, Archbishop Desmond Tutu (in 1984), the former UN Secretary-General, Kofi Annan (in 2001), Jimmy Carter (in 2002), and the former President of Finland, Martti Ahtisaari (in 2008), who is a well-respected mediator, though less well-known among the general public. Another recipient of the Nobel Peace Prize and founder of the Grameen microcredit bank, Muhammad Yunus, withdrew from the group because he did not have enough time, whilst Aung San Suu Kyi from Burma is no longer an honorary member, following her election to Parliament. "The idea was to have twelve and we have ten," notes Branson.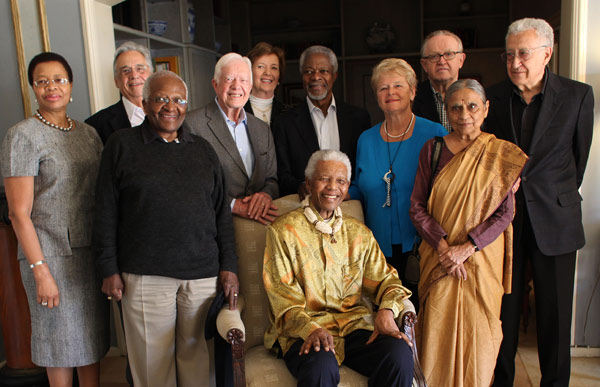 The Elders reunited with Nelson Mandela in May 2010. From left to right: Graça Machel, Fernando Henrique Cardoso, Desmond Tutu, Jimmy Carter, Mary Robinson, Kofi Annan, Gro Harlem Brundtland, Martti Ahtisaari, Ela Bhatt and Lakhdar Brahimi. Jeff Moore | The Elders
On the wall, a photograph shows this group of elders gathered around the former President of South Africa, looking like a sort of diplomatic Buena Vista Social Club. They meet every six months. In between meetings they travel in small groups. At the beginning of July, three of them – Tutu, Carter and Robinson – went to London to introduce the Elders to some 2,000 people in the Barbican Hall.
Carter emphasises that "we have learned to get to know one another", whilst Robinson teases Tutu for being bossy. The others call him "Arch". Carter speaks freely. Of the attacks launched by American drones in Pakistan ("a human rights violation"), of the incarceration rate in the US, which has multiplied by seven since his time in office ("we have to stop putting people in prison because they are caught in possession of drugs, since this only effects the poor and the minorities. White people are not put in prison for the same offence"), of the Middle East ("for the first time in 25 years, the United States is no longer playing a role in the peace process"), of the Supreme Court's "stupid" decision to allow companies to finance American political campaigns. Despite being the first presidential candidate to court the "born again" Christian vote, he now deplores the fact that so many religions fail to accord the same rights to women.
In his speech at the launch of the NGO in 2007, Nelson Mandela said that "they do not have careers to build, elections to win, constituencies to please. They can talk to anyone they please, and are free to follow paths they deem right, even if unpopular." Mary Robinson confirmed that "we no longer have any personal ambitions", whilst Desmond Tutu added that "as we grow older, we become more tolerant. When we are young, we divide the world between those who are wrong and those who are right, and we are more impatient." At the moment, these elders have all the time in the world. Indeed, they begin their meetings and even their teleconferences, with a moment of silence.
Reaching out to those beyond the pale
The idea that former heads of state should have a diplomatic role is fairly recent. Paradoxically, it was Jimmy Carter, whose presidency is not considered to have been a success (see "Le paradoxe Jimmy Carter"), who created the post-presidential function. George Bush senior entrusted him with the task of monitoring the elections in Panama in 1989, thereby launching Carter's new career. Up until Carter, at the end of their presidency former US Presidents would leave Washington and slip into an almost invisible form of retirement. Some of them consolidated their legacy by creating presidential libraries, or by publishing their memoirs or correspondence. Barbara Perry, researcher at the Miller Center at the University of Virginia, points out that "it was Carter who created the impression that a former President who is not engaged in philanthropic activities has really missed out on the opportunity to play an important post-Presidential role."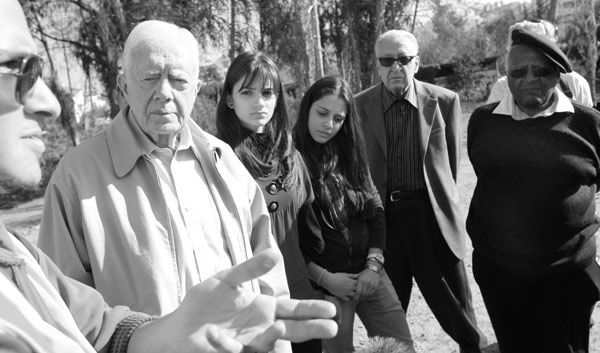 Jimmy Carter, Lakhdar Brahimi and Desmond Tutu in Kyrenia, north of the UN buffer zone, in Cyprus, 2009. Jeff Moore | The Elders
The question of the professional career of former presidents has never been so topical. It's a simple question of arithmetic. When he left the White House at the age of 56, Jimmy Carter became the youngest former President since Calvin Coolidge, who had left office 50 years earlier. Since then, America has elected other young heads of state, for whom a role has had to be found once they left the Oval Office: at the end of his two terms in office, Bill Clinton was 54 and if Barack Obama isn't re-elected in November, he will become a former President at the age of 51. There is a similar tendency in Europe: Tony Blair was replaced in office at the age of 54. Regardless of whether or not Nicolas Sarkozy, who is 57, withdraws from political life, it's difficult to imagine that he will be doing nothing for the next 30 years. Particularly since, as life expectancy increases and post-presidential periods begin earlier, these periods are also becoming longer.
Jean-David Levitte, the former diplomatic adviser to Nicolas Sarkozy and Jacques Chirac, believes that, "Carter created something that was lacking on the international stage." Enter the Carter Center, a foundation dedicated to promoting democracy and human rights. The Center sends observers to monitor elections in countries in which democracy is fragile, such as Egypt in May and June during the presidential elections. It also runs health projects. But above all, Carter gave the international community the idea of using former presidents as spokespersons for last chance operations, when the states themselves can no longer intervene.
The Elders maintain contact with the people no one else wishes to talk to. The visit made to North Korea in 2011 by Carter, Robinson, Ahtisaari and Gro Harlem Brundtland, the former Prime Minister of Norway, made the US State Department cringe. A year later, the Elders also met the Hamas leader, Ismail Haniyeh, who has been ostracised by the international community. In May 2012, Jimmy Carter and Lakhdar Brahimi, the former Algerian Foreign Affairs Minister, UN diplomat and also a member of the Elders, went to Khartoum in Sudan (the first country visited by the group in 2007) and, at a time when very few diplomats were prepared to take the risk of visiting the country, they spent an hour and a half in the presidential palace with Omar al-Bashir, who is indicted by the International Criminal Court for crimes committed in Darfur. Kenneth Roth, Executive Director of Human Rights Watch, believes that "while contact with diplomats may give the impression of legitimising contested leaders, the Elders' visits do not produce this effect."
The Elders serve as intermediaries for the international community by meeting with those beyond the pale. Martti Ahtisaari, Gro Harlem Brundtland, Mary Robinson and Jimmy Carter visit Pyongyang in April 2011. Richard Lewis | The Elders
The Elders have called for the lifting of sanctions on Zimbabwe. Carter feels that sanctions never work, whilst Tutu, who supported the boycott of South Africa during apartheid, will not see things in quite the same way. Of course, this is not the only subject on which the members of the group have differing positions. The tone adopted within the group ranges from the pragmatism of Martti Ahtisaari, who fears that press releases that express an excessive amount of outrage will only deny the Elders the possibility of maintaining contact with the different parties in a conflict, to the idealism of Desmond Tutu. "Life has taught me that your origins do not determine how far you can go", he says to a group of young people hanging on to his every word in front of a tower block on a housing estate in north London.
"Greater moral authority than political authority"
At the end of the Elders' session at the Barbican, the Channel Four news presenter who moderated the discussions concluded by saying he hoped that "everyone will leave the hall thinking that they can make a difference." Paradoxically, this is also a criticism aimed at the Elders. In the words of Jean-David Levitte, "they are engaging characters, nice elderly people who express kind messages. People listen to them dispensing generous and general advice, but one has the impression that once they have been politely listened to, everyone just gets back to what they were doing beforehand. The fact that they are a disparate group makes it difficult for them to speak with a strong voice. They have not tackled an issue with a great degree of energy."
The Elders would probably not have anything to say in response to this criticism. They know that they run the risk of achieving meagre results and even when they do get results (Sudan withdrew its troops from the Abyei region, which had been claimed by South Sudan, following their visit), they are reluctant to take credit for them since they feel that their role is to support negotiations already underway. However, as Hubert Védrine, who is part of a group of former foreign ministers led by the former Secretary of State, Madeleine Albright, acknowledges, "for people who have been able to take the pulse of global relations, this remains a passionate subject, far and away from internal struggles and yesterday's opinion polls. It's like a drug."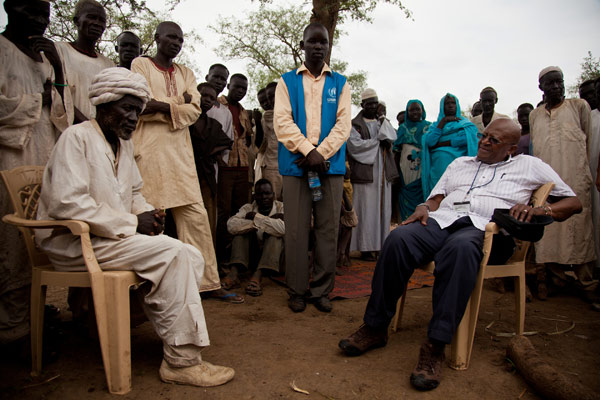 Desmond Tutu at Yusuf Batil refugee camp in South Sudan, July 2012. The Elders have travelled to the region several times to encourage dialogue with neighbouring Sudan. Adriane Ohanesian | The Elders
Rather than focusing on burning issues, the Elders are keen to turn the spotlight on issues that they consider to be of fundamental importance. This is the approach that has enabled them to gather more than 170 NGOs together under the banner of "Girls Not Brides", in order to fight against child marriage. "This type of neglected issue is a good example of what they are able to do," emphasises Kenneth Roth. "These are areas in which they could act alone [the majority of the Elders have their own foundation], but if they were to act on an individual basis then people might well ask why a certain individual is getting involved. It is much easier to act as a group." At the Rio Summit in June, together with two other Elders, Fernando Henrique Cardoso and Gro Harlem Brundtland, the grandmother of sustainable development, they expressed their outrage at the lack of ambition shown in the final agreement. "The fact that we travel around the world makes a real difference," says Carter. But they have no illusions about their power, as Mary Robinson readily admits, "we have greater moral authority than political authority."
"We cannot expect them to be magicians"
The Elders lend a helping hand to efforts that are already underway, but they do not undertake ad hoc mediation. Kofi Annan had made himself available to act as a mediator in Syria. Although this UN mission, from which he has now withdrawn, illustrates the limitations of the powers of former statesmen, it has certainly not damaged the prestige of the Elders. Indeed, the UN has chosen another member of the group, Lakhdar Brahimi, to take his place. There is no doubt that, just like Kofi Annan, he has been chosen to undertake this role because of his reputation, rather than because he is a member of the Elders. Will he have more success than his predecessor? The head of an NGO has commented that "Annan's aura on the international stage helped him to be accepted by both the Russians and the Syrians, but his mediation has not changed anything. But we cannot expect these former leaders to be magicians."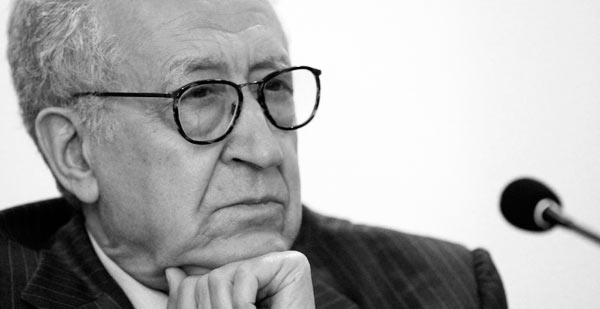 Following Kofi Annan's resignation, the UN has handed the Syria mediation mission to Lakhdar Brahimi. Both are members of The Elders. Mohamed Nureldin Abdallah
"They have a good image and you'd want to have them on your side" says a source a the Quai d'Orsay. But not all former leaders have such a good reputation. Michel Rocard's "private visit" to Iran the day after the election of François Hollande did more than just embarrass the new President, who quickly denied that this was an official mission. One of the things we continue to hear about people who have retired from politics is that "there are those who just won't let go, just as others collect retainers for sitting on various boards of directors." Of course some of them are not acting in an entirely selfless fashion, after all, for an address book only gets old if it isn't used. Tony Blair, the former British Prime Minister who retired from power at a very young age and who commands the highest fees, is cited as an example of a former leader mixing various activities and interests. An official at the Quai deplores the fact that "it was a sham for him to be a member of the Quartet [the negotiating group on the Middle East, comprised of representatives from the United States, Russia, the UN and the European Union], he never once went to Jerusalem."
But not all of these grandfather figures limit their activities to diplomacy. Henry Kissinger made the most of his past as a former Secretary of State throughout his life. By going to Japan to make a speech for $2 million at the end of his presidency, Ronald Reagan was the first former leader to draw attention to the amount of money he and his fellow former leaders could make. The former German Chancellor, Gerhard Schröder, did himself no credit by working for the Russian company, Gazprom. Bill Clinton is a more complex example of the art of wearing different hats at the same time. He is prepared to stand alongside the Democrats during election campaigns, but places himself above party interests when organising fundraising activities for the victims of the tsunami in 2005 and of the earthquake in Haiti in 2010, together with Bush senior and junior. Whilst his foundation is a powerful instrument (particularly since Clinton carefully chooses the issues he would like his foundation to address), the former president is also a champion when it comes to paid speeches – even Monoprix has made use of his services! – and big publishing contracts.
It would appear that Blair and the money-making circuit are not welcome amongst the Elders. But in reality, things are not so clear-cut. "I sometimes find myself making speeches for a fee," admits Carter, "but I give the money to my foundation or to my wife's [mental health foundation]." During the visit to the charity which helps young people into work, one of them explained to Carter that he is a painter. "I like to paint in my spare time too," replied the elderly gentleman, "and I could even sell my paintings. Not because they are particularly good, but just because I am a former President." In those few words, Carter was almost summing up the dilemma faced by a former powerful person who can give value to anything he wants, merely by putting his name on it. This means that he has to reflect long and hard about what he is doing.
Jimmy Carter gives one final piece of advice to these young people: "do what I have done, do not hesitate to have more than one career." In order to justify his new roles, he could have shared this comment, made by Nixon years after his resignation, with his audience. "Anyone who has been the President and has therefore had the capacity and the power to affect the course of events, cannot be satisfied to not be there any longer."