Listen to the voices of those impacted most by climate change, Mary Robinson and Ricardo Lagos tell investors working towards low carbon economy
"Having local voices, indigenous voices, women's voices at the highest table when decisions on the future green economy are being made, is vital to climate justice."

-Mary Robinson
Urgent action by investors is vital to achieve a sustainable transition to a low carbon economy, but the voices of those impacted most by climate change – marginalised, vulnerable communities from indigenous peoples to poor ethnic minorities – must be heard and respected by decision makers to prevent new strategies from compounding existing inequalities.
This was the key message from a lively debate held in San Francisco on September 13 on the sidelines of the Global Climate Action Summit in partnership with philanthropy network NEXUS Global, featuring Mary Robinson and Ricardo Lagos.
Proving her point, Chadian indigenous rights activist Hindou Omarou told the audience bluntly:
"[indigenous people's] life is already the low carbon economy… Our lives are the ones that are sustainable, but our voices are the ones that remain at the back."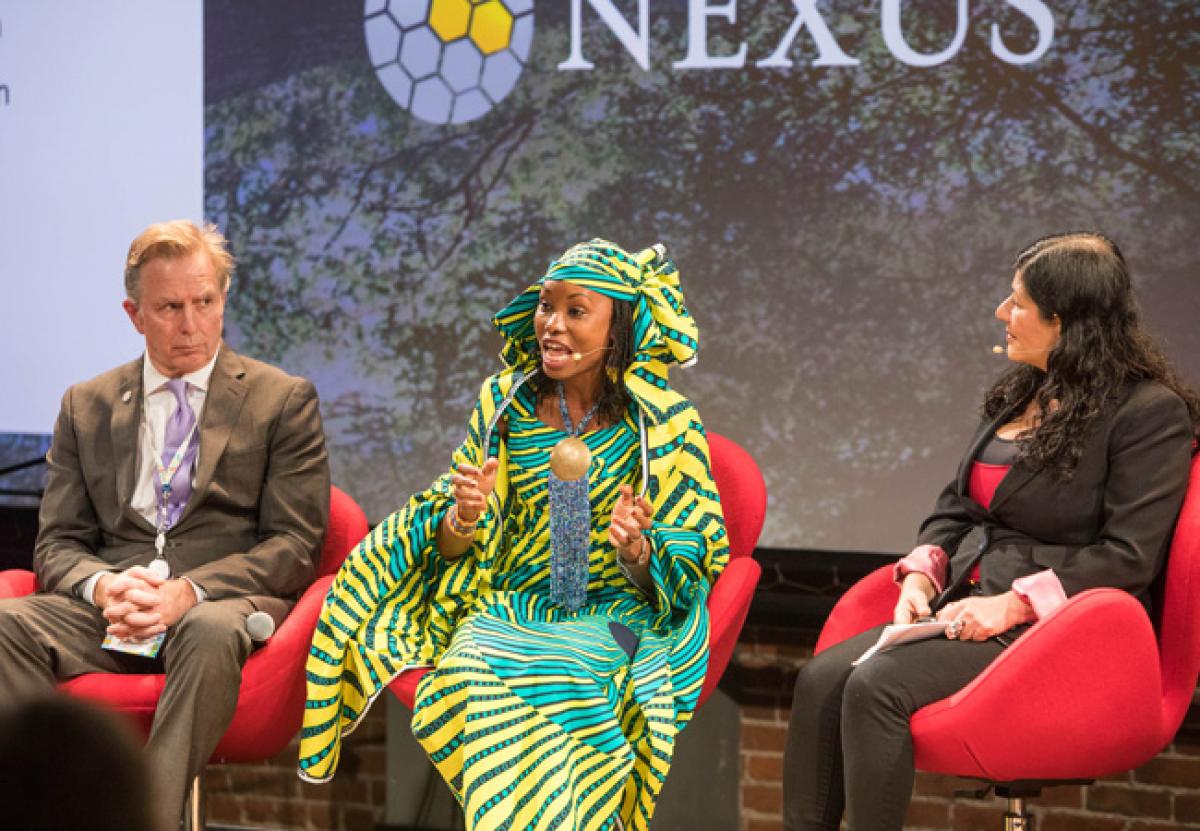 The debate is a crucial one. Old business models around energy, production and consumption are being either radically restructured, or abandoned. Entrepreneurs and investors are exploring new possibilities associated with the "gig economy", renewable energy production and artificial intelligence to name but a few.
But if these new economic ventures are to deliver sustainable, inclusive new models of growth and development, they must have social justice and accountability embedded into their DNA or they will risk repeating the mistakes of the past.
The event brought together investors and energy providers with people from the communities in which energy production is located, with all its environmental and social consequences. It was a valuable forum for exchange and mutual learning, and an important counterpoint to GCAS, where attendees was predominantly drawn from politics, business and academia in the Global North.
In his panel discussion with indigenous leaders, investment managers, and human rights activists, Ricardo Lagos set out the scale of the challenge:
"[We face] a new global paradigm where will need to consider GDP per emission over GDP per capita. How are we going to ensure the dignity of the people continues? ... This [question is] crucial to the survival of humanity on this planet."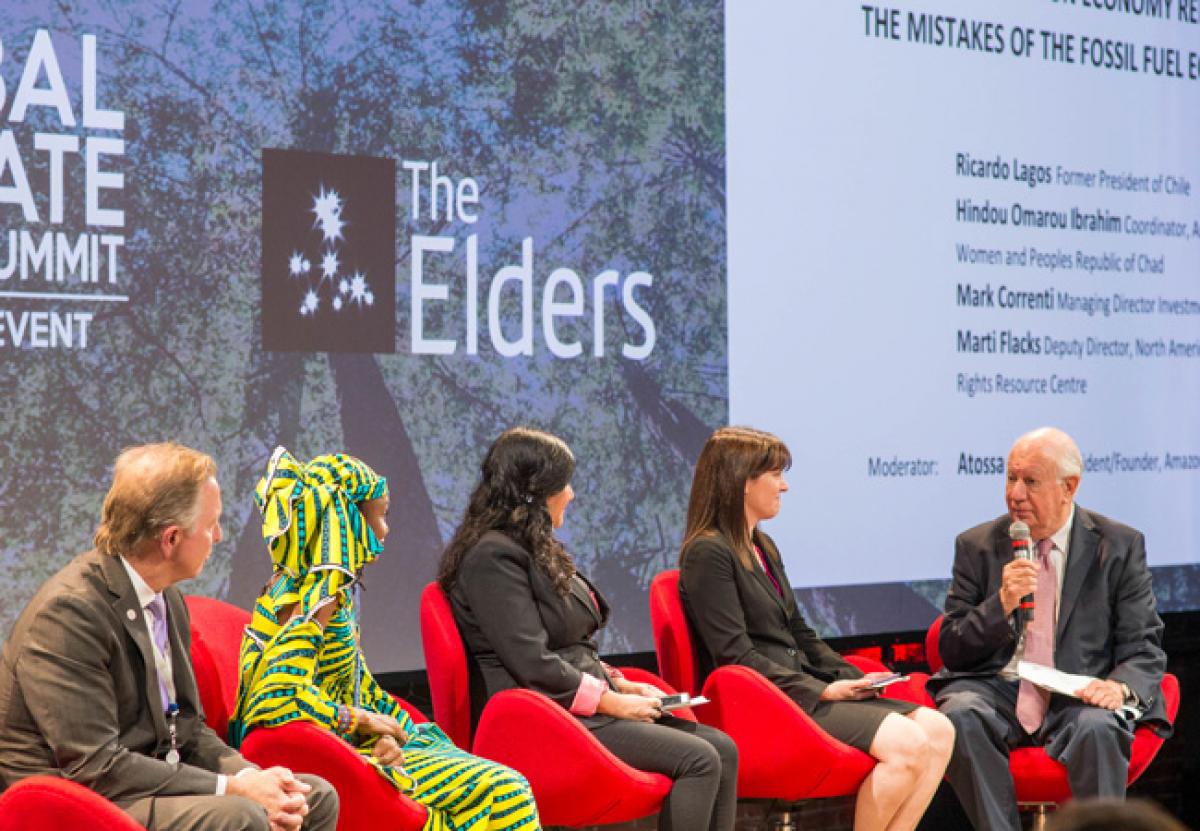 For both The Elders and NEXUS, meeting this challenge means acknowledging the intersections between climate change, race, gender, political and economic exclusion, the role of government and the imperatives that drive a free market economy.
Reverend Lennox Yearwood, President of the Hip Hop Caucus, a group set up to empower young people to participate in policymaking, argued that:
"women, indigenous communities and people of colour must be at the forefront of climate action, because for them it is a true matter of life and death."
Social investors and philanthropists need to think more about the impact of climate of their portfolios, as does the green tech investment community regarding the social impact of where they put their money.
Aaron Berger was proud to share, on behalf of the NEXUS Working Group on Energy Innovation and Environment, $1 billion was dedicated toward climate solutions for fiscal year 2018 by members and their families, with a longer-term goal of $20 billion committed by 2020.
All stakeholders also need to consider the climate debate in the wider history of struggle for political and civil rights, in the United States and the wider world.
Reverend Gerald Durley, a veteran civil rights activist, made this point explicit in his opening remarks:
"I never thought I'd find myself in the climate change movement…. I've spent my life fighting for civil rights and against police brutality… but I realised: we are all on this planet together and climate change is an equal opportunity to destroy it. It is the civil rights issue of our time."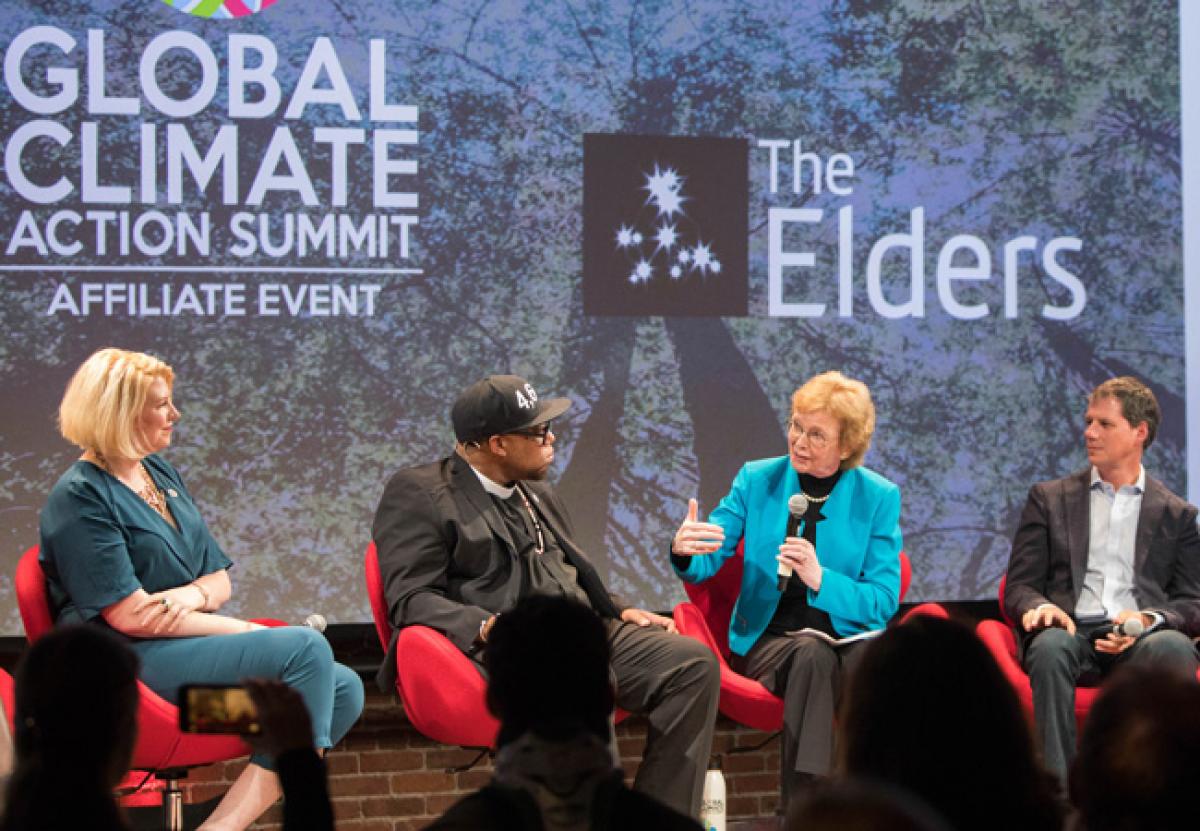 His cri de coeur led Mary Robinson to recall in her concluding remarks the words of The Elders' first chair, Desmond Tutu:
"Archbishop Tutu described himself as 'a prisoner of hope'. We really are at a tipping point now… and we must all be prisoners of hope. We must work so hard, because the situation is so serious. With NEXUS' doing this the 'climate justice way', perhaps we really can still make it."