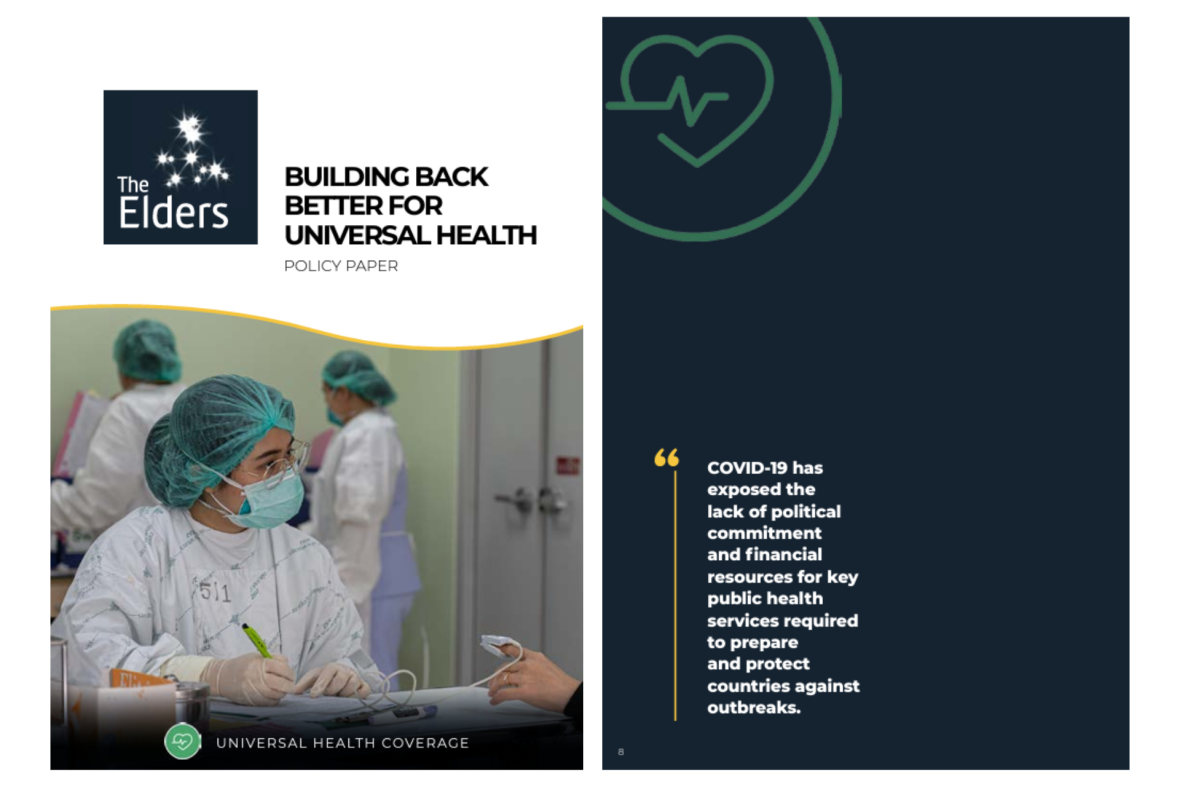 The Elders have launched a new report calling on leaders to make the achievement of Universal Health Coverage a top priority in their government's response to the COVID-19 pandemic.
COVID-19 has exposed the acute vulnerabilities of our deeply interconnected and globalised world. No country, regardless of its size, wealth or technological sophistication, can tackle this crisis alone and we all remain vulnerable to this deadly virus. As the Director-General of the World Health Organization has highlighted, "no-one is safe until everyone is safe".
In their new report "Building Back Better for Universal Health", The Elders note that UHC remains the best way to strengthen collective health security to protect us against future pandemics.
The Elders call for the post-pandemic recovery to be focused on three key pillars:
1. Prepare public health systems for future pandemics
Learn the lessons from COVID-19 and ensure public health systems are better prepared for future pandemics. Define pandemic preparedness and response as a "global public good" that necessitates a multilateral approach, with states and global institutions pooling resources, capacity and expertise.
Support the ongoing work of the WHO, the Global Preparedness Monitoring Board and the Independent Panel for Pandemic Preparedness and Response with full respect for their independence and expertise.
2. Prioritise Universal Health Coverage at a national and global level
Five years on from the adoption of the Sustainable Development Goals, make their implementation a key priority, including on Universal Health Coverage so no-one is denied the healthcare they need on grounds of cost.
Turn the disruption to economic, social and political models engendered by COVID-19 into a catalyst for wider pro-health reforms as governments recalibrate budgets and political agendas.
3. Promote healthier societies via holistic polices and social development
Tackle root causes of disease and sickness, including poverty, malnutrition, hunger and structural discrimination of women, girls and marginalised groups
Support and empower the WHO; show global solidarity via sufficient funding to tackle the fragility of health systems in the global South
Read the full report: "Building Back Better for Universal Health"