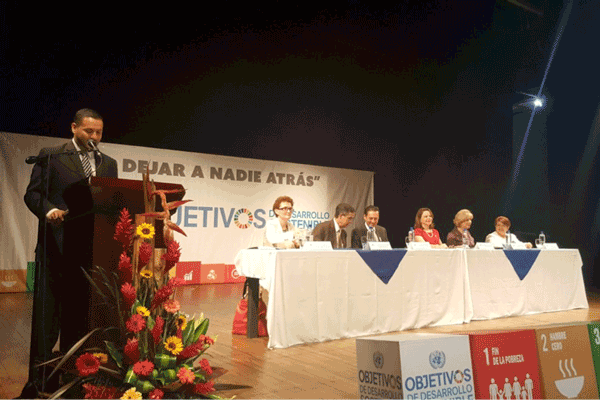 One year on from the signing of the Sustainable Development Goals, how are countries in the developing and developed world making progress in their implementation? In the first of a series of guest blogs on this issue, Dr. Monica Araya from Costa Rican civil society group Costa Rica Limpia reflects on coalition-building and grassroots efforts to support the SDGs.
Recent weeks have seen a flurry of activity in Costa Rica ahead of the first anniversary of the Sustainable Development Goals. On 9 September, the government, NGOs and companies launched a "national pact" for the SDGs.
The Pact is billed as the first of its kind and brings together a broad cross-section of Costa Rican society. The executive, the legislative and judiciary were all represented, as were older CEOs of big companies, young entrepreneurs in jeans and thick-rimmed glasses, representatives from urban collectives, journalists, open-data activists, academics and of course the sustainable development community, working on carbon neutrality programmes, ecosystem services and waste and water management.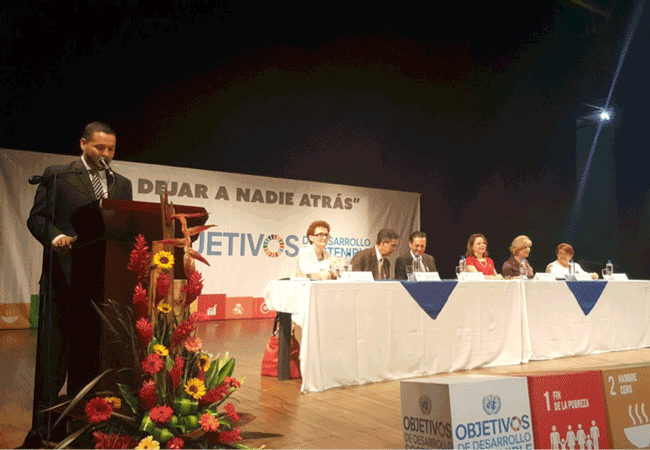 The launch of the 'National Pact' for the SDGs in Costa Rica. (Credit: Government of Costa Rica)
I celebrate the effort to build a Pact rather than a "master plan" with hundreds of objectives, because we need to build coalitions to make sure we can implement the SDGs effectively. The 17 goals do not belong inside one single ministry or industry or civil society group. And they are not the sole responsibility of the State. The Ministry of Economic Planning will facilitate the co-creation of solutions and the United Nations Development Programme will support the Pact, but these solutions will come from all of us.
Passionate champions of change are already working on the ground. The same applies to meeting the objectives of the Paris Agreement on climate change.
In Costa Rica, one of our greatest challenges is how to reform our transport system in a sustainable and climate-friendly way. Thus far the leadership on sustainable mobility has come from civil society, not the State (the climate agenda has traditionally focused on forests and agricultural programmes). The good news is that the Paris Agreement carbon mitigation targets require actions to decarbonize our transport sector, our main source of carbon pollution.
Our group, Costa Rica Limpia, advances ideas and partnerships on how to improve public transport and to switch to electricity instead of gasoline so we break from fossil fuels.
I see a positive dynamic linking the SDGs, Paris targets and the people. Our ecosystem of urban entrepreneurs and sustainable transport advocates keeps growing. We are working with and aim to work with transport companies, car dealerships, and the ministries of environment and of transportation. Others are working with municipalities to enable innovations from the ground up on urban planning and on bike paths and empowering pedestrians.
I also see innovations from civil society in pushing cultural shifts. They include our first national car-free day. There are stronger pressures to develop-bike friendly infrastructure and to promote pedestrian pathways. We have conducted the first citizen consultations on climate and energy and have produced educational materials about climate change, renewables and electric mobility.
We advocate a fossil-free Costa Rica and we see growing traction for this idea in civil society, the private sector and even inside some people in public office. If we succeed we will demonstrate that the Paris Agreement and the SDG Pact are drivers of transformation. The more these targets encourage changes on the ground that prove beneficial for people, the more we will see citizens becoming allies of sustainable development. Costa Rica could become a good "laboratory" showing innovative ways to implement sustainable development on the ground.
Dr. Monica Araya is a Costa Rican author and adviser on clean development and politics of climate change in Latin America. She is Founder & Director of Nivela (a think tank) and Costa Rica Limpia (a citizen observatory). She previously worked for E3G, the Costa Rican Ministry of Foreign Trade, the Yale Center for Environmental Law & Policy, and the Organisation for Economic Cooperation and Development (OECD).
More information is available at www.monicaaraya.org and on @MonicaArayaTica
Views expressed are those of the author and do not necessarily represent those of The Elders or The Elders Foundation