While negotiations for a new global climate agreement take place this week in Bonn in preparation for COP21 in December, Filipino climate change researcher Mima Mendoza explains how a changing climate is devastating her home country and outlines why a strong, fair and equitable global deal is crucial for all parties.
The Philippines is no stranger to high-risk weather events. As geography would have it, typhoons are commonplace – on average, 20 storms pass through the country's area of responsibility, and out of the 20, around 10 make landfall. This is normal and part and parcel of life in my country.
In 2011, Tropical Storm Washi killed more than 2,000 people when it made landfall in Mindanao. In 2012, Typhoon Bopha came to visit, once again hitting Mindanao and killing 600. And in 2013, Typhoon Haiyan caused death and destruction to the islands of Visayas, killing over 6,300 of my countrymen.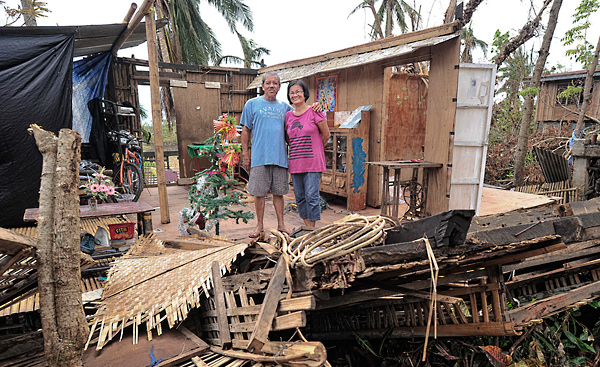 A couple stand next to their Christmas tree in the remains of their home. The walls and roof of their house were blown off when Typhoon Haiyan struck in 2013. Photo: International Organization for Migration | Blue Motus
My country has lost thousands of lives to extreme weather events and, since 2009, these events have displaced over two million Filipinos. Since 2011, damage from typhoons has reached over $4 billion, mostly affecting our agricultural industry, which employs one-third of our labour force.
Many of those displaced by the storms have yet to return to their homes. Rehabilitation and reconstruction are an uphill battle – and as livelihoods are lost, typhoon victims fall prey to trafficking and exploitation. What's worse is that there is hardly any room to breathe: the cycle repeats when the next super-typhoon crashes onto our shores.
This is becoming the new normal; it is the grim reality that Filipinos like me face every day. Climate change is a reality, and countries like the Philippines are living in its deadly clutches.
The 2015 Global Climate Risk Index ranks the Philippines as the fifth most at risk from extreme weather events aggregated from 1994-2013. When Typhoon Haiyan struck in 2013, the Philippines took the first spot in the Index, making it the most climate-affected country in the world. It's a list that no one wants to be on, let alone be at the top.
It is heart-breaking to see that the same developing countries are consistently in these lists.
All countries at high-risk from climate change are finding it increasingly hard to create sustainable development.
In the Philippines, the continuous onslaught of extreme weather events has made it difficult to implement infrastructure development programmes that provide basic social services and aid poverty alleviation.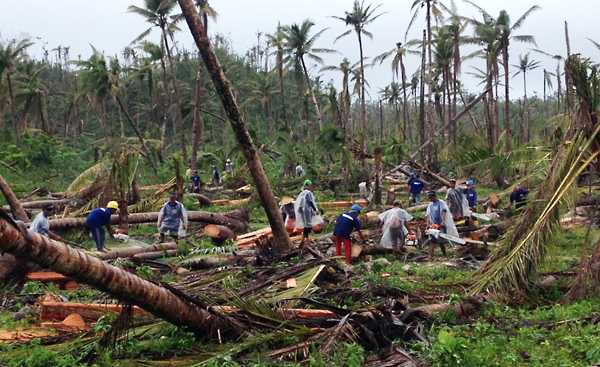 Locals use the blown down trees as construction materials to rebuild the homes destroyed by Typhoon Haiyan. Photo: Mathias Eick | EU/ECHO
Ensuring food and water security is a mammoth task, and adapting to calamities is becoming increasingly difficult due to the strength and close intervals in-between the typhoons.
It is the poor who are impacted first and worst by these disasters, bearing the brunt of both the short- and long-term effects of extreme weather events. Worryingly, the science says it is likely to get worse.
It is ironic that the countries most at risk to extreme weather events – and most vulnerable to climate change – are those who have contributed very little, if nothing at all, to the global climate crisis. These countries are some of the world's poorest and like the Philippines, they lose a significant portion of their GDP to climate related shocks.
More often than not, development takes a backseat when survival becomes the priority.
The call for equity and justice cannot be any clearer and louder: the Philippines and other developing countries simply cannot afford to accept this new normal.
The big emitters must take responsibility and commit to ambitious emissions-reduction pledges.
It is also vital that financial support be given to developing countries, especially those most at risk of climate change, in order to ensure that those who are vulnerable are able to adapt accordingly to the impacts of climate change.
This is a matter of life and death for us. For the Philippines, as well as many other developing nations, our country and our way of life are at the frontlines of climate change. The lives of the victims of Washi, Bopha, and Haiyan will never be the same again. But for them, and perhaps the rest of the developing world, this is only just the beginning. Immediate and ambitious action is only the minimum of what countries like the Philippines need in order to survive.
Mima Mendoza ((@ironmima on Twitter) is a graduate student and teaching assistant at the Ateneo de Manila University. She is also a research associate of the Climate Change and Environment Cluster at the Ateneo School of Government.
Views expressed are those of the author and do not necessarily represent those of The Elders or The Elders Foundation