Elders Statements
The Elders warn against political violence in Burundi and urge free, transparent elections
In the lead up to Burundi's elections, The Elders urge leaders and the general public to abide by The Arusha Accords to "entrench democracy and bolster peace and stability".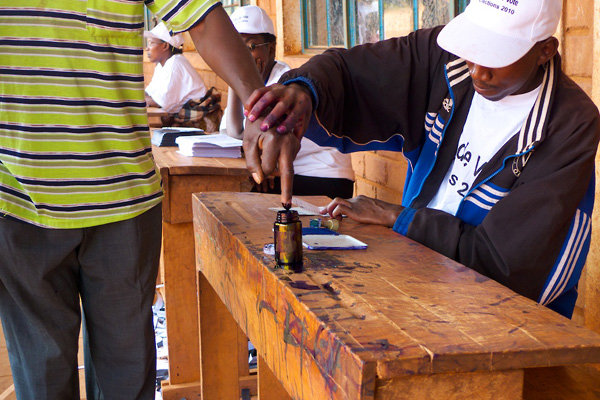 Person voting in the Burundi legislative elections in 2010. Photo Brice Blondel, CC BY-NC 2.0
LONDON - The Elders express their concern about growing tensions in Burundi ahead of presidential elections scheduled for June.
"The Elders call on all the political actors in Burundi to abide by the spirit and letter of the Arusha Accords in support of the national interest," said Kofi Annan, Chair of The Elders.
The Arusha Accords of 2000 brought to an end 10 years of civil war in Burundi that caused some 300,000 deaths. They were facilitated by Nelson Mandela, the founder of The Elders, and this means the Elders feel a special sense of concern for their integrity.
The Elders are concerned that any failure to respect the central provisions of the Accords, especially presidential term limits, would undermine the trust of the Burundian people in the agreements, which could seriously threaten the peace and stability of the country.
They urge all the national political actors to implement the 2013 "road map for the 2015 elections", which underscores the need for a security environment that enables, inter alia: free, fair, transparent and peaceful elections; the right for all political parties to campaign unhindered; the acceptance of election results; and the proscription of violence.
The Elders condemn in particular any attempts to incite young people to engage in politically motivated violence and urge full respect for the recently signed charter on non-violence.
Finally, the Elders encourage the people and leaders of Burundi to work together with the international community to ensure that the 2015 elections serve to entrench democracy and bolster peace and stability, preconditions for the country's future economic development.
Media enquiries: [email protected]