In July, the Elders travelled to South Sudan and witnessed first-hand the humanitarian crisis taking place in the region. They welcome the generosity of the Omidyar family in donating funds towards improving the refugee situation in South Sudan, as well as the recent move by governments and international organisations to increase humanitarian aid to the region.
The Elders welcome the remarkable generosity of the Omidyar family in helping to address the humanitarian crisis in South Sudan, following the announcement on 5 September 2012 by the United Nations refugee agency (UNHCR) of a gift of US$500,000 from Pierre and Pam Omidyar. A donation of US$300,000 was also made to Doctors Without Borders/Médecins Sans Frontières (MSF), which has field hospitals in four refugee camps in Unity and Upper Nile states in South Sudan.
Pam Omidyar, who is a member of The Elders' Advisory Council, told UNHCR: "The Elders' recent trip to the region, and report on and the crisis in the Nuba Mountains and Blue Nile, compelled us to act at a humanitarian level."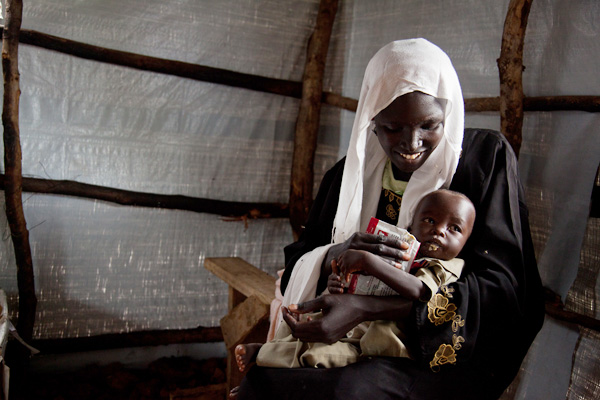 A woman feeding her child at Yusuf Batil refugee camp. Photo: Adriane Ohanesian | The Elders.
During their visit to Yusuf Batil refugee camp in South Sudan in July 2012, The Elders had called on the international community to respond to several humanitarian agencies' urgent appeals for resources to address this mounting refugee crisis. South Sudan is now hosting over 170,000 refugees from the Sudanese states of Blue Nile and South Kordofan – only a fraction of the 700,000 people who, according to the UN, have been displaced or severely affected by the fighting between the Sudanese army and the SPLM-North (SPLM-N). Most are internally displaced within Blue Nile and South Kordofan where humanitarian access has, to date, been extremely limited.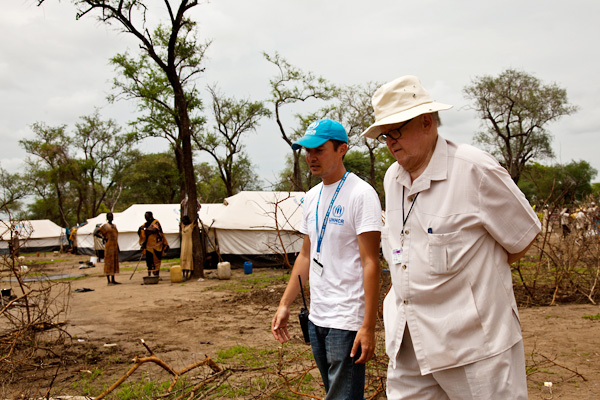 Martti Ahtisaari with a UNHCR official, walking the grounds of the refugee camp. Photo: Adriane Ohanesian | The Elders.
The Elders also welcome the recent decision by several governments and international organisations to boost their humanitarian aid for Sudan and South Sudan, including the European Commission and the UN's Office for the Coordination of Humanitarian Affairs (OCHA).
The Elders hope that these announcements can act as a catalyst for the international community to continue to address the severe funding gap faced by aid agencies working in the region's refugee camps. Some of their current challenges include alarming levels of malnutrition and other health-related issues, while heavy rains have led to flooding, hindered humanitarian access and prevented the relocation of refugees living in overcrowded sites.