A delegation of Elders met with US Secretary of State John Kerry, who announced last Friday that Israelis and Palestinians had agreed to discuss the resumption of peace talks.
Martti Ahtisaari later praised Kerry's efforts to restart the peace process, saying that he was "impressed by Secretary Kerry's tireless commitment to bringing Israelis and Palestinians back to the negotiating table after five years of stalemate."
L-R: John Kerry, Ernesto Zedillo, Lakhdar Brahimi and Jimmy Carter.
Ernesto Zedillo, Lakhdar Brahimi and Jimmy Carter meet with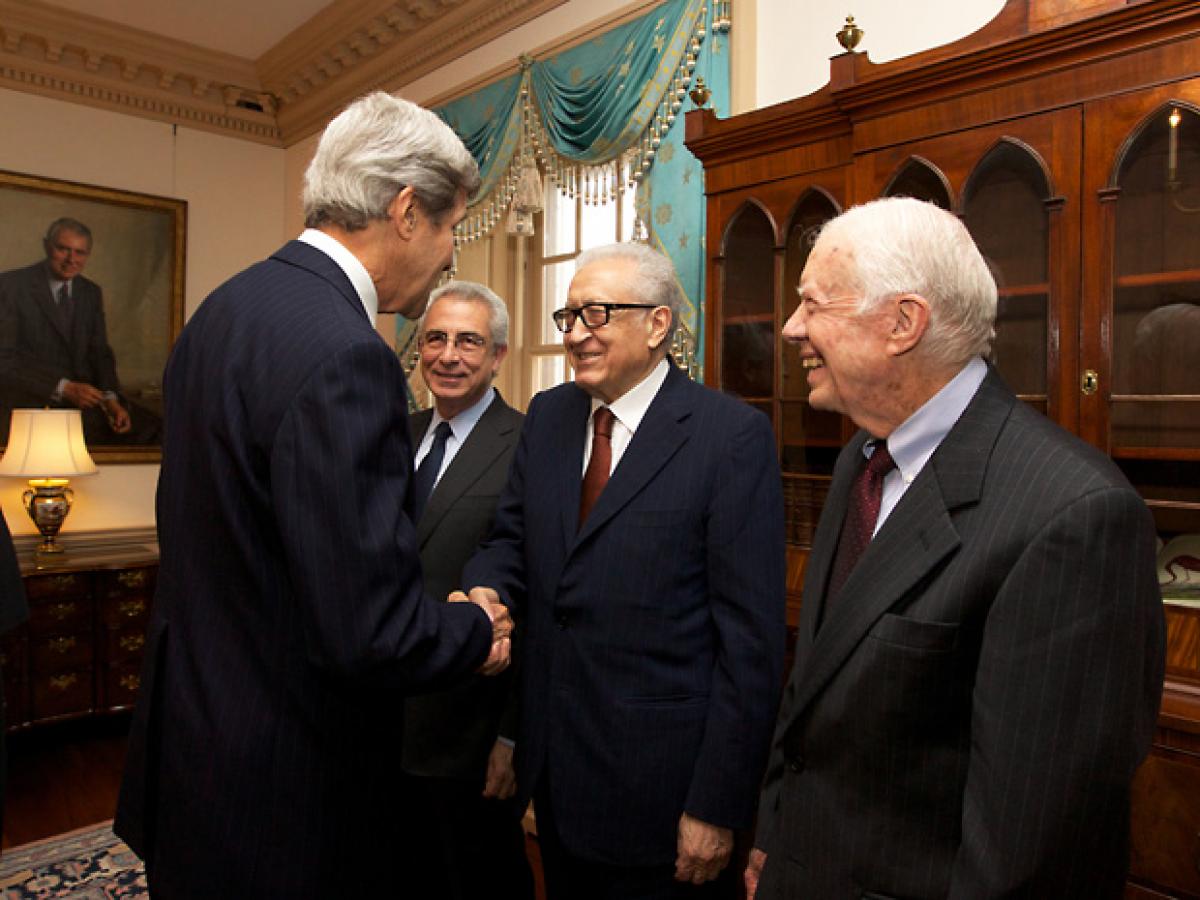 Several Elders also met with Barack Obama's National Security Advisor, Susan Rice, while in Washington.
Later that week, Jimmy Carter reported that both Kerry and Rice had assured him that the current Middle East peace efforts have the full support of the White House – and that there are even "glimmers of hope" within Congress.
The former US President also expressed hope in Israeli Prime Minister Benjamin Netanyahu and Palestinian Authority President Mahmoud Abbas. "Both leaders are ahead of their respective governments," he said, "but I think they are with the majority of their own people, who want to have peace."
L-R: Ernesto Zedillo, Martti Ahtisaari, Susan Rice, Lakhdar Brahimi, Mary Robinson and Jimmy Carter.
The Elders meet Susan Rice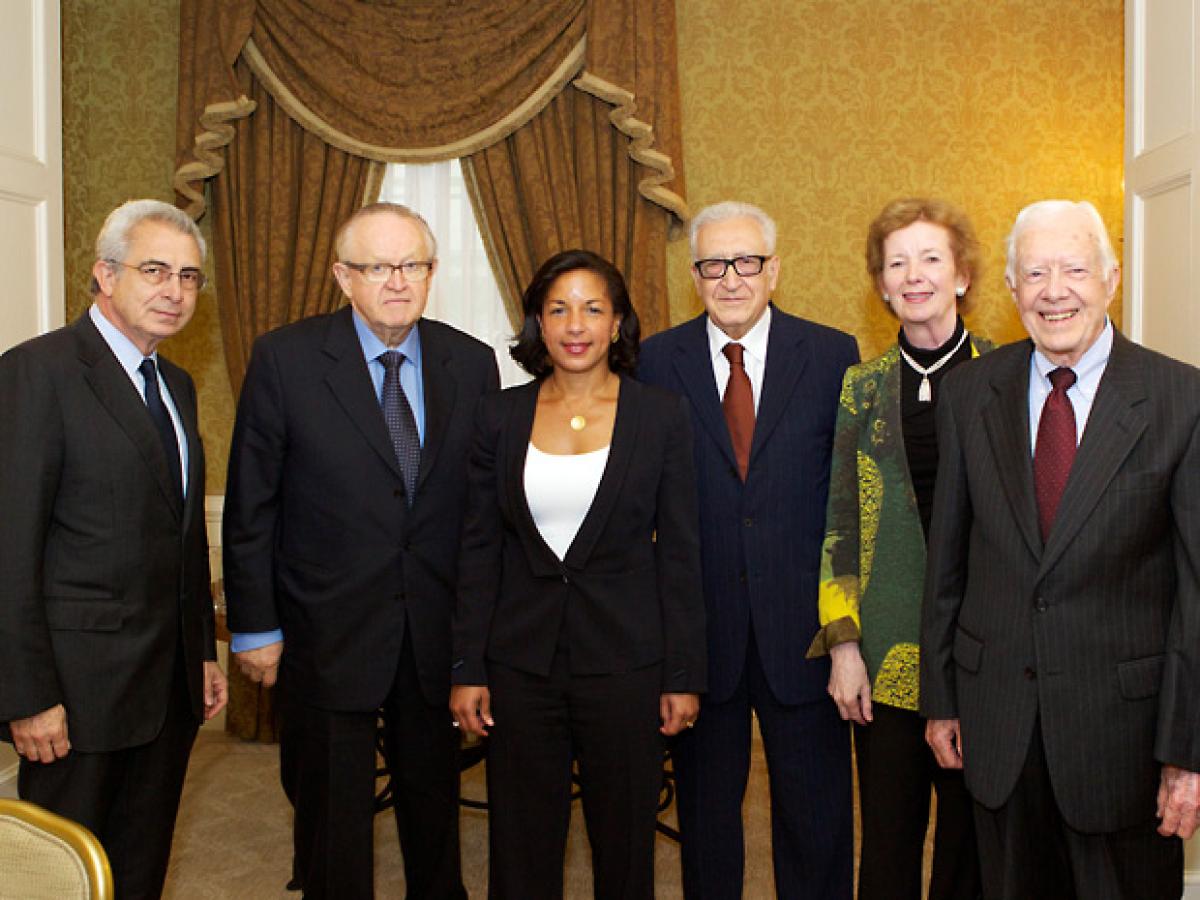 At a discussion at the Carnegie Endowment for International Peace, one of Washington DC's leading think tanks, Lakhdar Brahimi spoke about the urgency of pursuing a political process to end Syria's brutal civil conflict. In an Elders press release the following day, he said:
"There is no military solution to the Syrian crisis. Sending more weapons to Syria will only deepen the conflict. The flow of arms to both sides must stop.
"Media has been reporting over the past months about one side or the other having the upper hand. But neither side is in a position to win the war. And in the meantime, the killing and destruction continue.
"We must get out of this vicious cycle through a political process. It is extremely difficult to bring together those who have been killing each other for two years. But more and more people, including the Syrians, are recognising that the only solution to the Syrian catastrophe is an inclusive dialogue with all the countries that have an interest or an influence in this crisis."
Lakhdar Brahimi speaking at a public debate in Washington DC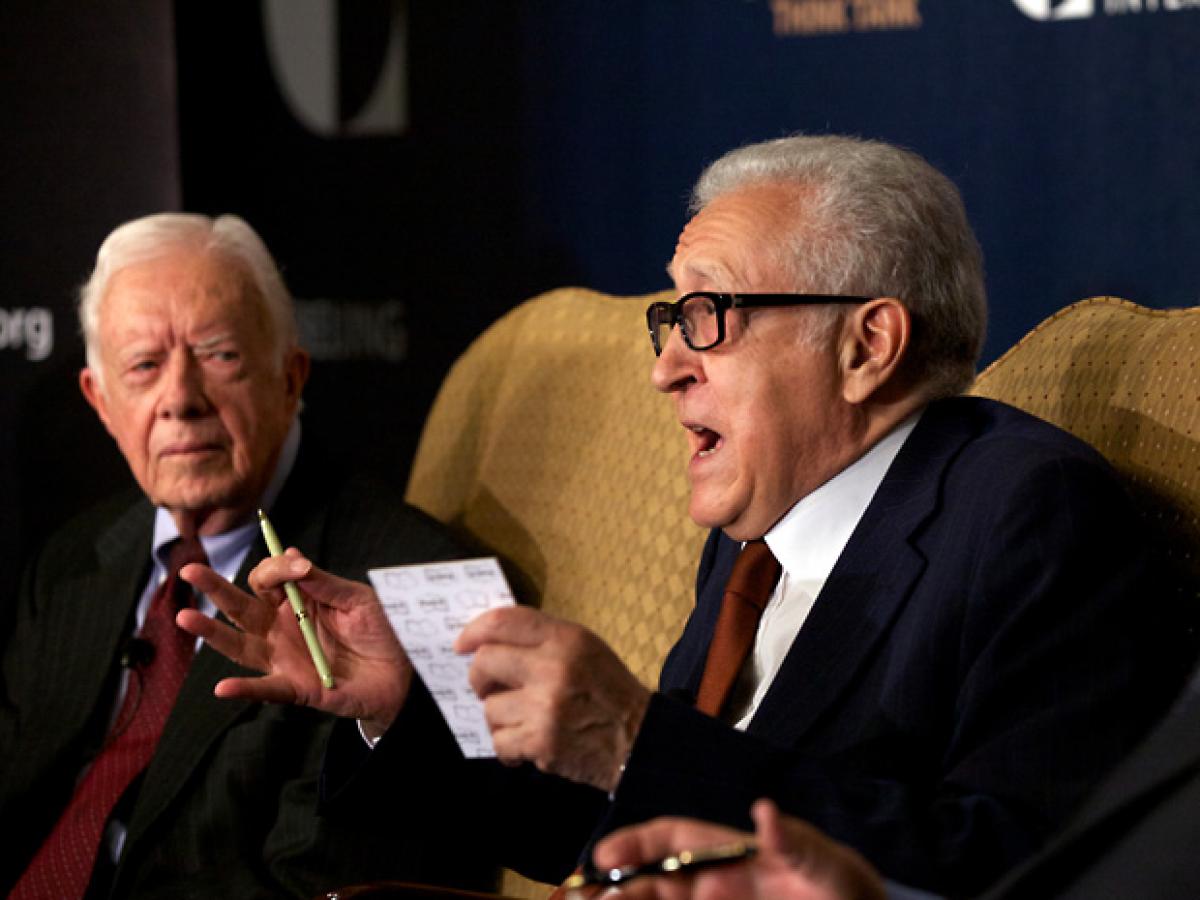 After travelling from Washington DC to London to continue their discussions on Middle East peace, the Elders met with British Foreign Secretary William Hague.
The Elders meet William Hague
The Elders concluded their visit to Washington DC and London encouraged and impressed by US efforts to revive the Middle East peace process. During a series of high-level meetings, media interviews and public debates, they discussed the prospects for peace in Israel-Palestine and in neighbouring Syria.
During their 3-day visit to Washington DC and London, the Elders met with senior government officials and policy experts to discuss the latest efforts by US Secretary of State John Kerry to restart the Middle East peace process. They also held public events in both capitals, focusing on the Israeli-Palestinian conflict and Syria's civil war.
Photos: Molly Riley | Jeff Moore | The Elders