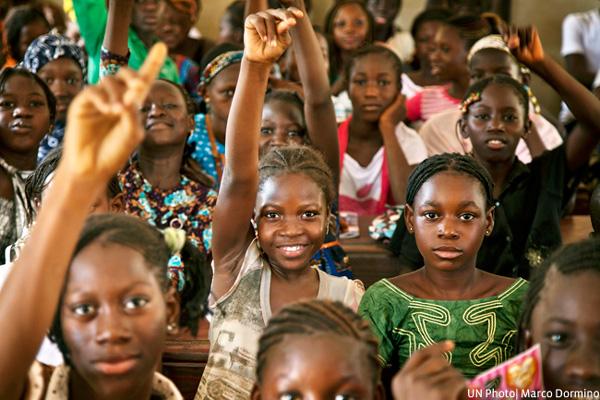 Dr. Alaa Murabit, UN High-Level Commissioner on Health Employment and Economic Growth, Michael J. Smith and Musarrat Maisha Reza mark International Women's Day by highlighting the link between the empowerment of women and girls and their ability to access education and health care.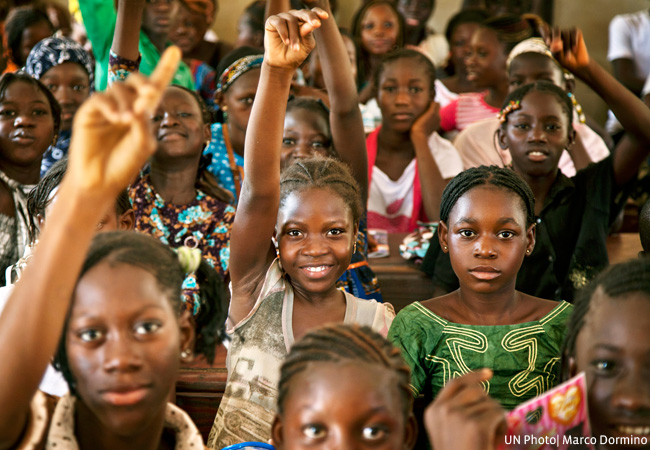 Students attend class at a public school in Taliko, a neighbourhood of Bamako. (Credit:UN Photo/Marco Dormino)
Gender equality is the focal point for human progression. This is clear from the UN Sustainable Development Goals, the "Project Drawdown" research on climate change led by Paul Hawken, and NGOs and think tanks from Human Rights Watch to the Council on Foreign Relations, among others. Their research shows that out of 130 million children who are out of school, 70% of them are girls.1 Investing in infrastructure to make education accessible for girls propels them out of poverty and initiates a snowball effect that reduces inequalities, health, population stress, economic growth, climate change, and the protection of the environment.
International Women's Day is a key moment to highlight how women's education and access to health care is key to their wider empowerment and brings benefit to society as a whole.
Educating girls reduces the incidence of maternal and child mortality, enhances nutrition, vaccination and health for children. It also breaks the cycle of poverty, ensures lower birth rates to relieve population stress, and empowers women's voices domestically, politically, economically and socially, significantly contributing to global peace and security.
With only a 10% increase of girls in school, a country's GDP increases by 3%2. In fact, when compared to educated men, educated and employed women reinvest 90% of their income into family whereas boys reinvest 30 to 40%3. Education and healthcare forms a bi-directional continuum which reinforces each other to enable girls and women to uplift themselves and therefore the economy.
However, girls' access to education is limited if healthcare is not accessible. If access to health care is limited, education ceases to be a priority for families. The necessity to attend school is overshadowed by illness. This is then compounded by wider issues of insecurity, poor governance and weak infrastructure, socio economic difficulty and culturally imposed barriers, all of which conspire to prevent girls and women from reaching their full potential in society.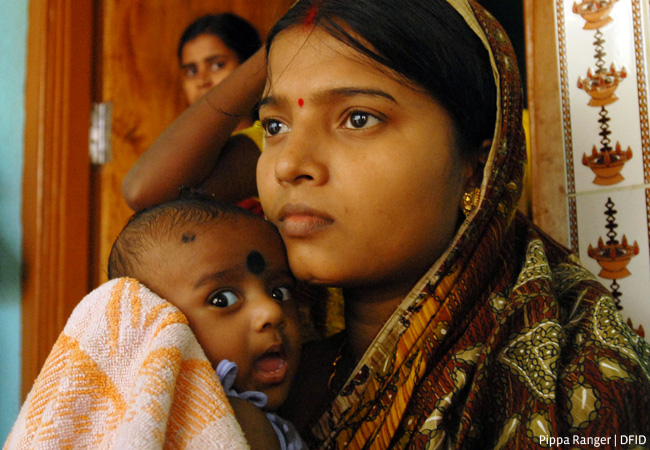 Ante and post natal care for mothers and babies in Orissa (Credit: Pippa Ranger/DFID)
The statistics reflect multiple health roadblocks that inhibit progress towards long-term economic security, such as maternal and infant mortality and the lack of access to family planning, safe abortion and contraception. Every day, nearly 1000 preventable deaths occur due to complications related to pregnancy and childbirth4. According to the WHO in 2015, over 300,000 women died during and immediately following childbirth4. Virtually all of these deaths occur in low-resource environments and are accompanied with serious wider consequences - children whose mothers die during childbirth are significantly more likely to die before their second birthday4.
The foundation of these problems lies in social constructs and gender inequality. There is a need to improve maternal care. Doctors, birth attendants and health professionals can only be successful when they are put in effective and functional settings. Many health centres and hospitals in resource-limited areas require vital and basic medical supplies to be effective. Things like antibiotics, oxytocin, safe blood transfusion supplies, transportation services for emergency care, and clean facilities - all of which can improve maternal care and birth outcomes.
Resources are one thing. But women need to be in full control of their own bodies and reproductive health, and must have available options when making decisions about pregnancy. According to the United Nations Population Fund, roughly 200 million women worldwide want but do not currently have access to contraceptives. Family planning and birth spacing are key components for women's health. Lack of access to contraceptives, political and social will, or in some cases, low drug supplies can all deprive women of the right to family planning.
Nearly 70,000 women die each year from unsafe abortions, with five million continuing to suffer long-term effects5. In fact, the WHO estimates that nearly 20 million unsafe abortions occur every single year5. We are also seeing a rise and return of the Global Gag Rule, which by cutting funding --- impedes [crucial] resources and access to safe abortions.
The common thread here is that women need and deserve full access to health care and education as part of their fundamental human rights. There should be no impediments to any women seeking care, medical advice or education regardless of race, language, religion or socio-economic background. When women and girls are educated and healthy, communities flourish: they are more productive, smarter and stronger. This is the message we should all celebrate and champion on International Women's Day.
Alaa Murabit is one of 17 Sustainable Development Goal Global Advocates, a UN High-Level Commissioner for Health Employment and Economic Growth, TED speaker and MIT Media Lab Director's Fellow. She was recently named a 2017 "Forbes 30 Under 30" for her work in global health policy.
Michael J. Smith is a cell biologist and an advocate for public health and access. He is the Health Research and Policy Intern in the Dr. Alaa Murabit Mentorship Programme.
Musarrat Maisha Reza is a skeletal muscle biologist and the Women's Leadership Research and Policy Intern for the Dr. Alaa Murabit Mentorship Programme.
---
1. http://www.clintonglobalinitiative.org/ourmeetings/PDF/actionareas/Why_Invest_in_Adolescent_Girls.pdf
2. http://www.politifact.com/global-news/statements/2016/apr/29/michelle-obama/michelle-obama-research-shows-educating-girls-can-/
3. http://www.un.org/en/ecosoc/phlntrpy/notes/clinton.pdf
4. http://www.who.int/mediacentre/factsheets/fs348/en/
5. https://www.ncbi.nlm.nih.gov/pmc/articles/PMC2709326/
Views expressed are those of the author and do not necessarily represent those of The Elders or The Elders Foundation