Desmond Tutu and Mary Robinson visited the youth charity XLP at the Andover Estate in Islington, north London. XLP works to help young people from disadvantaged and challenging backgrounds to raise their sense of self-worth and make positive choices about their future.
Elders Mary Robinson and Desmond Tutu touring the Andover Es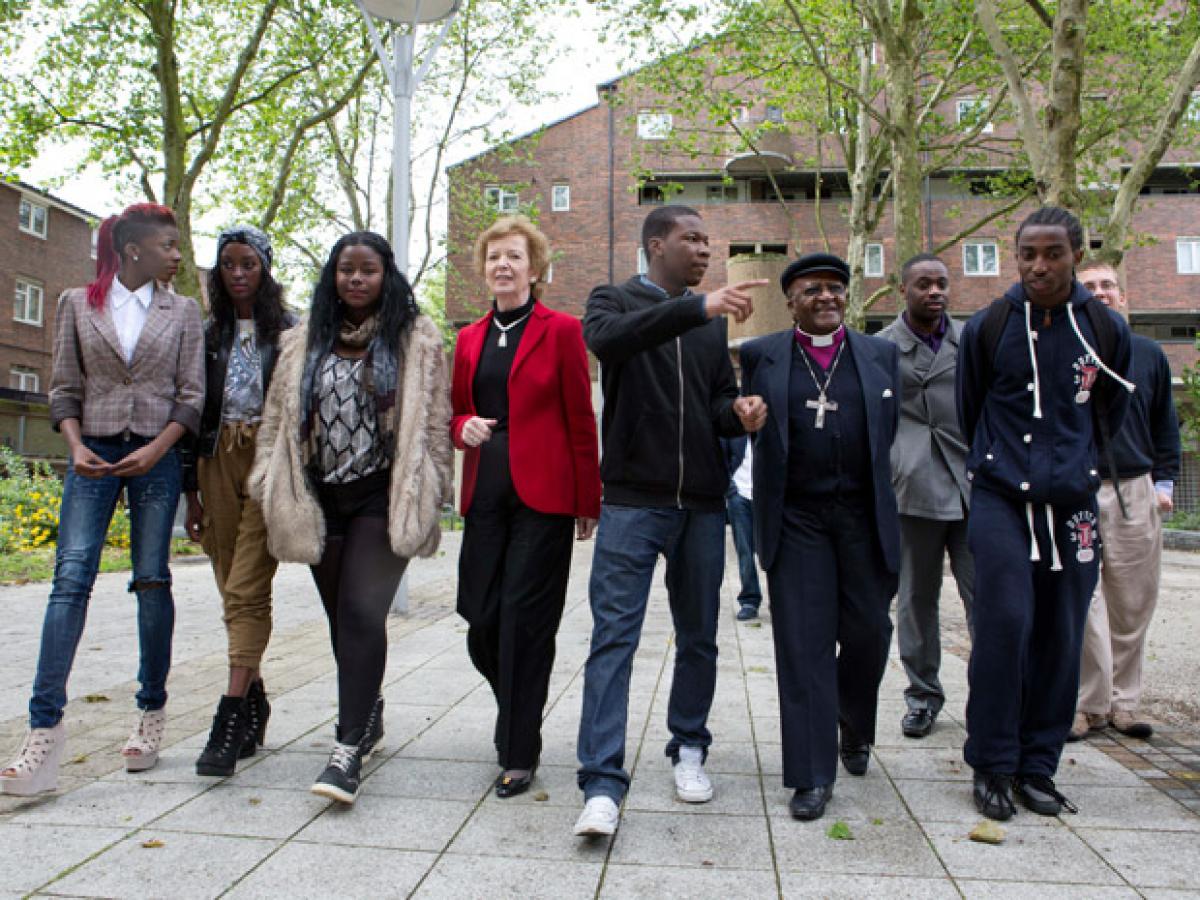 In their discussions with Desmond Tutu and Mary Robinson, the young people spoke about the lack of opportunity and negative influences which confronted them on a daily basis. The Elders heard that absent parents, teenage pregnancy, drugs and gang violence were among the many challenges they faced.
A young man whose life was transformed by XLP, who met the Elders, later remarked:
"Before meeting XLP, I was always angry; angry at my teachers, and at the way that people looked at my community. But XLP gave me the alternatives: continue going the way of my friends, or create my own future..."
Desmond Tutu and Mary Robinson on the XLP bus in London, hea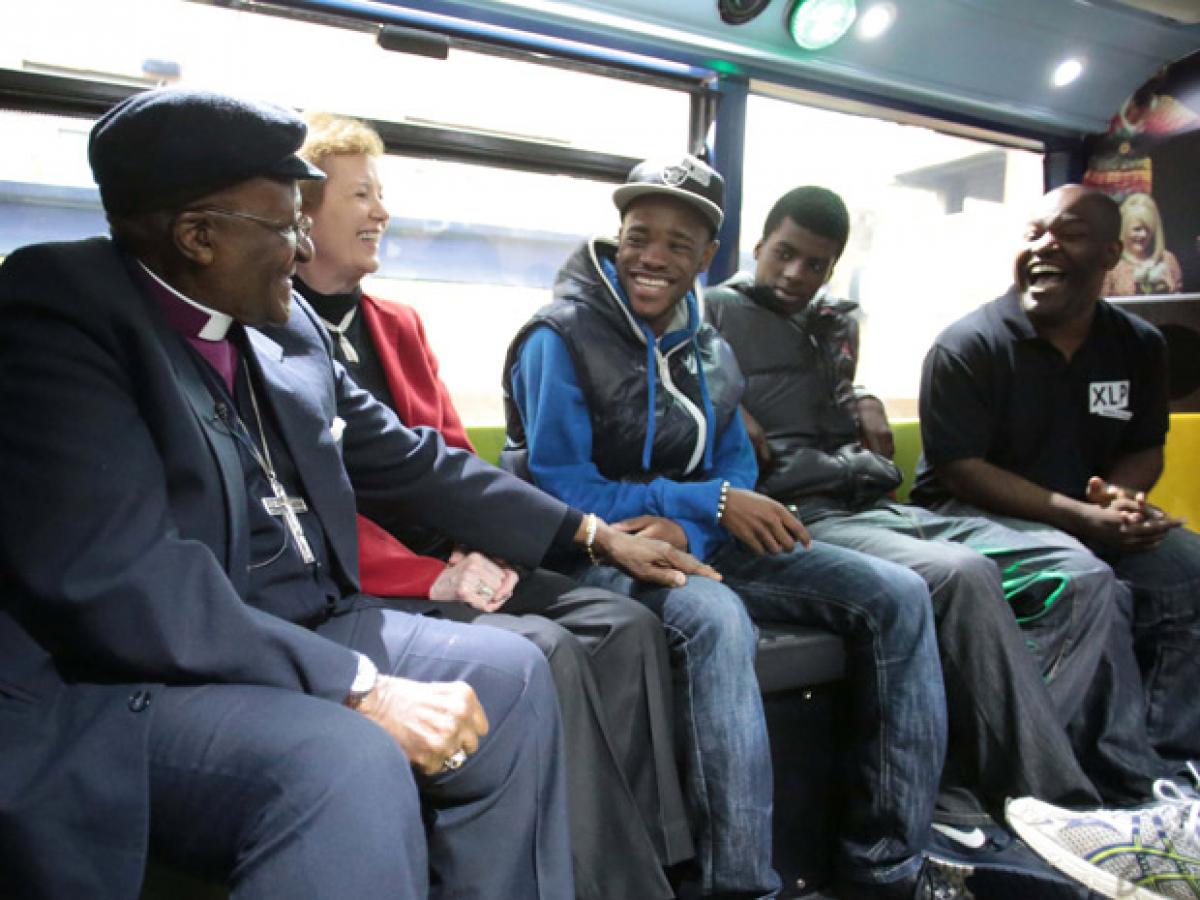 Desmond Tutu and Mary Robinson spent time talking to young people on the XLP double-decker bus, a mobile facility that provides homework support on the top deck and a 'chill' space downstairs.
Desmond Tutu offered some personal words of encouragement to the young people they met:
"When you wake up in the morning and look in the mirror, don't be frightened! Say, 'I am a very special person.' Try to live like a very special person. Your circumstances may be tough. Many succumb, but there is no need for you to succumb. Say to yourself, 'the sky is the limit – I'm going to be all that I can be.'"
Desmond Tutu giving some positive words of encouragement to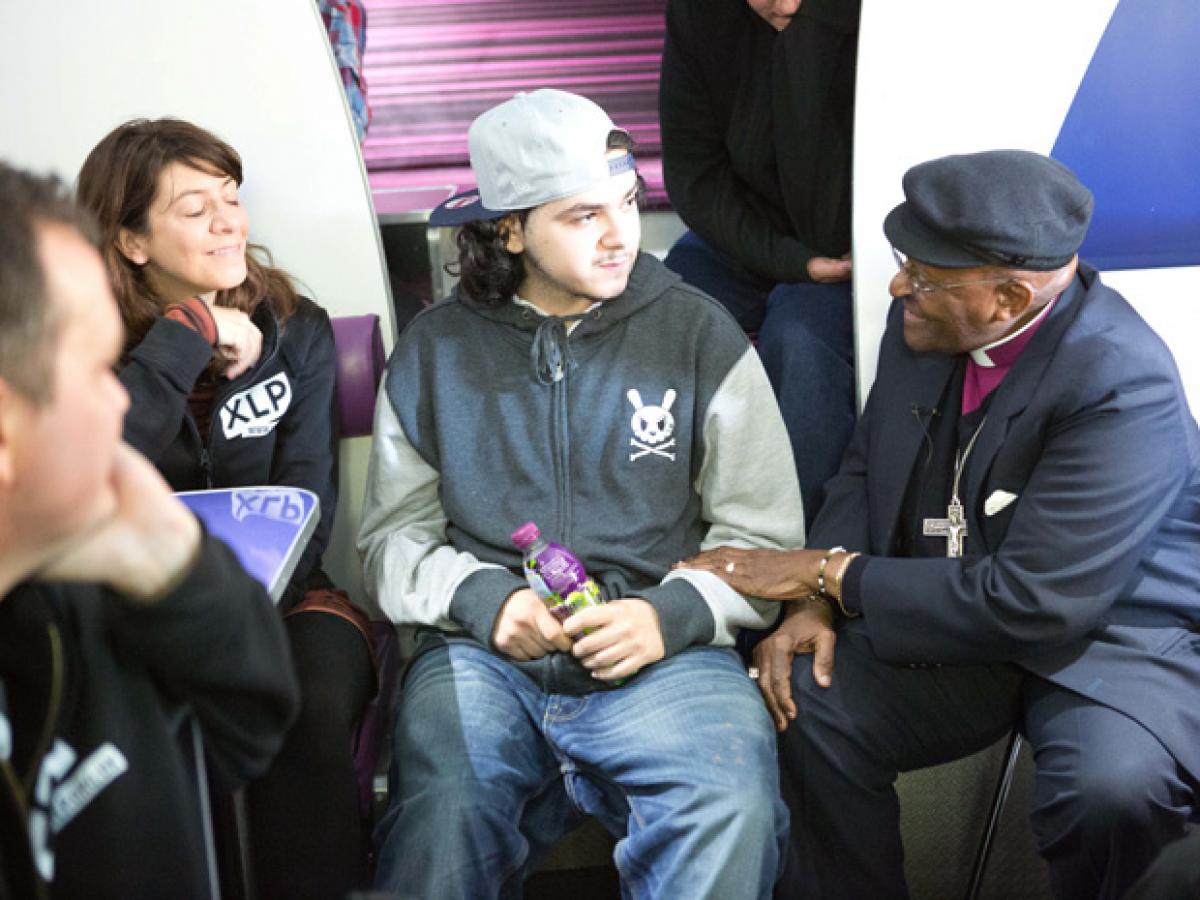 Jimmy Carter visited Spear, an organisation that offers free training courses to help young people find work. Over 75 per cent of those who graduate from Spear are in work or education a year after completing a course.
Jimmy Carter was impressed by the determination of the young people:
"I am very proud that you have the ambition to improve your lives…I don't have any doubt that all of you will be very successful in life."
Jimmy Carter hearing from young people in London taking part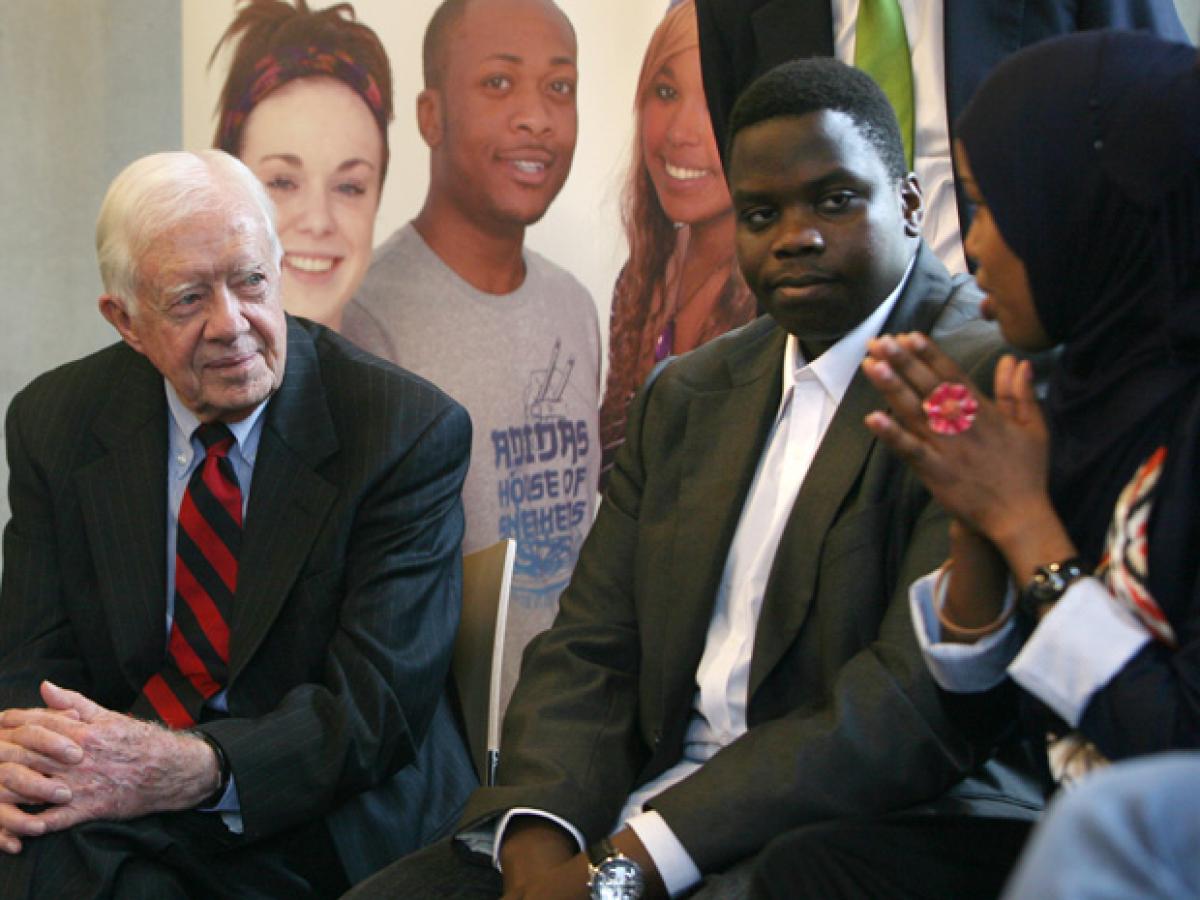 Later in the day, Desmond Tutu and Mary Robinson were joined by eight grassroots organisations for an event to celebrate Mandela Day and encourage more people to volunteer their time to help their local communities.
Following a lively discussion about the importance of volunteering, the Elders encouraged the audience to volunteer their time. All the organisations gained new volunteers during the event, collectively receiving over 150 new sign-ups.
Speaking about volunteering, Mary Robinson commented that the act of serving others can be tremendously enjoyable: "The more you give of yourself, the bigger your commitment, the more you have fun."
Mary Robinson and Desmond Tutu listen to Philip Reagan, CEO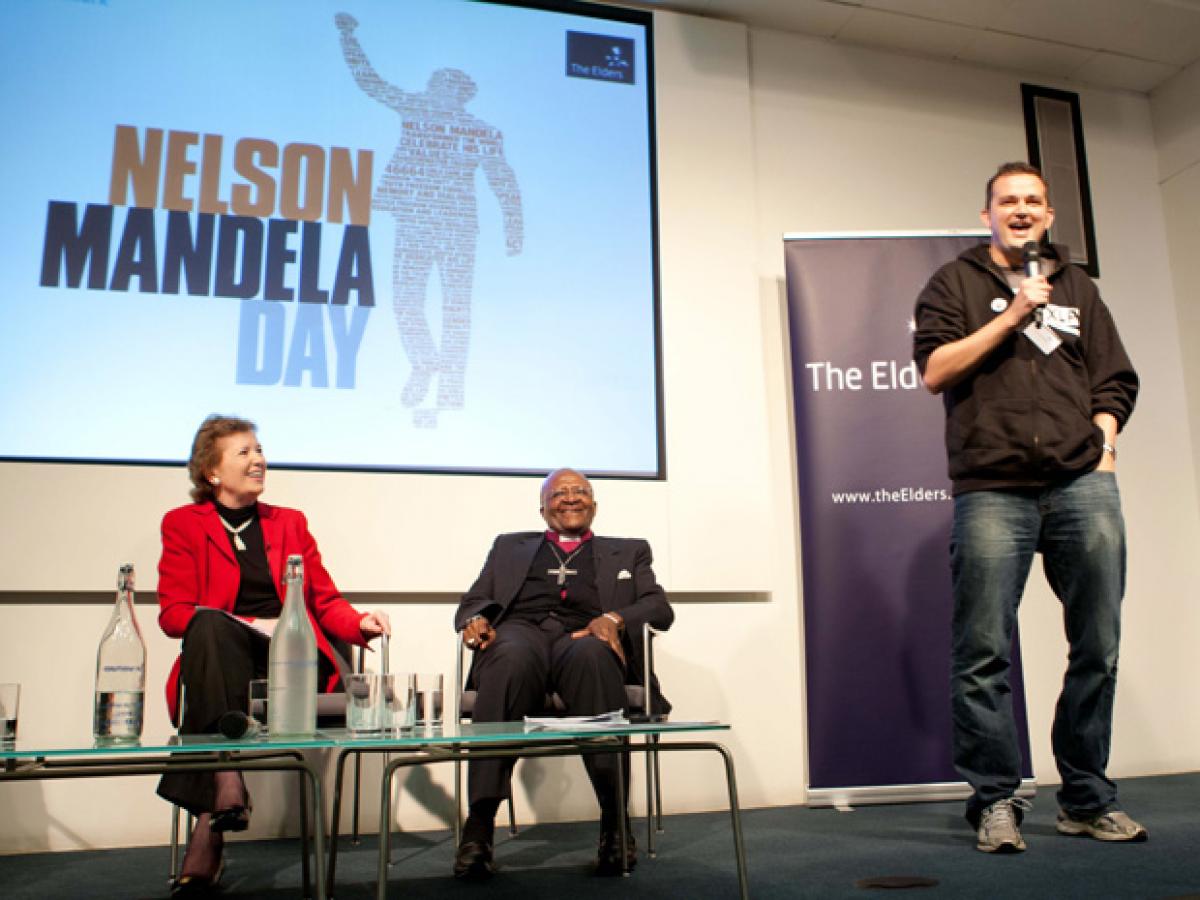 Taking place on 18 July, Mandela Day is inspired by the 67 years that Nelson Mandela gave fighting for justice and human rights and encourages people around the world to give 67 minutes of their time to serve their communities. During their visit to London earlier in July, Desmond Tutu, Jimmy Carter and Mary Robinson celebrated Mandela Day by visiting grassroots organisations working with the city's young people and discussing the importance of volunteering at a public event.
Photos: Jeff Moore | John Cobb | The Elders