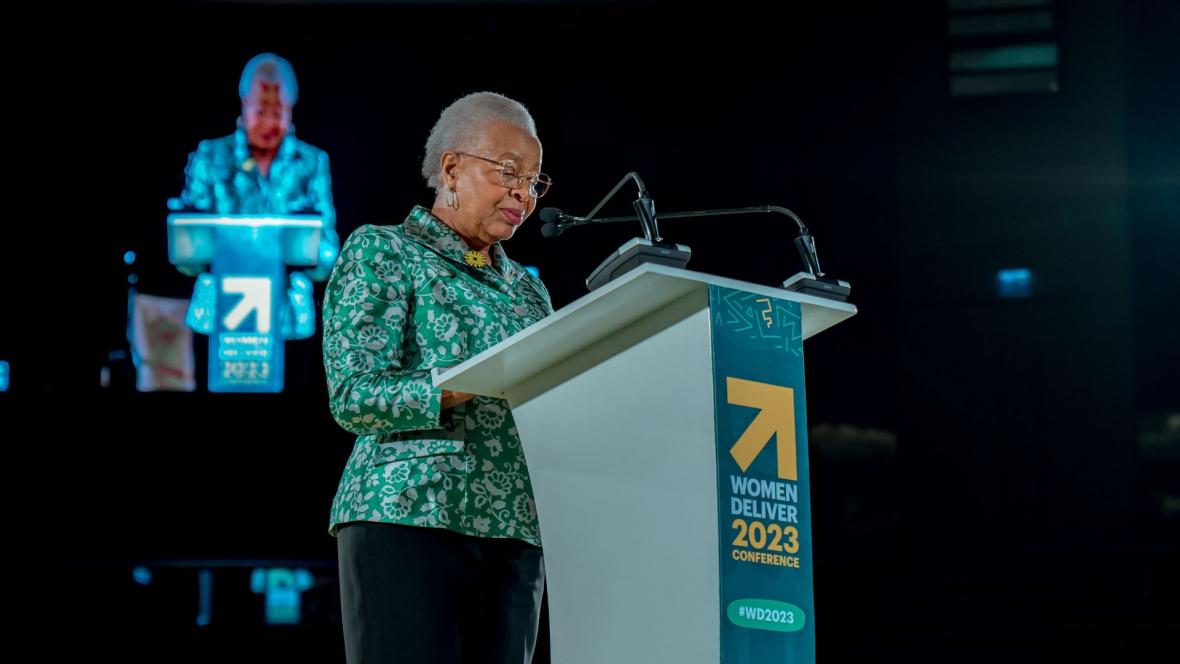 In a keynote speech at the
Women Deliver
conference on 18 July 2023,
Graça Machel
delivered a rallying call for women's leadership on the existential threats facing humanity. With women front and centre, equality and justice will be embedded into action, she explains.
Read Graça Machel's speech
Good afternoon to each and every one of you.
It is an honour to be here, on the African continent, in community with so many advocates for women's and children's rights around the world. I am grateful to Women Deliver for convening us around this important topic we are going to discuss this afternoon.
I address us this afternoon in the spirit of The Elders, the group of independent leaders I co-founded in 2007 alongside Nelson Mandela. Many luminaries joined us in this effort, including Desmond Tutu and my sister Mary Robinson, who is here with us today.
We are meeting at a time when women's rights are under increasing attack. Globally there is an alarming rise in restrictions on our voices, our bodies, and our ability to pursue the causes we hold dear. This compels us to confront the realities of power dynamics and structures of patriarchal oppression. In doing so, we must identify concrete strategies and action plans in which they can not only be challenged, but also dismantled.
Our world now faces a set of threats that put all humanity at risk: namely the climate crisis, the devastation of pandemics, and the prospect of nuclear warfare. The Elders decided to use our moral weight to focus on these issues and mobilise political leadership, private sector leadership, civil society leadership, and the transformative leadership of women.
These existential threats will not be confronted successfully without women being at the frontlines. Women are an untapped reservoir of much needed solution-bringers, change-agents and strategic decision-makers. Gender equality is central to reversing the tide of self-destruction that has been swelling for decades.
Political leaders and captains of industry all too frequently succumb to the allure of short-term gains, turning a blind eye to the existential risks humanity faces. The dominant discourse of leadership today is characterised by power and control, with ego-driven politics colouring decision making. So-called 'solutions' to conflict often center around tactics of increased escalation and suicidal investments in military might. We are doomed as a human family if we do not reverse this course.
Women's leadership is distinctive as it is often human-centered and solution-oriented, with the protection of human life and the needs of the most vulnerable informing decision-making. A re-engineering of our risk mitigation strategies and a redirection of our public expenditures towards peacebuilding efforts, education, health, the development of our human capital, as well as the protection of our planet, must take priority for us to advance as humanity.
First, let us consider a threat that may at first glance appear odd alongside the rest of the agenda at Women Deliver: I am talking about nuclear weapons. Ever since the first atomic bombs were dropped on Hiroshima and Nagasaki in 1945, the nuclear threat has been viewed through the prism of superpower relations and security policy – a traditionally male domain. But for as long as nuclear weapons exist, they will be a grave threat to all humanity. It is high time women made it a priority for the feminist agenda.
The 2017, the UN Treaty on the Prohibition of Nuclear Weapons recognised the equal, full, and effective participation of both women and men as essential for the attainment of sustainable peace, security, and nuclear disarmament. Yet, men still significantly outnumber women in nuclear diplomacy[1]. Women's inclusion on this issue is not just the right thing to do, it is the most effective thing to do. In the broader security context, a study conducted by the International Peace Institute of 40 different peace processes between 1989 and 2014 results showed that when women were able to have a strong influence on negotiations, the opposing parties almost always reached an agreement.[2]
Turning to the climate crisis, the inertia and wilful blindness from world leaders to date is utterly unacceptable. We know what must be done to cut emissions to keep warming within 1.5ºC threshold designated by the Paris Climate Agreement. We must act radically and swiftly if we are to stand a chance of averting the worst impacts of a climate catastrophe. Climate action requires 100% of the population. Women and girls, in all our diversity, must be involved at all stages of climate discussions. We must also inform debates and shape strategies at regional level as well as at global forums like the upcoming COP28 in Dubai. We especially need to hear the voices of those in sectors and regions hit hardest by the ravages of climate change. Their lived experience is of paramount importance in informing the course to achieving climate justice.
The COVID-19 pandemic was an unprecedented and devastating experience for all of humanity. The threat from pandemics is not over. We need transformative global leadership on pandemics, which provides political level support to communities, so that we can prevent, prepare for, and respond to the next pandemic. And this global leadership must put women front and centre. Women hold 70% of health worker jobs globally, and provide the overwhelming majority of unpaid care and domestic work in families and communities. We contribute an estimated US$ 3 trillion annually to global health, half in the form of unpaid work. And yet women globally, woefully, hold only 25% of leadership roles in the healthcare sector.
Failing to involve women in decision-making on our greatest challenges, not only undermines women's rights to participate in shaping our common future, but it particularly damages any chance we have of successfully eradicating global threats. Our own survival as a human family, and the prospect of living in societies of equity and prosperity, hinges on female leadership. However, out of 195 countries in the world, at the start of this year, only 17 countries had a woman Head of State, and just 19 countries had a woman Head of Government. We have the shameful situation whereby the biggest economies of the world and the most populous nations on earth are all without a woman at the helm.
I know from my own experience of resistance and liberation that women's leadership often embodies an innate courage that emerges from the depths of resilience and compassion.
We are witnessing the emergence of a new generation of women leaders. Yesterday here in Kigali, alongside my fellow Elders Mary Robinson and Ellen Johnson Sirleaf, I met courageous Rwandan women who worked tirelessly as frontline health leaders during the COVID-19 pandemic.
We also see Prime Minister Mia Mottley from Barbados taking center stage and spearheading a new global financial architecture through the lens of climate change. She is bravely leading the charge to change the world as we know it. From the highest levels of the UN, Deputy Secretary General Amina Mohammed has been relentless in her fight to advance the Sustainable Development Goals.
And you are about to hear from four incredible women this afternoon who led their countries despite the stigma and opposition that faced them in their roles. We are surrounded by courageous leadership. It is an imperative now to multiply and amplify these extraordinary examples. From community, to national, to continental and to global, women's leadership is an imperative for every success of human endeavour.
The state of crisis we are in, including that of a leadership crisis, is a product of a world order that has been man-made and male-dominated. Ladies, I am here to tell you, it is our turn now. It is our turn.
This world order, it is man-made and it is male-dominated. We have the power to transform it. We have the capacity to lead. Let us now rise to the challenge, for the wellbeing of humanity.
I thank you.
Notes