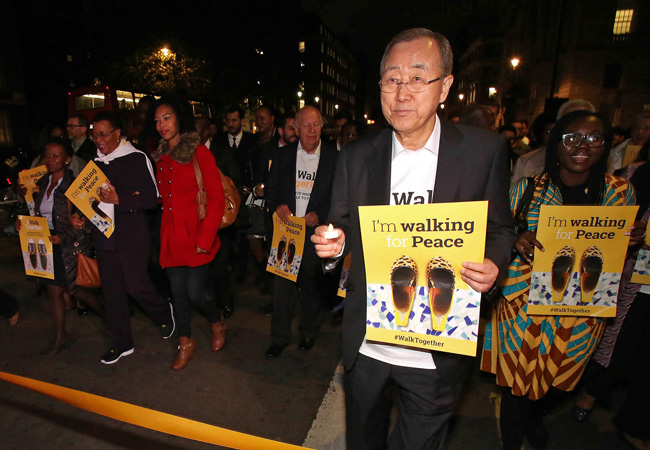 Ban Ki-moon leading a #WalkTogether for Peace in London in October 2017. (Credit: The Elders #WalkTogether)
The threat to world peace posed by a nuclear confrontation on the Korean Peninsula remains as grave as ever, though we cautiously expect that a diplomatic breakthrough might be possible.
Nuclear proliferation and disarmament is simply too important an issue, with too many global ramifications, to be resolved between individual leaders as if it were a business deal.
I fervently hope that both sides are now engaged in careful and detailed preparations that will give the best chance of success to a meeting between the US and North Korean leaders, whenever and wherever this may eventually take place.
But the whole affair underscores how important it is to have a well-functioning system of international rules and institutions that provide parameters to resolve the most intractable problems.
The same applies to all major challenges, from climate change and sustainable development to defending human rights and protecting the dignity of refugees and migrants. Just solutions depend on a shared understanding of values, responsibilities and priorities by all countries.
As we prepare for World Refugee Day on 20 June, this last point is particularly important to me and The Elders as a whole.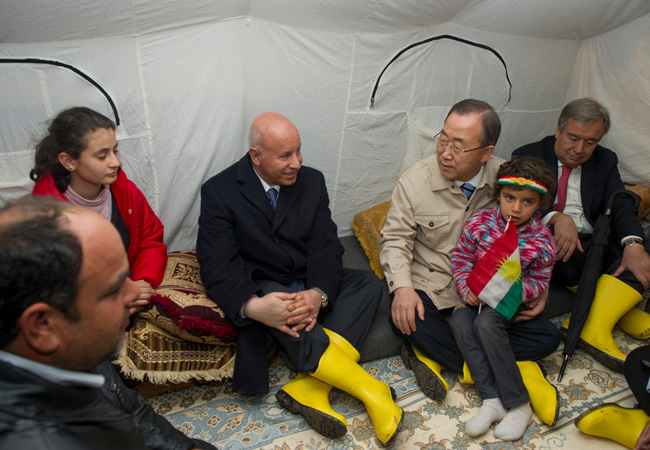 Ban Ki-moon visits Kawrgosik Refugee Camp in Iraq in 2014, during his tenure as UN Secretary-General. (Credit: UN Photo/Eskinder Debebe)
How the world treats refugees and migrants is a measurement of our common morality. Developing a just response was a top priority when I served as Secretary-General of the United Nations, and I am intent on keeping it at the apex of leaders' agendas today.
The scope and seriousness of the challenge is daunting. According to the UN refugee agency, there were 65.6 million forcibly displaced people worldwide in 2017, including 22.5 million refugees.
But I believe that to truly understand the situation and develop an effective, humane and sustainable response, the international community needs to think of it as a crisis of solidarity, not of raw statistics. The countries hosting the largest number of refugees are all in the developing world while affluent nations in the West have consistently failed to shoulder the burden equitably.
An unfortunate number of leaders have either lacked the needed fortitude to respond with sympathy and hospitality to scenes of terrible humanitarian suffering, or, more worryingly, have pandered to or fuelled a culture of intolerance and discrimination against refugees and migrants for political gain.
The UN is currently developing new processes – so-called Global Compacts – on refugees and migration, to establish a new approach that would protect the rights and dignity of refugees and migrants, and also provide support and fairness to host communities. The UN will only succeed if politicians have the courage to take difficult decisions rather than pandering to xenophobic or populist pressures.
Leadership is about vision, principles and persistence. This is the inspiration I draw from Nelson Mandela, founder of The Elders. I hope you will join me in urging all leaders to follow his example, and do all they can to preserve peace and protect the lives and rights of the world's most vulnerable people.