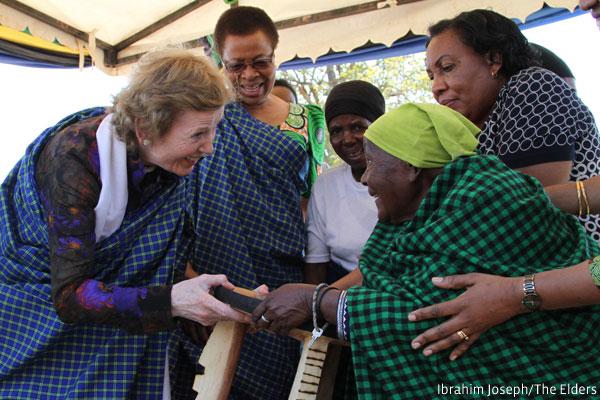 Graça Machel and Mary Robinson visited Tanzania in July 2017 to learn about and encourage progress towards Universal Health Coverage.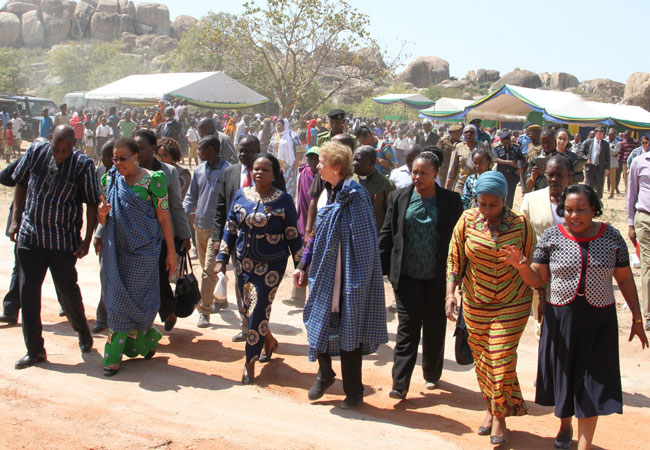 Graça Machel and Mary Robinson visit Mpamatwa Village, Tanzania in July 2017 (Credit: Ibrahim Joseph/The Elders)
Graça Machel and Mary Robinson travelled to Tanzania from 13-14 July 2017 to meet senior government officials, civil society activists and frontline health workers to learn more about the country's progress towards Universal Health Coverage (UHC) and encourage greater progress towards this goal as part of Tanzania's wider sustainable development strategy.
On 13 July the Elders flew to the capital Dodoma and were met at the airport by the Minister of Health, Ummy Mwalimu, before proceeding directly to a small health dispensary in Mpamatwa Village, Bahi District (a semi-arid rural area around 80km from Dodoma).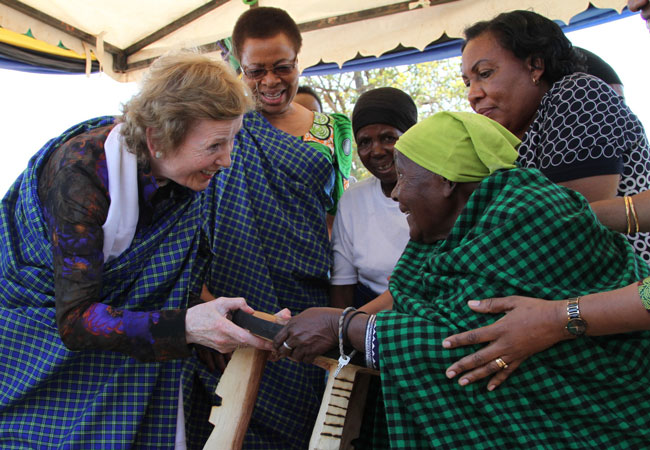 Mary Robinson and Graça Machel during visit to Mpamatwa Village, Tanzania in July 2017 (Credit: Ibrahim Joseph/The Elders)
Here they were greeted by a crowd of around 2,000 community members and officials. The Minister of Health, the Regional Commissioner and both Elders gave speeches and undertook a brief tour of the health facility.
On returning to Dodoma, the Elders met with the Minister of Health and had a productive meeting where options for implementing more ambitious UHC reforms in Tanzania were proposed.
These revolved around increasing levels of public financing to simultaneously increase the supply and quality of services as well as to reduce financial barriers for vulnerable groups.
The Elders also met with the Speaker of Parliament and toured the parliament chamber.
Back in Dar es Salaam, at a breakfast meeting on 14 July, the Elders heard the views of around 15 development partners about the health situation and general development issues.
The Elders then held a meeting with Vice President Samia Suluhu Hassan later that morning to discuss progress towards UHC and other health, social and development issues.
"Very weak implementation systems" are a serious concern hindering moves towards #UHC in #Tanzania: Graça Machel. #healthforall @UHC_Day pic.twitter.com/Lk8qSYbZQ7

— The Elders (@TheElders) July 14, 2017
This was followed by a lively and well-informed civil society organisation (CSO) panel on UHC in Tanzania, moderated by a local health journalist. This was attended by around 70 CSO health activists and media representatives who welcomed The Elders' initiative in championing UHC. There was a consensus that civil society and the local media should be doing more to hold the Government to account in extending health coverage.
CSOs have already organised a follow-up meeting to discuss how they are going to engage more effectively, and will liaise with The Elders to determine when and how further interventions may be helpful in promoting Universal Health Coverage in Tanzania.
"The right to health is one to be realised progressively without discrimination": Mary Robinson. #uhc #healthforall #humanrights @UHC_Day pic.twitter.com/cKFMLK3kcq

— The Elders (@TheElders) July 14, 2017