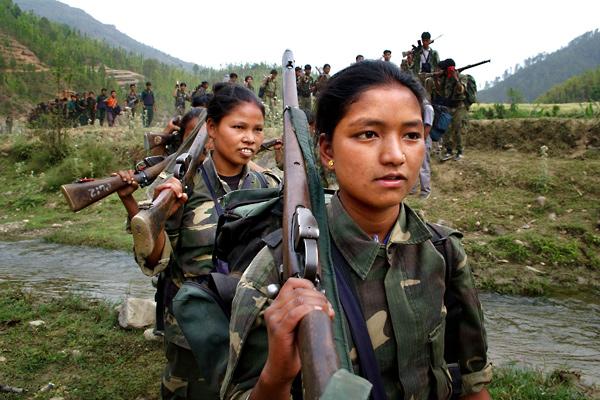 "Women are key assets for peace, yet the international community continues to ignore or marginalise them." Gender and conflict expert Sanam Naraghi Anderlini analyses the roles women play in conflict situations, and the challenges they face when contributing to the peace process.
Are women really peaceful?
This question inevitably arises in any discussion about women's inclusion or contributions to peace making.
To some Western women the assumption that women are peace-oriented implies being too 'soft'. It is unfortunate because talking, diplomacy and compromise are much tougher and complex than relying on military options.
People question whether women are peaceful by pointing to the women leaders such as Margaret Thatcher, Golda Meir and others who led their countries into war. They point to the women joining ISIS or the female members in armed rebel movements, such as Farc in Colombia or the Maoists in Nepal, to prove that women are not peaceful.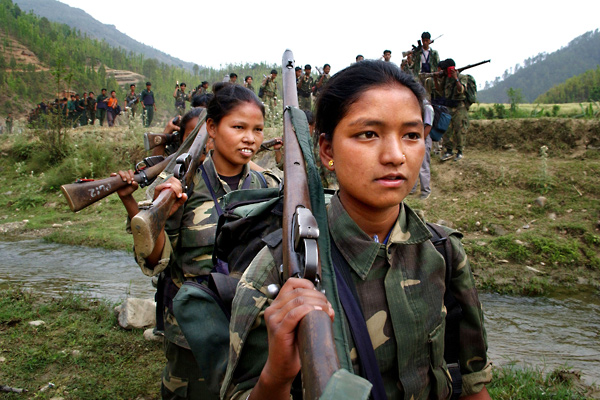 Women make up part of the Maoist insurgents, Nepal, 2004. Photo: Ami Vitale | Getty Images
These examples only tell a small part of the story. Half of humanity cannot be homogenous in its actions. Context also matters.
Women's violence in context
There are three ways of addressing the question. The first answer could be 'no', women are not peaceful. As individuals, women can be violent or supportive of violence. Plenty join armies, armed groups or other movements that advocate and perpetrate violence.
For some women military service is a route towards equality, empowerment, and out of oppression. Many of the Nepali women in the Maoist movement joined to fight for the principles of equality and social justice that the movement espoused.
Women join after witnessing the army killing their fathers, husbands or brothers. Some join fleeing violence at home or avenging their own rape. Some are coerced.
There are instances of women cajoling their male relatives to avenge or seek retribution against violence done to them, but globally, women still make up the minority of armed groups or militaries.
The second response is 'yes', if women's collective actions – as women's movements organising to fight for basic rights, self-determination – are considered.
Throughout history and across the world, women's collective organising has been rooted in non-violence, using civil resistance and other tactics to arrive at their goals.
The Afghan women's movement is a case in point. Despite enduring thirty years of war and direct oppression, despite death threats and attacks, Afghan women continue their struggle for rights and peace, non-violently.
There is inherent irony and contradiction. Martin Luther King and Mahatma Gandhi are revered for their adherence to non-violence. But most leaders and activists in women's rights movements are typically neither celebrated nor revered, while those who used violence are often recalled in the historical narratives.
From pain to peaceful action
The final answer is to consider how women collectively and individually contribute to ending violence and peace-making in war- and conflict-affected contexts.
Time and again, personal experiences have driven individual women to rise up as advocates and activists for peace.
In Sri Lanka, Visaka Dharmadasa channelled the pain she felt after the disappearance of her son (serving in the military) towards seeking out the rebel leaders and initiating a dialogue that contributed to a ceasefire. She chose to think of the rebels, mostly young men, through the lens of a mother, even though they were responsible for her loss.
Similarly in the USA, women who had lost sons and husbands in 9/11, not only instigated the 9/11 Commission, but also established charitable organisations promoting empathy for victims of violence and celebrating religious diversity.
This capacity to draw on profound pain and focus on the positive is an extraordinary quality.
In Somalia, a group of senior and elite women used their status to reach across warring clans and encourage their participation in peace talks, and negotiated the reopening of the airport and hospital with al-Shabaab rebels.
Creative solutions to conflict
Not all women in a women's rights movement are drawn to peace activism. Not all women peace activists emerge from the rights movements.
While a minority, women who combine peace and rights activism can bridge the gaps and bring forward constituencies from both camps. Their successes are based on the strategies and tactics they have designed, often culturally and context specific, and rooted in the invisible power they hold.
Across many countries women have used sex strikes as a tactic in their broader efforts to end fighting.
In Sierra Leone, elder women associated with the Church sought a meeting with the leader of the rebel movement. They were insulted, and in response, they lifted their skirts and bared themselves, knowing the consequences. Their actions triggered the mobilisation of the men of the Church who had to fight for the honour of the women. It led to the end of the violence.
In Liberia, women directly intervened in a fraught disarmament process and convinced the young men to hand in their weapons.
In many settings, they have brought important information and perspectives into the peace process on issues as wide ranging as security, justice, governance and economic recovery.
While belligerents are often focused on their share of power, women are focused on the responsibilities they bear for their communities, families, and children.
Even senior women in the rebel movements in El Salvador and Guatemala conflicts, who entered negotiations as seasoned fighters and representatives of their groups, quickly became aware of – and advocates for – marginalised constituencies, especially women.
Time to recognise the work of women
Invariably their understanding of peace and the proverbial peace table is more nuanced and complex than warring parties or mediators. Women know that ending the violence is a priority, but they also recognise that it cannot be done effectively without addressing the root causes of war, and articulating a shared vision of peace and society.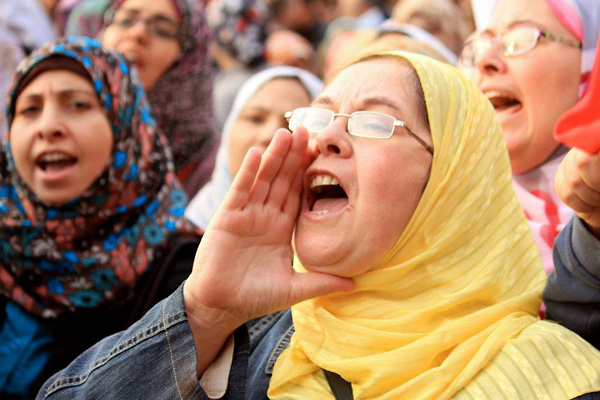 Women taking part in the 2012 Egypt revolution. Photo: Emad Karim
Nowhere is this more evident than in the Middle East today. In the struggle against rising extremism and state militarism, women in Syria, Libya, Iraq, Egypt and beyond are daring to stand up and speak out. They condemn the violence perpetrated by all sides. They are the first responders, providing relief, care and normalcy in the midst of chaos. And despite the violence and death threats, they know that military responses will never end the crisis. They draw on their own history to uphold human rights, plurality and peace. They are the only transnational movement offering a shared alternative vision and values to those espoused by the extremists.
"We ask the world, why are you all helping us kill each other," says one Syrian activist. "Why are you not helping us talk to each other?"
Women are key assets for peace, yet the international community continues to ignore or marginalise them. Perhaps it's time to turn the question around. Why does the world continue to ignore or undermine women who are courageous enough to fight for peace, peacefully?
Sanam Naraghi Anderlini, co-founder of the International Civil Society Action Network (ICAN), has published extensively on gender, peace and security issues. She was one of the civil society drafters of UN Security Council Resolution 1325 on women, peace and security. On 5 November 2014, she will join The Elders in a debate on women peacebuilders.
Views expressed are those of the author and do not necessarily represent those of The Elders or The Elders Foundation