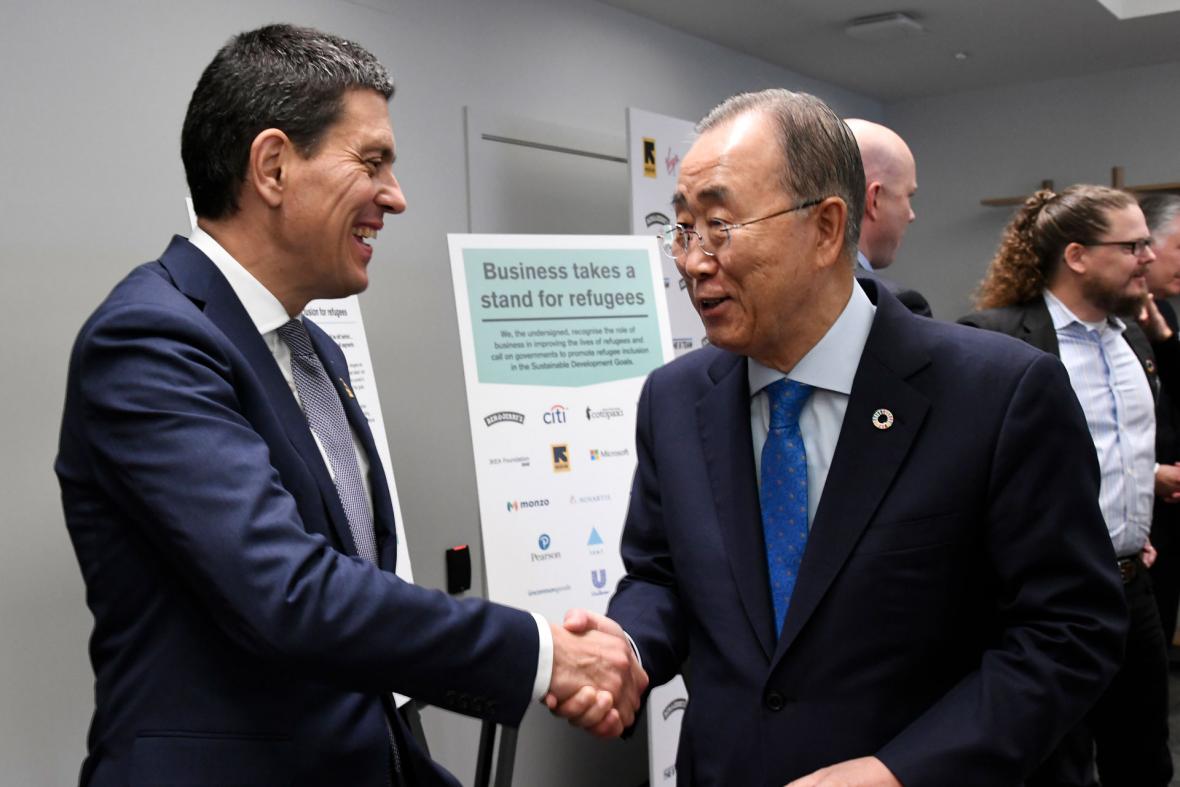 Drawing on his own experiences as a refugee in the Korean War, Ban Ki-moon calls on businesses to combat the xenophobic narrative against refugees.
First published in The Independent.
The mass movement of people is a global phenomenon; one that is here to stay. A former refugee myself, as a child, I experienced the trauma and wrenching displacement of fleeing my home during the Korean War. The human suffering I witnessed as I fled my burning village with my parents continued to haunt me in the days and years to come.
As UN Secretary-General, I met so many children around the world, particularly in Africa and the Middle East, who reminded me of my own painful experiences. Seeing myself in each of them, I have remained determined to elevate the plight of refugees to the top of the global agenda today. As part of The Elders, I know that unless we unite in the face of this global problem, refugees will continue to experience levels of marginalisation and exploitation in direct contravention of their human rights.
The UN General Assembly considers the Sustainable Development Goals to be a priority; and rightly so. The SDGs offer a path to a more peaceful, prosperous and sustainable world where no-one is left behind. They are a triumph of multilateral diplomacy and solidarity at a time when the voices of isolationism and populism are becoming ever more strident. I am hugely proud to have been the Secretary-General who oversaw the adoption of the SDGs in 2015.
Above all, they are a collaborative endeavour, where business leaders can and must play a critical role alongside non-governmental organisations like the International Rescue Committee, labour unions, women, youth, faith leaders and other representatives of civil society. If we are serious about leaving no-one behind as we deliver the SDGs, then we need to think creatively and compassionately about how to include the needs, rights, voices and aspirations of refugees in our discussions.
So far, the world has been unprepared to respond to the increasing mobility and influx of refugees, and anti-migrant sentiment has resulted in policies of containment and rejection instead of inclusion and cooperation.
However, by engaging with the framework of the SDGs, businesses can play a vital role in securing progress towards the goals for refugees, ensuring they are not excluded from this monumental global effort. How we respond to the refugee challenge is a test of our common humanity.
I firmly believe that the talents of refugees and businesses can combine to form a virtuous circle which can then encourage politicians to take progressive steps to improve integration and combat xenophobia, bigotry and racism.
Refugees are often people of great skill, resourcefulness and industry; just think of the Jewish emigres from Nazi Germany who made such a significant contribution to the cultural, academic, scientific and economic life of the United States in the 1930s and 40s – including the founder of the IRC himself, Albert Einstein.
Businesses can also play a crucial role in integrating refugees into their new communities, particularly in countries that border conflict zones and receive the highest number of arrivals, sometimes placing strains on public services and infrastructure. The business community can help alleviate these pressures by bringing knowledge, resources, funding, employment and capacity-building capabilities to bear on the situation, and thus create opportunities and services that allow both new arrivals and host communities to thrive.
In Jordan, Greece and Nigeria, the Citi Foundation and IRC have teamed up to support young entrepreneurs who have fled crisis and are now working to set up their own businesses. One recent study shows that investing one euro in welcoming refugees can yield nearly two euros in economic benefits within five years.
Business acumen aside, there is a global, moral responsibility to respect the rights of all people on the move, regardless of their status. It is vital that business leaders continue to support refugees and advocate the economic benefits that accrue to all of society from a generous and humane approach to refugees and migration.
In a number of countries across both the developed and developing world, refugee policies are influenced by a populist backlash that has tapped into and stoked nativist fears about immigrants and their descendants. Some politicians feel that they must be tough towards immigrants and be seen to be protecting their country's borders and national identities.
For example, in the United States, the resulting policies have taken on increasingly cruel forms, with children detained and separated from their asylum-seeking parents in violation of the best interests of the child. By pursuing such aggressive and self-seeking policies, the humanity of refugees is placed last, when it should be at the core of any and all policy formation.
As climate change, conflict, poverty and instability continue to displace many millions of people, migration patterns will only continue to increase. Inaction, or the shirking of moral responsibility, is simply not an option.