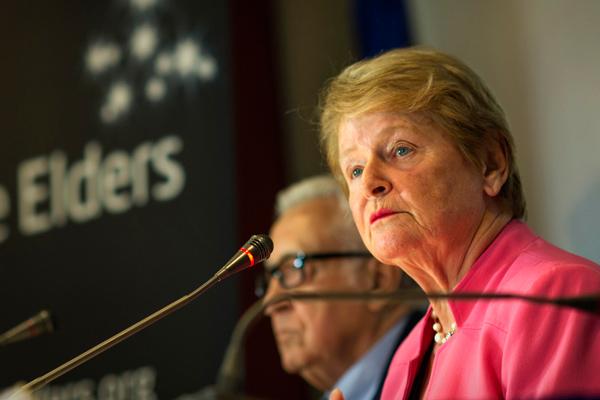 In remarks at the press conference concluding The Elders' visit to Myanmar and Thailand on 12–18 December 2014, Gro Harlem Brundtland gives an overview of the trip and outlines the remaining challenges in Myanmar's transition process.
"This is a country with a long tradition of people living in harmony with each other."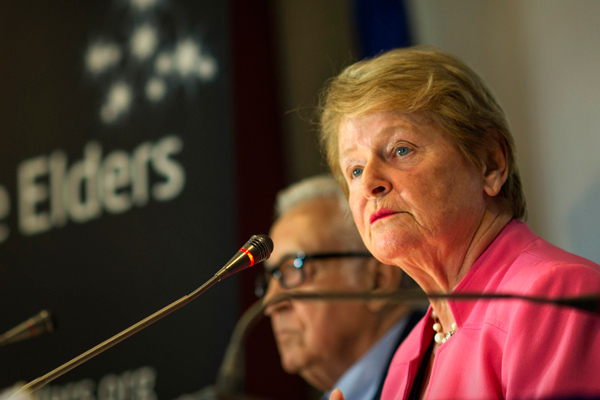 Gro Harlem Brundtland concluding The Elders' Myanmar trip with a press conference in December 2014. Photo: Kaung Htet | The Elders
I am here with two of my fellow Elders, Lakhdar Brahimi and Hina Jilani. Many of you will be familiar with Ambassador Brahimi's name. Until recently, he was the man trying hard to end Syria's civil war on behalf of the UN. This is his first visit to Myanmar as an Elder. I am also pleased today to introduce Hina Jilani, an Advocate before the Supreme Court of Pakistan and an internationally known human rights defender. She is also on her first visit here. Our fourth member, President Martti Ahtisaari of Finland, had to leave last night for another engagement elsewhere. He was with on the rest of the trip: first to Chiang Mai, and then Yangon and Nay Pyi Taw. As for me, I am happy to say that this visit to Myanmar, which concludes tonight, is my third in the past 15 months.
As you can tell from the press release, our past few days have been busy. In Chiang Mai, we held in-depth discussions with a wide range of Myanmar's ethnic armed groups and parties. We wanted to hear their latest assessment of prospects for a national ceasefire. There is still a lack of trust, more so among some groups than others. We should not be surprised, however, that is a fact. The conflicts are old and have deep roots, while the peace process is still quite young. In this regard, I do feel it would be helpful for ordinary people living in the conflict areas if their interests were put first; if confidence-building measures were put in place. We should try to get rid of landmines for example. Urgently. These have been a scourge for decades. It's not soldiers but young people and women who are usually their victims.
After some recent setbacks, we hear that negotiations on a national ceasefire are expected to resume in coming days. Hopefully a national agreement can be concluded soon, so as to move quickly onto the next, and equally essential, phase. This is the need for national political dialogue and reconciliation. The Myanmar people will have an historic opportunity to build a new state, one in which all groups live harmoniously together on the basis of equality. When we met the Commander-in-Chief, Senior General Min Aung Hlaing, yesterday we heard that the Tatmadaw also wants a peace agreement. Here I also want to pay special tribute to Union Minister U Aung Min, who has worked tirelessly towards that goal. We were also encouraged to hear extensive explanations yesterday from the Chairman of the Union Election Commission.
Earlier this afternoon we met, for the second time, with Daw Aung San Suu Kyi. We were happy to listen to her views and explanations, and have a long conversation with her.
When they travel to different parts of the world the Elders usually try to listen to the views of civil society, to get a first-hand view from the ground. On this trip, we heard from women's rights activists about the continuing problem of sexual violence in conflict. We also wanted to encourage women in Myanmar to have a better chance to play a more active role in peace-making and peace-building work.
Before I hand over to your questions, I want to say a brief word about something that has troubled us, one which we have raised in all our meetings, including with the President today. This is the painful subject of intolerance and discrimination, on religious or ethnic grounds. In any country, including our own, elections are often a time of heated emotions and even divisions. As your next elections are now less than a year away, we are concerned there may be renewed outbreaks of violence against minority communities unless everyone – I stress everyone – takes great care to avoid inflammatory language and other steps that could increase inter-communal tensions.
Finally, just to say, this is a country with a long tradition of people living in harmony with each other. Cherish those traditions and live them out in practice, every day. The Elders will continue to support all the people of Myanmar as you continue your journey towards a new democratic society.
Thank you.
These remarks were delivered at the opening of The Elders' press conference at the Sedona Hotel in Yangon, Myanmar, on 18 December 2014. They are published as delivered.