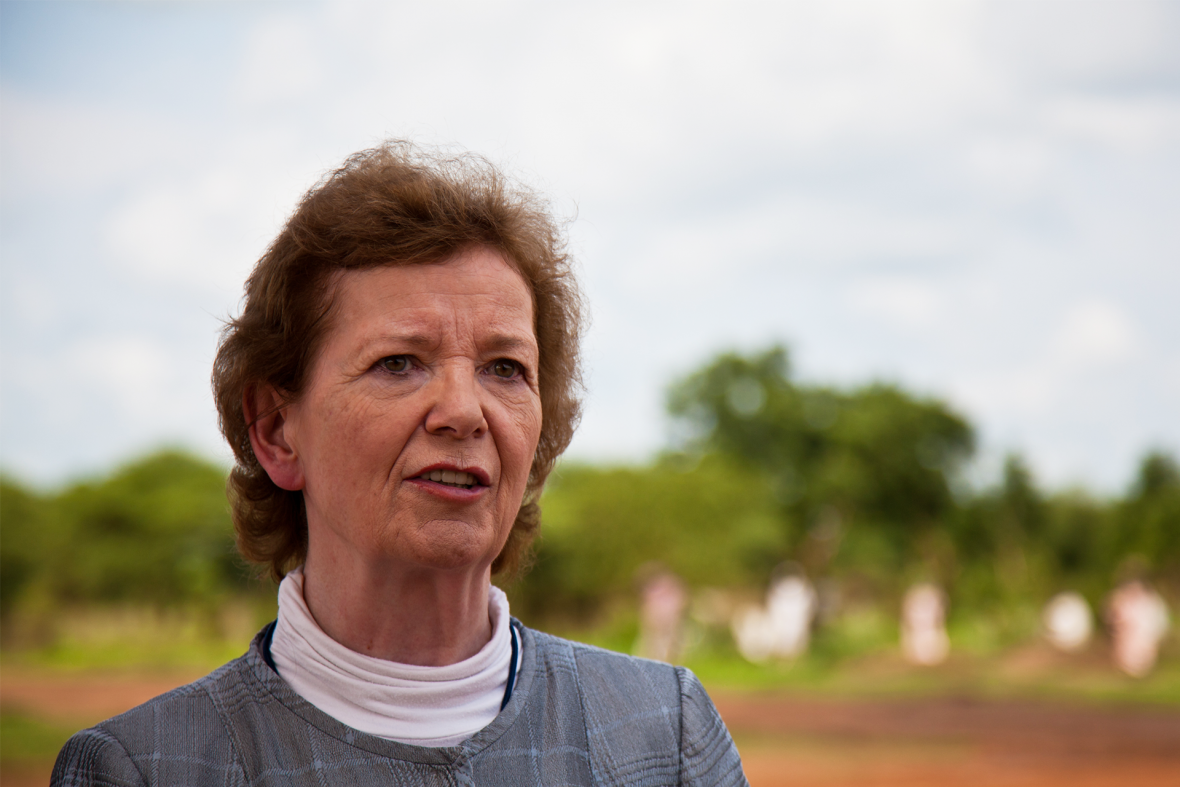 The chance to limit global temperature rise to 1.5C is slim but still possible, says Mary Robinson amid increasing worries about a liveable future planet.
First published in The Irish Times.
From wildfires in Greece to fatal floods in Belgium and Germany and record temperatures in Sicily, there can be no doubt that Europe is squarely on the frontlines of the climate crisis.
Ireland is not immune to this crisis. According to the Status of Ireland's Climate study released this week, the decade between 2006 and 2015 was the wettest on record, while 15 of the top 20 warmest years on record in Ireland occurred since 1990.
Increased extreme weather events and their catastrophic human consequences are the backdrop to the latest report from the Intergovernmental Panel on Climate Change (IPCC) that was released on August 9th.
Our world is at a tipping point, and the choices that our leaders make between now and the COP26 climate summit in Glasgow in November will determine whether or not we can avert environmental disaster and bequeath a liveable planet to our children and grandchildren.
Many people have described the IPCC report as alarming, sobering or doom-laden. There is certainly much within it that should appal us in terms of the costs of decades of climate inaction.
Yet I take a more hopeful view: in fact, the report identifies that the opportunity to limit global temperature rise to 1.5C is slim, but importantly still scientifically, technically and economically possible.
Moreover, the solutions have never been cheaper or more accessible, from renewable energy to restoring nature. With the right investment, the "Green Deals" propounded by the United States and European Union could accelerate a genuinely sustainable post-pandemic recovery and guarantee future health and prosperity.
As matters currently stand, however, the rich world's failures in tackling COVID-19 in an equitable fashion, particularly regarding the production and distribution of vaccines, have increased the trust deficit between the Global North and South.
There will be no breakthrough in Glasgow without trust. At a bare minimum, rich countries need to finally honour the climate finance promises of $100 billion made to developing countries more than a decade ago.
More broadly, we need a change of mindset in international politics, finance, business and civil society, one that enables us to keep temperature rises at or below the target of 1.5°C.
Put simply, this is a matter of climate justice. Those who have contributed the least to global warming are suffering the direst consequences, while the rich polluters are still failing to take seriously their responsibilities at a political and financial level.
Our planet and its peoples can have no future without justice. Our leaders are in the dock, and if they do not rise to the challenge and deliver a climate emergency pact in Glasgow, the verdict from civil society and future generations will be rightly damning.
The blunt truth is that we have wasted too much time in the six years since the Paris Agreement in 2015. The policies we need to cut emissions – including an end to fossil-fuel extraction, production and subsidies, a meaningful carbon price and investment in renewable energies – have been fitful, inconsistent and uncoordinated.
What is now key is for leaders to show they understand the seriousness of the science, and respond with stronger national commitments ahead of COP26.
The big question leaders must reckon with in Glasgow is whether these plans add up to what is needed – and if not, how they will close the remaining gap.
To those who seek to argue that it's too hard, or too late, and so not worth trying – the report is a reminder that every fraction of a degree of warming really does matter. The difference between 1.5 and 2 degrees of global heating is huge – it would mean 420 million more people exposed to extreme, potentially lethal heatwaves, and hundreds of millions more people at risk of poverty.
All countries need to ratchet up their near-term emissions-reduction targets, even though we are still waiting for all major emitters to do so.
As COP26 host, the United Kingdom has a particular responsibility to lead by example and galvanise all delegations into radical ambition. After years of introspection caused by Brexit, Glasgow offers an opportunity for a fresh internationalist approach, but this demands consistency, coherence and credibility.
The UK's commitment to slash emissions this decade is certainly commendable, as is its success in already reducing emissions in recent years. But plans for a new coal mine in Cumbria or an oil field in the North Sea are wholly incompatible with the climate leadership responsibilities that the COP presidency entails, and the recent decision to cut the UK overseas aid budget has further damaged trust and goodwill in the developing world.
I hope that prime minister Boris Johnson's government will urgently reconsider these retrograde decisions so they do not cast a dark shadow over the summit to come in Glasgow.
Ultimately, climate change – like COVID-19 – is a global challenge that demands a global solution.
While the scale of the threat is daunting, we should be fortified by the words of perhaps the greatest visionary and statesman the modern world has known, Nelson Mandela: "It always seems impossible until it's done."