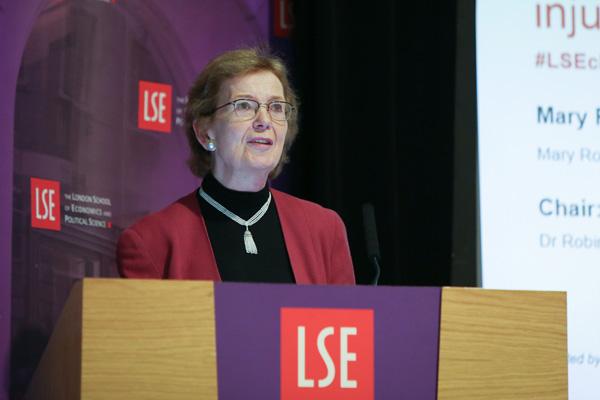 Mary Robinson calls for global solidarity and empathy with those most affected by climate change, putting the most vulnerable at the heart of decision making and urges a shift to a '1.5 degree mindset'.
Mary Robinson spoke at the London School of Economics on the topic of Climate Justice on 18 January 2018 in her role as President of the Mary Robinson Foundation – Climate Justice. (Watch from 6m11s)
Calling for a people-centered approach to Climate Change in the wake of an unprecedented pattern of climate catastrophes around the world, such as hurricanes destroying lives in the Caribbean Islands, monsoon rains causing devastating floods in South Asia and severe drought in Kenya, Mary Robinson encouraged all decision makers to adopt a different mindset, based on our interdependence and the need for global solidarity and empathy in averting the unacceptable future ahead. This will ensure a safer world for future generations.
She emphasised the profound injustice of climate change - that those who are most vulnerable in society suffer the most. To overcome this she affirmed the need for a climate justice movement, where we speak up for the people who have the least capacity to protect themselves, including those from future generations. Putting the people and communities most vulnerable to climate impacts at the centre of decision making and grounding climate change policy in human rights, she argued, transforms climate change from a discourse on greenhouse gases and melting ice caps into a civil rights movement.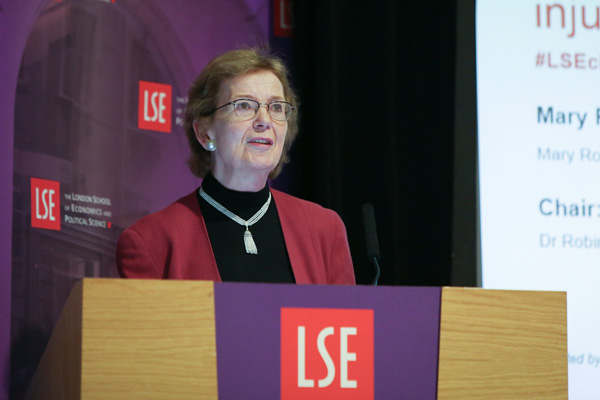 Mary Robinson at the London School of Economics in January 2018 (Credit: ©2018 LSE/Maria Moore)
"Get into a 1.5 degree mindset"
Concluding the event, Mary Robinson challenged a packed audience of young people to "get into a 1.5 degree mindset" to avert the existential threat of climate change. Explaining the need for a shift, she challenged young people to "walk the talk" in knowing their carbon footprint and becoming part of a movement with others to build a more sustainable future, citing Mission 2020 and We are Still In coalition in the United States, as just two examples of getting active.
Listen to the podcast: