Climate change
Guest Blogs
Climate Vulnerable Countries take the lead in the fight against climate change despite low emissions and limited resources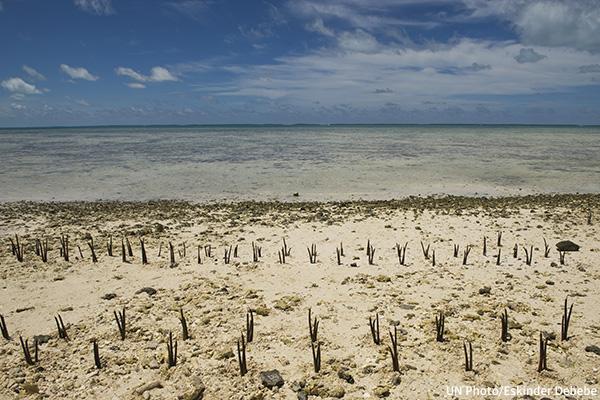 Ahead of the Climate Vulnerable Forum's Virtual Summit, Hala Kilani, of the Climate Action Network underscores the urgent need for collective climate action. She highlights the ambition of those already feeling the effects of climate change to create a sustainable future.
"People sleep in life jackets as flooding can strike anytime and in the middle of the night."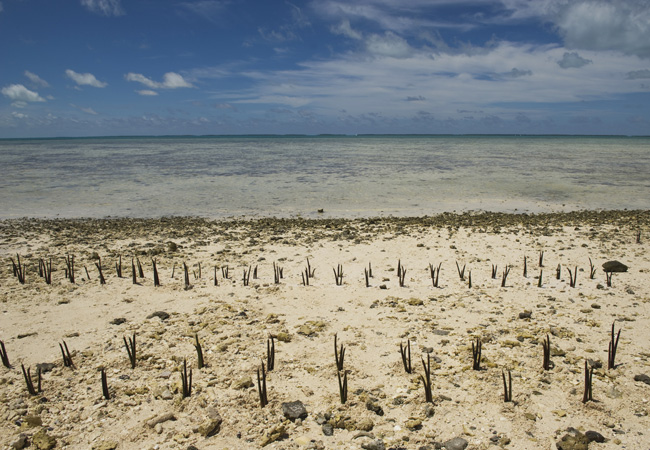 Climate change in Kiribati (Credit: UN Photo/Eskinder Debebe)
In many countries climate change is still a second- or third-order priority. Most members of the public see it as a problem of the future and do not relate the increasing frequency and intensity of extreme weather events to global warming. The science of climate change has not reached popular ranks and public debate. Climate change is still a remote intangible menace to many.
This is despite the latest report by the International Panel on Climate Change (IPCC), the largest scientific authority on the issue, which basically stating that racing past warming of 1.5 degrees Celsius (2.7 degrees Fahrenheit) over preindustrial levels can only be avoided with "rapid and far-reaching" transformation of human civilization at a magnitude that has never happened before.
While many countries have seen generally sluggish reactions to the science and warnings, for the members of the Climate Vulnerable Forum (CVF), a coalition of 48 countries most vulnerable to climate change, it is an existential threat.
Sea level rise, floods, heat waves, and droughts are an increasing part of their daily life. Many children in vulnerable countries are growing up in places that might disappear. Many countries that are members of the CVF may become uninhabitable within these children's lifetime.
The Marshall Islands, a small country in the Pacific Ocean inhabited by around 50,000 people is one example.
The Marshall Islands is one of the world's smallest greenhouse gas emitters, yet it faces the direst consequences of rising global temperatures and sea levels.
People sleep in life jackets as flooding can strike anytime and in the middle of the night. With an average elevation of two metres above sea level, people have nowhere to run and nowhere to hide.
King tides and droughts have become more regular and frequent, with disaster often hitting these small islands in the Pacific in different ways, in different parts, at the same time.
The threats don't stop there. Rising ocean temperatures have already contributed to the death of coral around the capital Majuro. Very little is expected to survive in these islands past 2040.
Twelve-year-old Wilmer Joel from the Marshall Islands is one of the children currently living in a vulnerable country and facing an uncertain future.
Wilmer recounts his experience of the threats presented by climate change in a documentary entitled The Last Generation:
"My mom woke me in the middle of the night. When I woke up, I saw a lot of water. It was around my knees. People were evacuating very quickly. I wasn't scared but I was in shock. At that moment, I started talking to myself. Did this king tide happen because we are bad people? Does it happen because of human activity? Does it happen because we make it happen? Or does it happen because it usually happens?"
More than 20,000 Marshallese have left the islands since 1995 seeking better jobs, healthcare and education. Now climate change is also a factor.
But leaders of vulnerable countries are not standing idle. Dr. Hilda C. Heine, President of the Republic of the Marshall Islands and Chair of the Climate Vulnerable Forum (CVF) is leading from the front.
She is organising the first ever online summit on November 22nd to prompt leaders from around the world to pledge to enhance ambition.
President Heine announced the Summit in June this year and invited every "leader prepared to do more by 2020 to show solidarity and join the first ever virtual climate summit." The Summit is a key moment in the arc of ambition towards 2020 and aims to provide a significant push for countries to commit at the upcoming UN climate negotiations in December in Katowice, Poland to enhance climate ambition.
Recently and in tandem with the United Nations General Assembly meetings, President Heine presented the Marshall Islands' new 2050 Strategy, which provides a hook to enhance its Nationally Determined Commitments (NDC), and Prime Minister Frank Bainimarama announced Fiji's commitment to enhance its NDC by next year.
They became the first countries to announce concrete steps to raise ambition of NDCs as required by the Paris Agreement that all countries signed in 2015. They are engaging all sectors of the economy. They also called on the global community to follow their lead clearly telling world leaders: "If we can do it, so can you."
Although they contribute very little in terms of emissions on the global scale, vulnerable countries are determined to lead and show other leaders the feasibility of the steps that they are asking of them in the quest to fight climate change and for their survival.
The CVF Summit will be held entirely online on November 22 on the following website: http://www.virtualclimatesummit.org/
Join the conversation: #VirtualClimateSummit
The Elders' Mary Robinson is one of ten women champions of the CVF Summit.
Views expressed are those of the author and do not necessarily represent those of The Elders or The Elders Foundation