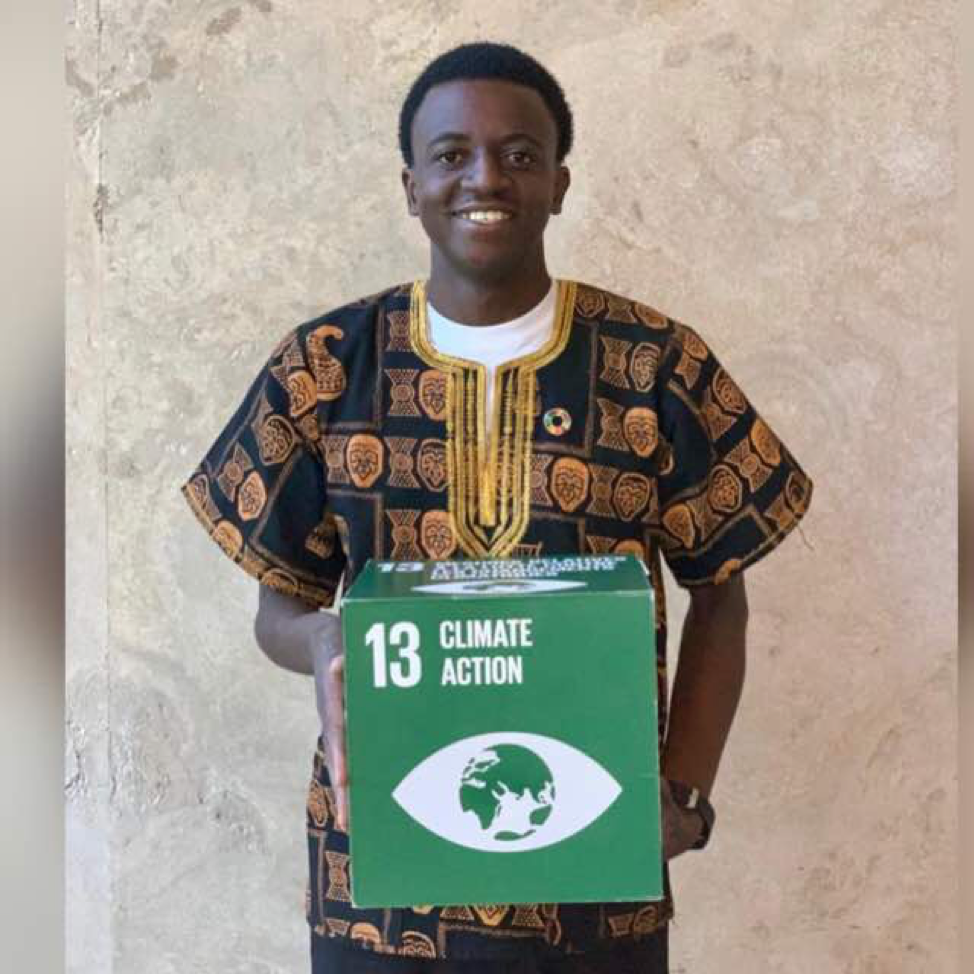 Last month, Namibian youth advocate Deon Shekuza and Mary Robinson held an intergenerational dialogue on climate justice, on the sidelines of the Climate and Sustainable Development High-Level Meeting in New York. In this interview for TheElders.org, Deon expands on his experience and aspirations as a youth agent for sustainable development.
Please introduce yourself!
My name is Deon Shekuza. I am a youth advocate for sustainable development from Namibia.
What prompted your interest in sustainable development?
Africa is a naturally endowed and beautiful continent with a very young population structure, full of promise and potential. 60% of Africa's population is under 25. Young people and future generations will have to live with the effects of climate inaction from leaders of today. One would wonder how young people are negotiating the multitudes of challenges to combat climate change.
Given the multitude of developmental challenges, how do we select which to tackle immediately?
Well, coming from a developing country we are all forced to morally identify a problem and seek to find answers to those inequalities, poverty, and unemployment, access to education or dealing with the adverse impacts of climate change. Thus my underlying principle of work is based on the conviction and ambition to make a positive difference in society.
What are the specific climate challenges facing Nambia?
Namibia's climate is arid and up to 70% of the people depend directly on the environment for daily sustenance. They are all active in the economy through the sectors of agriculture, fishing, forestry, and conservation. Access to energy is still urbanized and 57% of the population still resides in rural and informal settlements.
Namibia is in a sporadic and erratic relationship with the rain and it's often referred to as the driest country south of the Sahara desert. Floods are frequently part of natural disasters, while drought continues to ravage farmers and communities at large, seen as an imminent challenge it has been declared a national emergency since 2013.
Finally, Namibia is still struggling with its post-apartheid economic status of fairly distributing wealth. So youth, women, and children are disproportionately affected. Children alone constitute 46% of the total Namibian population.
When did you first realize the problem and effects of climate change and how did you engage with it?
When I first learned about climate change and it's potential impacts I understood its academic definition, but I was also immediately interested in the education, training, and awareness-raising amongst the public. Breaking down climate science into a national conversation and connecting to domestic social and economic values to build relevance.
I thus contributed through online blogging, newspaper articles, using radio and television to increase awareness of the issue of climate change.
What are the challenges facing youth in particular?
I learned quickly that what I was doing was not enough because the more I read, wrote and got involved the more I grew an appetite for change and youth participation in sustainability issues.
As young people, we face a lot of challenges in developing countries, including financial, administrative and institutional arrangements, which all prove to be barriers for young people.
The youth agenda is not reflected in our national and international strategies and action plans on energy, environment and climate change. Financial mechanisms don't particularly target youth innovation and youth specific instruments and arrangements are lacking. Very little exist to support young people. Most of my colleagues have to choose between employment and education, family and occupation.
Youth volunteering and activism are affected by many factors, and various challenges prevent a young person fully dedicating their time towards a cause in a developing country.
How have you overcome these challenges?
I focused on advocacy, engagement, and participation to ensure a sustainable future for us all.
Convinced that through solving climate change we can also tackle other challenges because they are interconnected, I taught myself about climate processes, policies, and frameworks.
I started to actively contribute to policy formulation, participating in meetings as a rights holder.
I learned that we needed to be organised, so I co-founded the Namibian Youth on Renewable Energy (NAYoRE) in order to mainstream young people in the energy sector and increase youth inclusion in decision making.
Taking part in the international youth climate negotiations at the United Nations Framework Convention on Climate Change through the Children and Youth Constituency, I realised we need to understand the system if we are to make an impactful change.
Along with others we are working to continue strengthening regional networks to foster one youth agenda on many different thematic areas.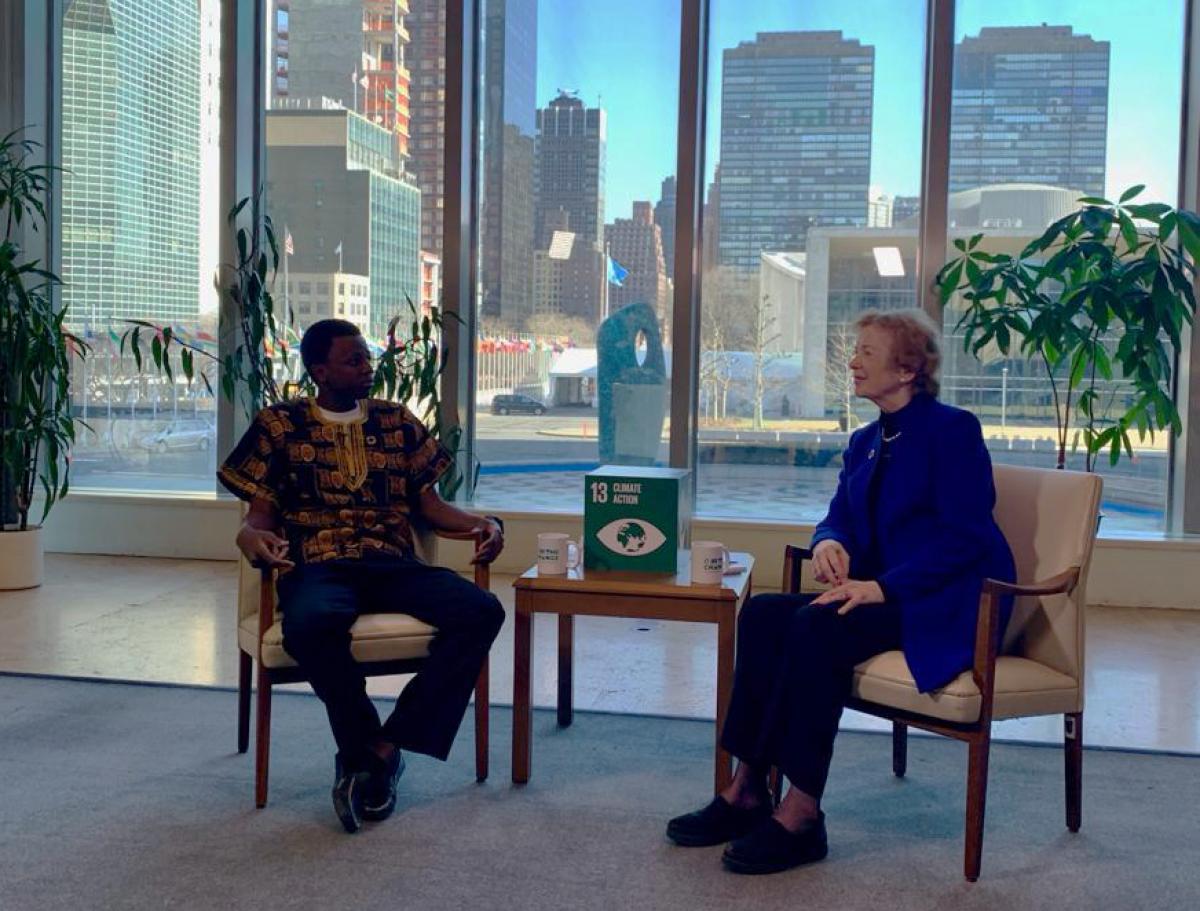 What do you hope for the future?
We are not standing alone in our demand for climate justice and action.
Young people are connecting and forming webs of ideas and networks to produce solutions and change for a better world.
When I spoke with The Elders Chair Mary Robinson at the Climate and Sustainable Development High-Level Meeting, we discussed climate justice and the role of youth in sustainable development.
We both agreed that it's time for these two generations to sit down and discuss elements of a global sustainable social contract, manifested through intergenerational dialogues and partnerships. Preserving the earth for future generations begins now with us, not after the older generation has passed. We need a collaborative and joint implementation on the way forward.
Post-2030 I envision a world where sustainable development is the order of the day, with circular economic structures and more responsibility towards sustaining and restoring ecosystem services. Without this, we will not see reductions in poverty and economic inequality for developing countries.
Views expressed are those of the author and do not necessarily represent those of The Elders or The Elders Foundation