At the start of The Elders' three-day visit to Iran, Kofi Annan speaks to journalists following a meeting with Iranian Foreign Minister Javad Zarif.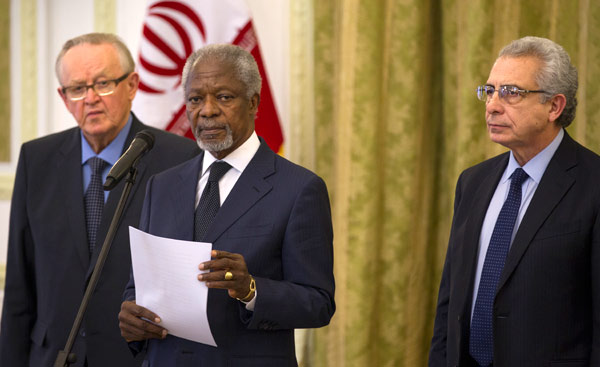 L-R: Martti Ahtisaari, Kofi Annan and Ernesto Zedillo
Statement to the press by Kofi Annan, Chair of The Elders
Tehran, 27 January 2014
This is the first visit of The Elders as a group to Iran. However, several of us have visited Iran before individually and know your wonderful country well.
We have had very good discussions today, first with Ayatollah Rafsanjani and now with the Foreign Minister, Dr Zarif. These were very useful and in-depth discussions.
The Elders are a group of independent leaders, brought together by the late Nelson Mandela in 2007.
Sadly Mr Mandela passed away in December and we are even more determined to carry on the mission and the charge he gave us. He told us to speak truth to power, particularly on behalf of the weak, poor and voiceless.
Since our founding, we have worked to help heal wounds and bring lasting peace in several parts of the world including Sudan and South Sudan, the Korean Peninsula, Kenya, Israel-Palestine.
Our purpose in coming here is to meet the senior leadership and hear from a range of opinions about current developments, in particular those affecting this region.
All of us, including our Iranian hosts, are deeply concerned about the tragic situation in Syria today. We must all do our best to help reduce suffering and put the interest of the people of Syria to the fore. We must do everything we can to end the nightmare that Syrian men, women and children are going through today.
We are just at the start of our visit – we still have two days in Iran during which we will meet a wide range of leading Iranian personalities.
We look forward to hearing their suggestions about what The Elders may do to help in the region and internationally regarding the tensions we see today.
As President Rouhani said to the UN General Assembly in September, that alongside widespread fears in the world today, and I quote:
"There are new hopes; the hope of universal acceptance by the people and the elite all across the globe of 'yes to peace and no to war'; and the hope of preference of dialogue over conflict and moderation over extremism."
We believe there has been a number of recent positive developments, most importantly the interim nuclear agreement, signed in Geneva last November. These efforts now need to be sustained to achieve final agreement.
In this regard, we must rebuild trust and mutual respect in the region and further afield. This is not an easy task. It will need patience and perseverance.
Let me conclude by saying that, all around the world today, people are looking for better governance, looking to have a say in how they are governed. Such strong and democratic, healthy societies are built on three pillars:
First, peace and stability; second, development; and, third, the rule of law and human rights.
For there can be no long-term development without peace and stability, and there can be no long term stability without development; both have to be rooted in the rule of law and respect for human rights.
So we have a lot to do, individually and collectively, to make our world a more peaceful and better place, and try to end all the conflict around us.