Using their experience – from overcoming backlash to engaging male advocates – Gro Harlem Brundtland and Hina Jilani recommend how to empower women.
"Our courage doesn't come from desperation; it's a courage that comes from seeing problems as challenges." Hina Jilani
In late January, Elders Gro Harlem Brundtland and Hina Jilani attended the World Woman Summit in Oslo, Norway. The 2015 summit was the brainchild of Norwegian born, Emmy Award-winning documentary filmmaker, Deeyah Khan who organised the event to convene courageous and creative women, campaigners for gender equality, peace, justice and human rights.
The Elders were invited to speak at a panel discussion on their early experiences of becoming prominent women in their countries. Below is a transcript of the conversation between The Elders and the moderator Sanam Anderlini, an Iranian-born gender activist based in the US. Gro Harlem Brundtland started the discussion by reflecting on her own childhood and how gender roles and consciousness have changed since her youth in Oslo.
Gro Harlem Brundtland: I was lucky to have progressive parents. Siblings were treated the same way: my brother was asked to do the dishes and I cut the wood! But I noticed other girls weren't as lucky. Many families in Norway in the Fifties were not equal. Mums were not able to be educated as they'd like. Even in Norway, I realised there were big differences [between the sexes] and I knew we had to make changes.
Sanam Anderlini: But sometimes, can't awareness [of the sheer scale of the problem] actually lead to inaction? How can we make people more active, and keep flying the flag you've raised?
Hina Jilani: We haven't done this successfully, but we follow our conscience. If you feel something, do something about it. Keep being outraged! We are all change-makers. That's our business. Our courage doesn't come from desperation; it's a courage that comes from seeing problems as challenges.
Hina Jilani interviewed by Sanam Anderlini at World Woman Oslo, January 2015.
Sanam Anderlini: On the topic of 'backlash', we must encourage and engage men now. We've always invited them but they don't join us. How have you brought others on board?
Gro Harlem Brundtland: Towards the end of the '90s we sensed a backlash in Norway. Since the '70s, we were pushing for changes to make family life and parental leave better. But in the '90s, when I was Prime Minister, that generation of young women took so much for granted. Their mums had helped created the change, but these young women started to see feminism as something 'uncomfortable'. This led to the so-called 'backlash' which has gone on for about twenty years and has left many people feeling uncomfortable talking about women's issues.
Sanam Anderlini: How do we deal with the backlash and bring men in, stop their attitudes from being the problem?
Hina Jilani: The backlash will always be there. Every victory of changing a mindset doesn't mean backlash stops. Backlash can become more harmful for women. What's most hurtful is when men try to marginalise or discredit women. We are not crazy. We have confidence but not overly so.
We need to find the right strategy. Every time you have a setback, and you feel that something you've done hasn't gone well, other opportunities will come up. You always keep looking for the next challenge and the next opportunity. None of us has found heaven yet, though we keep looking for it when men and women will finally be equal.
Sanam Anderlini: What is your identity?
Gro Harlem Brundtland: This identity issue is important. I became deputy leader [of the Norwegian Labour Party] at 36. I represented my party, and I also represented my country. This was very important. I had to be able to keep two thoughts in mind – I had to combine being a woman change-maker as well as a leader answerable to the whole. This is difficult. I spoke once to Margaret Thatcher and asked her how she'd get more women in government. Thatcher said it's hard getting competent women! I laughed and said the UK has millions women, therefore there must be someone. Women can get more experience if you let them serve. You can also bring women in from outside government. If you really want to encourage more women leaders, then you can, but you need to want to. Thatcher forgot she was a woman. It wasn't part of her portfolio to encourage and empower women.
Hina Jilani: I see myself as a woman. But my being a woman has gone along with my other identities as a human being. I refused offers to be on the bench because I wanted to keep working on human rights. People said there aren't a lot of competent women in Pakistan who can be on the bench. But I said to one man: seeing what you have on the bench means it must be hard to find competent men as well!
When we talk about women's empowerment we don't just think of them being leaders. We think of them having other attributes as well. Women in politics mean competent citizens. Our struggle is part of the wider struggle of many people to [defend] relevant human rights beyond [national] borders, to protect all humans against fear. As a human rights defender, I want to do this without fear.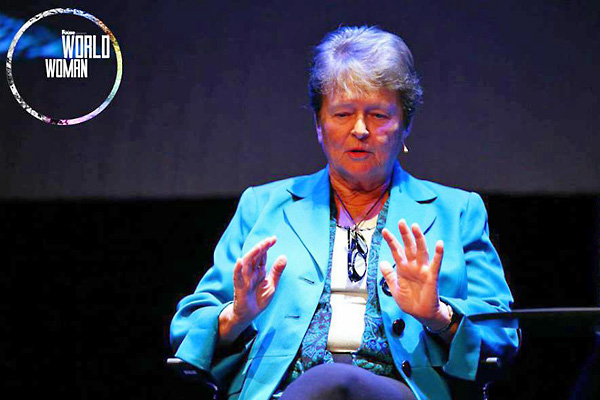 Gro Harlem Brundtland speaks at World Woman Oslo, January 2015.
Sanam Anderlini: Do you ever wish you'd said something, or spoken out when you didn't?
Gro Harlem Brundtland: Frankly, no! I always felt I had to. Somehow that courage was in me. Your own identity is linked to how you express yourselves. There's too much timidity around nowadays, especially around young people. They are scared of being different; they want to be conformist. It's so important to be able to express yourself and take part in debates, especially for young people.
Hina Jilani: I agree with Gro. When I was quiet it wasn't due to a lack of courage. In Pakistan we are overwhelmed by a crisis every day. They all need to be dealt with and there aren't enough of us working in human rights. I have not spoken out if I wasn't the right person. It's not necessary to always speak, but you should never be silent if you can make a difference.