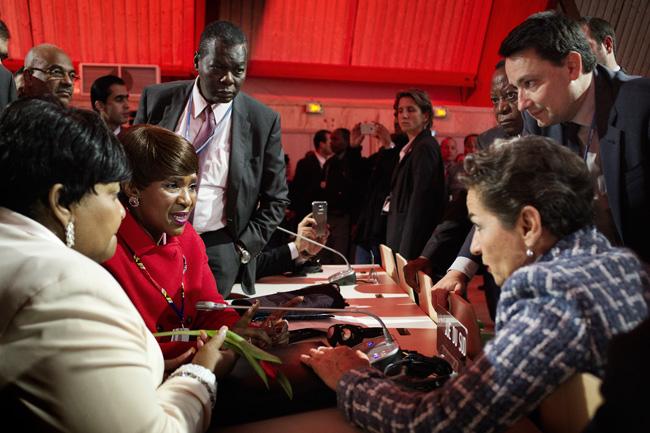 From assessing the "people-centred" COP21 Paris Agreement and how those on the frontlines can help the world in tackling climate change, to ensuring that women are empowered to make their voices heard, Mary Robinson marks International Women's Day by highlighting the link between gender equality and climate justice.
"Human rights and gender equality should inform good climate policy."
To mark International Women's Day 2016, Mary Robinson explains why women and gender equality are crucial to the success of the global efforts on development and climate change.
As UN Special Envoy, and as an Elder, you championed the importance of gender equality, the empowerment of women and the inclusion of the most vulnerable and marginalised in the Paris agreement. Are you happy with the outcome, and are you confident these elements will be respected in its implementation?
My first point is that the process was fairer and more inclusive than in previous conferences, and this contributed to the agreement being more people-centred than its parent Convention. It built on our growing understanding that climate change is a social, economic and environmental issue, and the inclusion of human rights in the text was a first time for a climate convention. This is very important because after all, women's rights are human rights! So I think we have emerged from Paris with a robust and people-centred framework, but with poor means of implementation.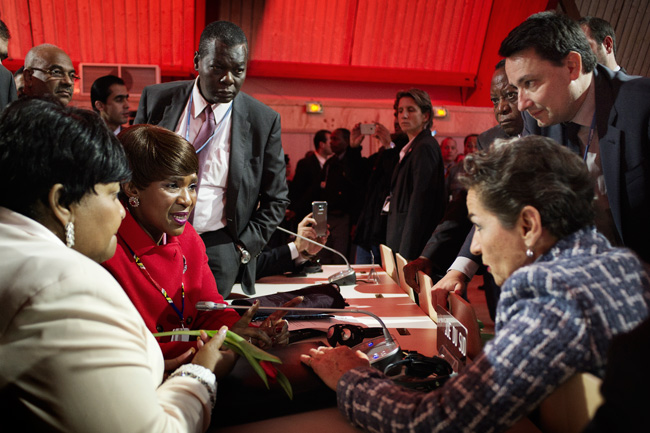 Negotiations during COP21 (Credit: COP21 Paris | Benjamin Geminel)
It is really very important that the agreement aims to keep global temperature rises well below 2 degrees and aims for 1.5 degrees above pre-industrial levels, and that the aim of emissions neutrality by the second half of the century is there, even though it's not very strongly worded.
I think the social dimensions of climate action must be well understood by all stakeholders. That allows climate action that empowers people, and that is why we in my Foundation have been so keen that human rights and gender equality should inform good climate policy.
"I think that the voices of the climate justice movement, which definitely echoed in the walls of the negotiating venue in Paris, were strong -- but now need to be amplified many times over in order to keep up that pressure."
I think that the voices of the climate justice movement, which definitely echoed in the walls of the negotiating venue in Paris, were strong -- but now need to be amplified many times over in order to keep up that pressure. Laurent Fabius and Christiana Figueres were both champions of gender equality and I worked closely with both of them. Now they have both announced they are stepping down, but I am glad to see that Christiana Figueres's 's role at the UNFCCC has been increased to Under Secretary-General. The new President of the COP, Ségolène Royal, has also been strong in favour of gender and I hope that she will continue to champion gender equality in her role. The new incoming presidency has a champion in the person of Minister Hakima El-Haite of Morocco.
What does the agreement mean for women in general, and poor women in particular? Will it help them tackle climate change and build resilience in their communities?
I would put the question in a different way and ask: will the agreement allow people living in communities on the frontlines of climate change, in particular women, to help the rest of the world in tackling climate change? We must value local knowledge and allow it to inform how we design and implement climate action.
"Climate change is a lived reality every day."
I think the agreement does offer hope that the voices of women will be heard in the design, planning and implementation of climate action, and obviously this is particularly important for grassroots women for whom climate change is a lived reality every day. We have to link the Paris climate agreement with Goal 13 of the Sustainable Development Goals; in particular Goal 13(b) makes reference to the fact that we need to build capacity of women, youth and marginalised communities for effective climate-related planning and management. That's a step up from just listening to voices!
The whole of Goal 13 is subject to what was agreed in Paris. This means there's an extra urgency to the steps we need to take to be well below 2 degrees, and be hopefully at 1.5 degrees.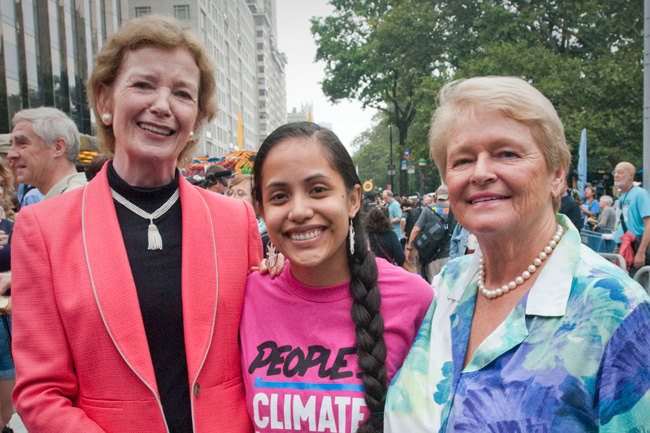 Mary Robinson and Gro Brundtland are joined by Kathy Jetnil-Kijiner on the Climate March in New York in September 2014.
In 2015, you repeatedly raised the plight of Small Island Developing States such as the Marshall Islands, and the pivotal role women can play in these communities. Do you have a particular message for activists like Kathy Jetnil-Kijiner on the way forward in their struggle?
Well, I met Kathy on the March in New York in 2014 and she definitely shone a light at the climate summit on the very real and imminent threat of climate change, and did it as only poets can do in a very compelling way. She spoke as a woman, she spoke as a mother, and she expressed real concern for her baby's future.
I've also met President Tong of Kiribati on a number of occasions. This time last year I was with him in Geneva where he was expressing weariness and frustration at the fact that his message of the existential threat to his islands seemed not to be listened to. Even in the press today there are reports that by 2020 his people may have to move, because the sea water is coming in and undermining the fresh groundwater and it's gradually making it impossible to live there. We don't have very much time to make it possible for the people of Kiribati to continue to live there.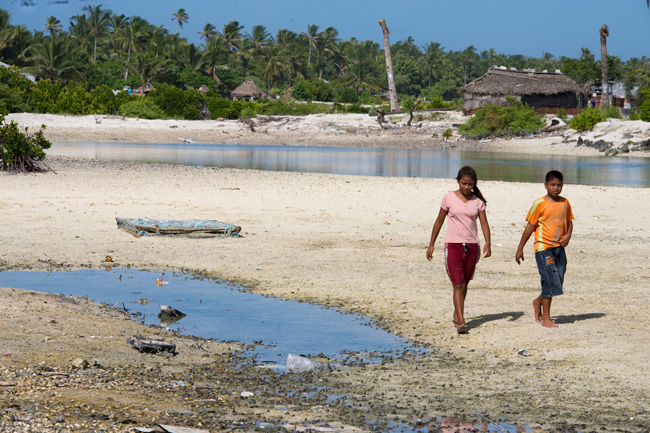 Locals in Tebikenikora, a village in the Pacific island nation of Kiribati. (Credit: Eskinder Debebe | UN Photo)
That's why it's so important to understand that it's absolutely essential that we stay well below 2 degrees, and that we are in fact at 1.5 degrees. This is not just an aspiration but rather a compelling vision that leads to getting out of all fossil fuel by 2050.
I would certainly urge and encourage all women living on the frontlines and speaking out -- and there are many -- to stay strong and make sure their voice continues to be heard. They can take heart from the way in which they influenced the discussion in Paris and the fact that we achieved a much stronger goal, but not stronger means of implementation.
What are your priorities on climate change for 2016, and how do you think The Elders and people everywhere can help ensure implementation of the Paris deal?
My Foundation certainly felt very energised and fired up by the Paris agreement and we have our four streams of work for the next couple of years. They include continuing to reinforce the importance of a human rights and gender perspective as resulting in good climate policy.
"We need to have people always at the centre of good climate policy."
My Foundation also will be looking at climate-displaced people, because that's happening more and more now and needs more priority. We'll be looking at the way in which the voice and presence of grassroots women can have more influence on climate policy, and finally we'll look very strongly at the need for intergenerational equity, something The Elders have also focused on.
We're concerned that the Paris Agreement and the 2030 Agenda need to be looked at from the perspective of the planetary boundaries, which we're exceeding in some instances, and therefore we really need to get very serious about sustainability.
"We also need to encourage early signing and ratification of the Paris Agreement."
Again, this is where I use my "bully pulpit" as a grandmother to strongly urge that point, as indeed The Elders have done. We also need to encourage early signing and ratification of the Paris Agreement. I hope that we will get the 55 countries to sign that account for 55 percent of global emissions, which is the trigger for the Paris agreement to come into effect, before COP22 in November. This is quite a significant piece of work to be done and The Elders can help by encouraging that.
Finally, one of the themes of International Women's Day 2016 is "Pledge for Parity": what concrete steps do you think need to be taken by governments, business and other institutions to make gender parity a reality and not just an aspiration?
Parity mustn't be seen as a numbers game. It requires a holistic approach that offers equal opportunity for women to engage in all levels of society and decision-making. This requires a clear understanding of the barriers to women's advancement, and putting in place the necessary measures to overcome those barriers.
"In many countries, women don't know that they have rights, and therefore how can they assert themselves?"
A good place to start is an analysis of the problem from the perspective of human rights and related obligations of governments. In many countries, women don't know that they have rights, and therefore how can they assert themselves? It's as basic as that. It's critical to facilitate the participation of civil society with a view to making a difference in the decision-making process. There's a worrying trend at the moment to close the space for civil society in a number of countries and to discourage support from the outside of capacity building of NGOs, support by philanthropy or international civil society organisations. If we really want to get a change we have to recognise the importance that outside intervention can make.
I remember when Ireland joined the European Union, we were greatly helped by the European directives which had gone further in advancing the progress and parity of women than Ireland had gone, and we used that to catch up. So support from the outside for capacity building, for encouragement and identifying with the need to support women in countries where more progress needs to be made is very important.
As far as the UNFCC is concerned, there is a need to reinforce the work towards gender parity. There is a work programme on gender which will be reviewed this year, but currently, of the 12 boards and bodies monitored under the convention, none has reached gender parity. The highest percentage of women on a board is 40 percent – on two boards. 9 boards had 15 percent women or less. At COP20 in Lima, women only made 36 percent of delegations, which marked no change on the previous COP. That being said, there are lots of strong women involved in climate change negotiations and we bring them together in the "Troika Plus" group. We make a real virtue of convening and connecting women leaders and grassroots activists to make sure their voices are properly heard.
Watch Mary Robinson introduce Kathy Jetnil-Kijiner's blog for International Women's Day