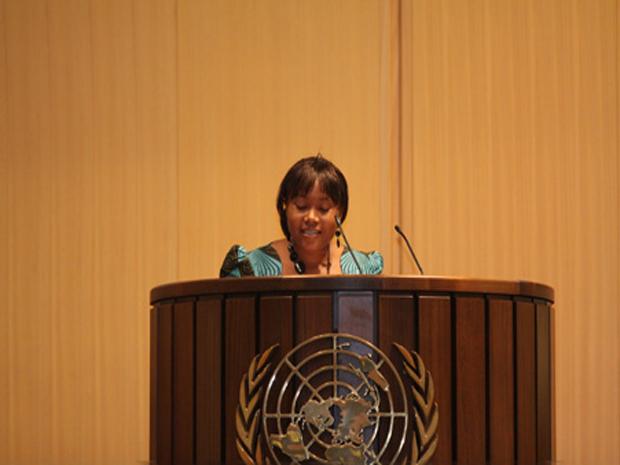 "We believe that when young people know the urgency of the climate crisis they will act." Esther is one of the four Youngers taking part in the Elders+Youngers debate ahead of the Rio+20 summit. She describes how health and education issues in Nigeria motivate her work on environment and sustainable development in Africa.
My name is Esther Agbarakwe, from Nigeria. My friends call me "estherclimate" which is also my twitter handle. I am 27 years old and I grew up in a family of 5 children. I started my activism on children's rights issues at 10 years old in Calabar, an urban area in the Niger Delta where I was raised. Later on, I worked on adolescent and youth reproductive health issues, including HIV/AIDS, in high school and at the University of Calabar. I was seeing many of my peers dropping out of school because of unplanned pregnancy and most of the young people didn't know about their reproductive health and rights. I felt the need to help them, by educating and sharing correct information with them. So I became a peer health educator.
With increased hunger and food security issues in sub-Saharan Africa, I joined the ActionAid International HungerFREE Activista Project as a youth advocate and volunteer in 2007. In 2009, my friends and I started the Nigerian Youth Climate Coalition because young people were not engaged in environmental governance throughout the nation. We believe that when young people know the urgency of the climate crisis they will act. In the Niger Delta, poverty and exploitation of oil resources intermingle, producing unprecedented environmental degradation.
In 2010, I was selected as one of the "Women Deliver Global 100 Young Leaders," and was also a recipient of the 2010 LEAP (Leadership, Effectiveness, Accountability & Professionalism) Africa Annual Nigerian Youth Leadership Award. I currently serve as an Atlas Corps International Advocacy Fellow with Population Action International in Washington DC, working to integrate sexual and reproductive health and rights into sustainable development at the policy level. I also serve as a technical advisor to the African Youth Initiative on Climate Change (AYICC).
I am passionate about Africa's development, especially development that centred on women's health and socio-economic empowerment, including access to reproductive health services and supplies, climate change adaptation and food security. I strongly believe that young people's access to modern family planning and reproductive health services is a fundamental right, and it will empower them to plan and make better economic and reproductive decisions.
Views expressed are those of the author and do not necessarily represent those of The Elders or The Elders Foundation