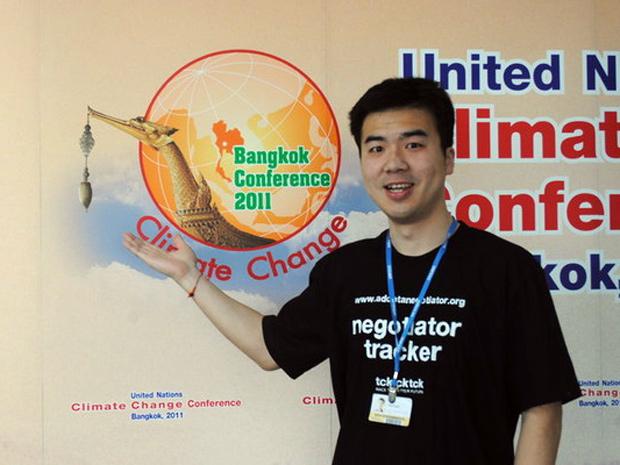 "I believe in the power of each individual no matter how cruel the political and economical system may be." As he joins the Elders+Youngers debate ahead of the Rio+20 summit in June, climate change activist Marvin talks about his experience of promoting sustainable development in China and his efforts to raise awareness about these issues among students and young people.
Hi, I'm Marvin Nala (那拉荣泰) from China. I'm 23 right now and completing an internship at UNDP China (United Nations Development Programme) and Tsinghua-Carnegie Center for Global Policy. My life's dream is to leverage the power of emerging civil society for a more sustained environment in China.
I was brought up at a city near Shanghai, which became known as the "Paradise of China". When I was a boy, my father got me up early every day and pushed me to exercise in those pretty hills around the West Lake. The memory made my heart remain with the landscape even when I left the city later, and the motivation of all the work I am doing has its origins in the peace and love I can find from nature.
At about 10 years old, I started to go litter-picking with my playmates around the neighborhood. Later at my senior high school, I was the major organiser of an environment protection club which ran lectures, water quality assessment, and waste recycling. Then I spent most of my time working with local grassroots movements. I worked on various issues including HIV/AIDS, child education and climate change. In my first year of college, my friends and I went to 10 schools for migrant children near Beijing and delivered HIV/AIDS protection courses to more than 5000 students from age 10 to 18.
Since the summer of 2010, I started to track the UN climate negotiations and kept promoting sustainable development by blogging, interviews and lectures from the perspective of a normal Chinese youth. After that, I spent two months with Greenpeace on renewable energy development. In addition, I also organised a volunteer organisation called Big Appetite Network, providing public discussion space and volunteering information.
I believe in the power of each individual no matter how cruel the political and economical system may be. And in the context of the Chinese society in transition, it got me even more motivated as I'm accompanied by so many young activists who are exploring innovative solutions in various social aspects.
Views expressed are those of the author and do not necessarily represent those of The Elders or The Elders Foundation