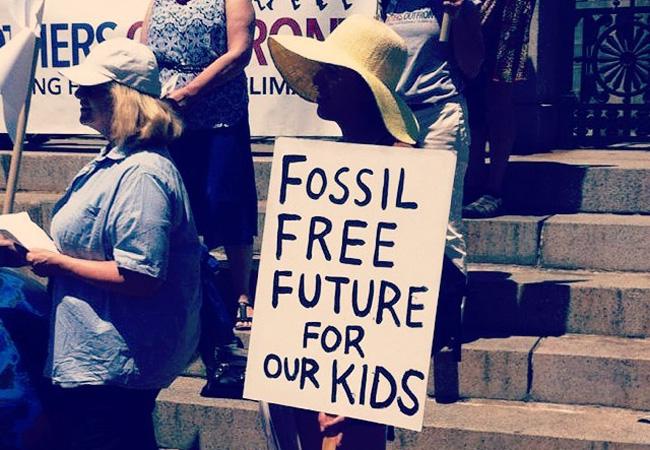 Kelsey Wirth, Co-founder and Chair of Mothers Out Front outlines how mothers, grandmothers and caregivers from across the United States are mobilising to fill the climate leadership vacuum left by those at the highest levels.
"We believe mothers have the power to overcome the greatest challenge of our time."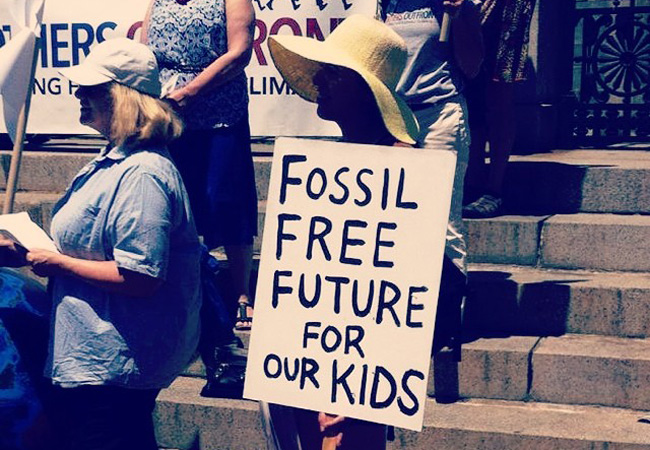 Credit: @MothersOutFront
The news on the climate grows bleaker every day. In the United States, the current administration not only denies human-caused climate change, it actively works to roll back any progress made on environmental standards or climate change policy implemented in the past few decades.
Five short years ago, I founded Mothers Out Front with a handful of other mothers in the Boston area. We came together out of a deep fear of what the future held for our children in the face of climate change and a shared determination to do something about it. Today, we are a strong and growing movement of more than 19,000 mothers and other allies, with teams in nine states. It is clear that we must step up to fill the leadership void left by elected officials at the highest levels of our government—and that the opportunity to effect change lies at the state and local levels.
We believe mothers have the power to overcome the greatest challenge of our time. Our growing record of campaign wins demonstrate the strength we have when we work together. As mothers join this critical work, their common refrain is that "for the first time I feel hopeful in the face of climate change."
We break down the enormity of our changing climate into simple steps. We make it possible for any mother to take action. We coach and encourage. We lead. We get things done.
In city halls and statehouses, we are seen and heard. When we speak, we amplify a different voice. We call on our elected officials to create policy that ends our dependence on dirty fossil fuels and focuses on clean, renewable sources of energy.
We hold leaders accountable to their commitments. Example: Last fall, Mothers Out Front and our allies pushed to bring community choice energy to Boston. Mayor Marty Walsh called the withdrawal from the Paris Accord "irresponsible" and committed with other "climate mayors" to "stay in." A perfect next step to achieving these goals would be 200,000 households and small businesses with access to clean energy for their electricity.
The Boston City Council passed the measure unanimously and the mayor signed it into law. Along with our allies, we savoured the victory and looked forward to implementation. It never came. Our "climate mayor" hasn't taken the next steps to enact CCE in Boston. Today, we continue our push to bring it and other bold climate measures to the city. We will not stop until real action is taken to move us towards clean, renewable energy.
This summer we turn our focus to holding all those leaders who vowed to "stay in" accountable to their promise. In advance of the Global Climate Action Summit in San Francisco, mothers will take action to remind their governors, mayors and legislators of their commitment to a livable climate for all children.
Together, mothers are powerful, and we won't give up. The lives of our children are at stake.
Kelsey Wirth is the Co-Founder and Chair of Mothers Out Front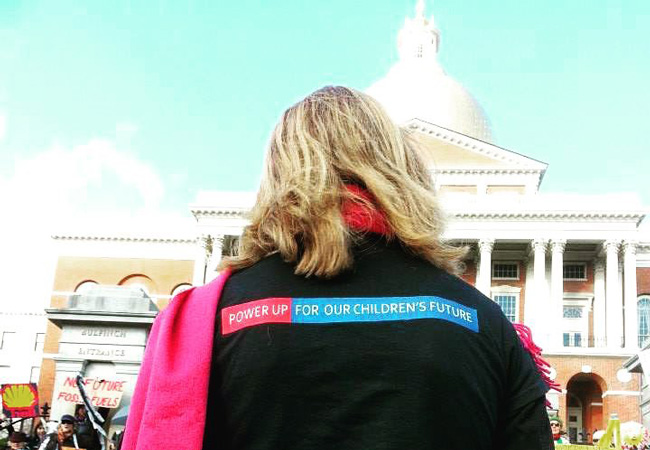 Credit: @MothersOutFront
Views expressed are those of the author and do not necessarily represent those of The Elders or The Elders Foundation