Nuclear weapons
Opinion
Nuclear proliferation needs a multilateral response just as much as the coronavirus pandemic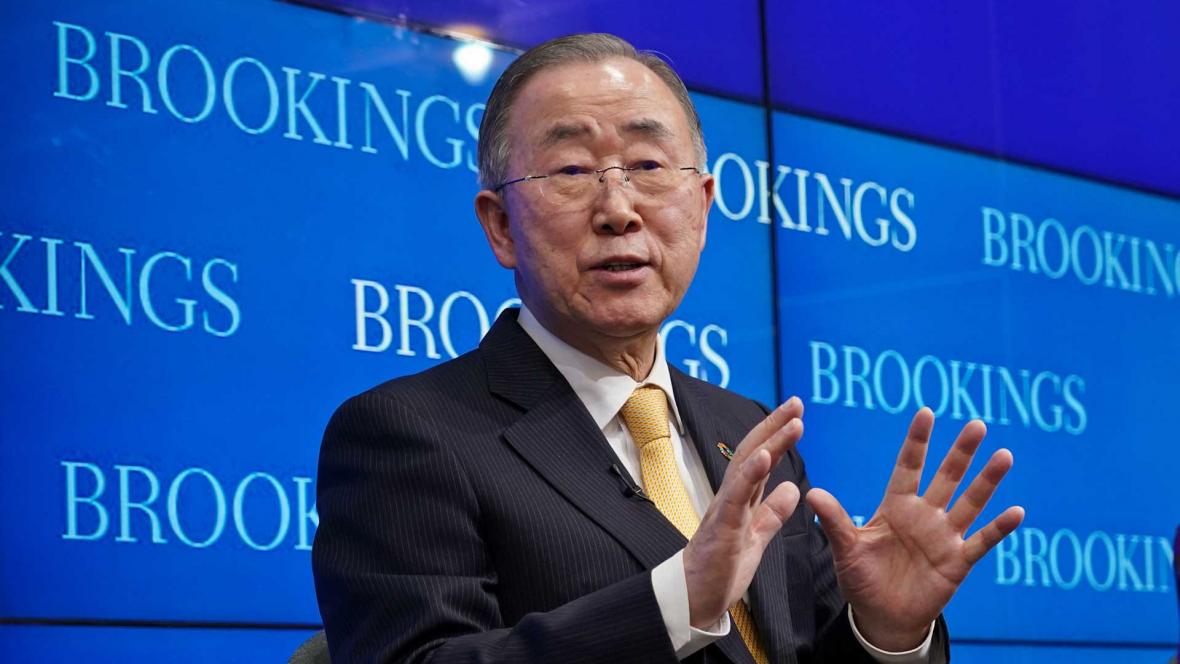 Warning that a nuclear conflict remains a clear and present danger today, Ban Ki-moon calls on nuclear powers to reduce their arsenals and invest in a robust global arms control architecture. Published in the South China Morning Post.
COVID-19 has shone a light on the acute vulnerabilities of our interconnected world. No country can tackle the pandemic alone, regardless of its size, strength or technological sophistication. The only way to overcome the threat is through international cooperation and transparency.
The same principles apply to an equally grave threat to the future of humanity, albeit one that rarely dominates the news. 2020 marks the 75th anniversary of the dropping of atomic bombs on Hiroshima and Nagasaki. The Treaty on the Non-Proliferation of Nuclear Weapons (NPT) has been effective for the past 50 years, with 190 countries taking part.
Yet a nuclear conflict remains a clear and present danger today. According to the latest report from the Stockholm International Peace Research Institute, the global nuclear weapons stockpile still stands at 13,400 warheads even three decades after the end of the Cold War.
Tensions are alarmingly high between the two nuclear states of China and India after the deadly clashes between troops in Ladakh's Galwan valley. Furthermore, India and its other nuclear-armed neighbour Pakistan came frighteningly close to war in 2019 over the disputed territory of Kashmir.
When it comes to the Korean peninsula, US President Donald Trump's attempts to build a personal rapport with North Korean leader Kim Jong-un have yielded nothing in terms of concrete progress toward North Korea's complete denuclearisation. On the contrary, North Korea continues to strengthen its nuclear capabilities and has never given up its ambition to acquire de facto nuclear status.
All of this bodes ill when COVID-19 consumes world leaders' attention and has put on hold the habitual rhythms and practices of international diplomacy.
The nuclear threat was already growing in significance before the pandemic after deliberate assaults on the multilateral system launched by nationalist, isolationist and authoritarian leaders. The US decision in 2019 to withdraw from the Intermediate-Range Nuclear Forces Treaty was a myopic and retrograde move that harks back to the Cold War and a dangerous arms race on European soil and beyond.
In recent weeks, we have seen further alarming signals from Washington that weaken the global architecture of arms control and non-proliferation, including the announcement it intends to withdraw from the Open Skies Treaty and even reports that it is considering a resumption of nuclear testing after a 28-year moratorium.
This year should have also been the occasion for the Non-Proliferation Treaty Review Conference, which had to be postponed because of COVID-19.
All parties to the NPT should not waste the time afforded by this postponement and take concrete steps to meet their obligations on disarmament and non-proliferation. Those bearing the heaviest responsibility are the five permanent members of the UN Security Council, which have consistently failed to live up to their obligations on disarmament under Article 6 of the NPT.
States should exert whatever pressure they can to convince the US administration to agree to extend the New Strategic Arms Reduction Treaty (New START) for five years. Its expiry would mean no binding agreement on arms control between the two nuclear superpowers – the United States and Russia – and thus create a serious risk to global peace and security.
The US has suggested it wants to broaden New START to include China. While it is important for China to be engaged in the global disarmament discussion, it is disingenuous to make New START's extension dependent on Beijing, given that its stockpiles are one-twentieth the size of those of the US and Russia.
The US should instead accept the offer of Russian President Vladimir Putin and immediately agree to an extension. China's inclusion can be separately negotiated subsequently.
An effective, rules-based multilateral system is the world's insurance policy against existential threats, from pandemics to climate change to nuclear weapons.
Pious words about the victims of Hiroshima and Nagasaki will ring hollow if today's nuclear powers do not take concrete steps to reduce their arsenals and invest in a robust global arms control architecture.