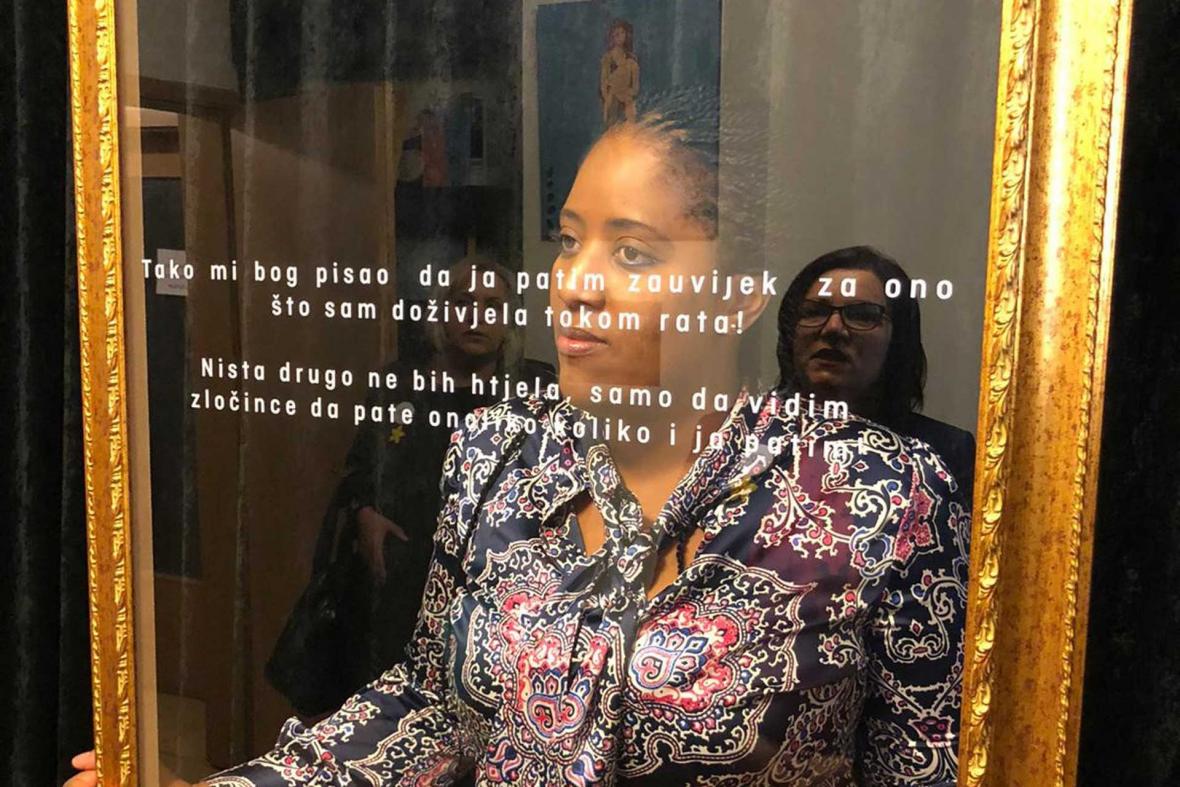 Nadine Tunasi from Survivors Speak Out highlights the importance of a survivor-centred approach to data collection within and beyond conflict zones.
This year's 16 Days of Activism Against Gender-Based Violence campaign is one of the most important events for me. As an activist and survivor, I am grateful that the UN has dedicated special time and space to highlight that it is still dangerous to be a woman in this world, and that gender-based violence affects millions of people globally.
2020 has been particularly significant with the COVID-19 pandemic worsening the existing problem of gender-based violence. In the UK for example, domestic violence has risen sharply during the quarantine restrictions.
From my work with the refugee organisation Freedom from Torture and the UK FCDO's Preventing Sexual Violence In Conflict Initiative, I know that women and girls are at further risk of suffering from sexual violence in conflicts zones. Gender-based violence has frequently been used as a weapon of war in some parts of the world, for example in countries like Bosnia, the Democratic Republic of Congo and Sri Lanka.
The coronavirus pandemic has created space for more vulnerabilities. In particular, isolation has resulted in survivors of abuse experiencing delays in getting access to adequate assistance. It has also created a perfect opportunity for perpetrators to commit sexual violence in the domestic sphere.
To inclusively and adequately address these issues, we must ensure that survivors are at the heart of decision-making, both in conflict and in post-conflict zones.
What is a survivor-centred approach when collecting data in conflict zone?
There are many considerations that should be given to a survivor when collecting her data.
Survivors must be able to set the parameters for confidentiality and safety. They must be in charge of what they wish to disclose. One reason for this is the risk of re-traumatisation when recounting details of abuse is high in these situations.
Organisations helping survivors to seek justice must ensure that the justice options identified will not cause further harm.
Too often survivors are stigmatised and ostracised by their communities. Some women face destitution and financial hardship as a result, which can deter other survivors of gender-based violence from coming forward.
A survivor-centred approach must be rooted in informed consent. Survivors must be able to understand what, how and when any information they provide is going to be used.
Therefore, organisations that work with survivors must consider the person's wellbeing at all times when collecting data. Survivors need to be informed about any processes and informed that they can change their mind at any time.
A survivor-centred approach must also be shown when completing questionnaires. We should only be asking survivors questions that are relevant to them. Data collection processes must be focused and specific so that they reflect the reality of what happened, rather than expose vulnerable women to endless bureaucracy.
Similarly, when survivors are able to access health care, it is important that the health professionals and all involved in working to assist them, collect their data with care, protecting their individual identity and assessing any possible safety issues that they may face.
Survivor-centred approach post-conflict zone
When fleeing from persecution, the majority of survivors will be considered to be "out of danger" even though they are still faced with uncertainties. Conflicts and wars do not stop just because bullets or perpetrators cannot come to you. Survivors may be out of physical danger but still face other types of dangers.
Survivors continue to face psychological dangers long after experiencing abuse. This can also harm attempts to seek refuge in countries that are putting hostile measures and rules in place.
Research suggests that survivors including women coming to the UK are not always given the appropriate space to enable them to disclose gender-based violence.2 In some cases, survivors are unable to disclose gender-based violence because the right questions have not been asked.
A failure in collecting data effectively is causing increased levels of traumatisation and a lack of adequate care to meet the needs of survivors.
In the UK, Freedom from Torture has outlined failings to identify torture and violence in the asylum system, and to respond appropriately.3 We must learn lessons from this globally. Collecting data effectively will lead to the correct decision being taken, sooner and more often.
I will conclude by saying that there is no survivor-centred approach without the meaningful participation of survivors themselves. A good survivor-centred approach to data collection must "do not harm." As someone who has worked in the sector for a long time, I know the cost of getting it wrong is too great.
---
2 Baillot, H., Cowan, S., Munro, V. 2012. 'Hearing the Right Gaps': Enabling and Responding to Disclosures of Sexual Violence Within the UK Asylum Process. Social & Legal Studies. 21 (3): 269-296.
3 https://freedomfromtorturestories.contentfiles.net/media/documents/Beyond_Belief_report.pdf
Nadine Tunasi is a member of Survivors Speak OUT - a torture survivor-led activist network at Freedom from Torture. She works with other survivors to raise awareness about the impact of torture and sexual violence and to highlight the importance of empowering survivors to speak on matters that affect them. Nadine is also a Survivor Champion for the UK Government's Preventing Sexual Violence in Conflict Initiative, working to ensure that survivors can have meaningful participation in speaking against sexual violence.
Views expressed are those of the author and do not necessarily represent those of The Elders or The Elders Foundation
Views expressed are those of the author and do not necessarily represent those of The Elders or The Elders Foundation