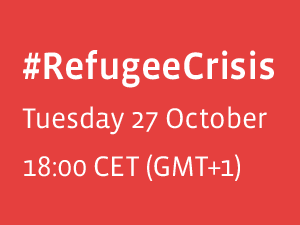 On 27 October, The Elders will debate the lessons of the ongoing Syrian Refugee Crisis with the UN High Commissioner for Human Rights and the Director General of the International Organization of Migration. Follow on Twitter: #RefugeeCrisis
"You cannot stop migration. If you don't have an organised and legal way for migrants to come, you push them into the hands of criminals and people smugglers." – Kofi Annan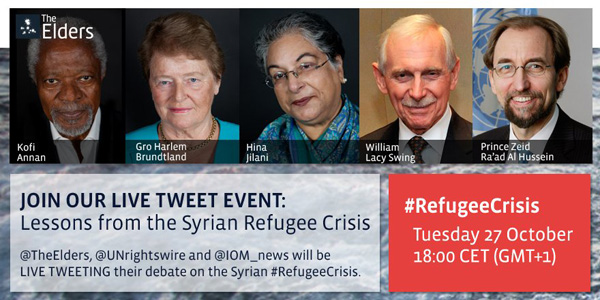 How can governments and the general public be persuaded to respond generously to refugees and migrants?
How can we best support human rights for those forced to leave their home countries?
Today, at 1800 CET (GMT+1) Kofi Annan, Gro Harlem Brundtland and Hina Jilani will debate the international community's response to the current refugee crisis and what must change in order to transform the refugee 'problem' into a manageable process.
They will be joined by Prince Zeid Ra'ad Al Hussein - the UN High Commissioner for Human Rights, William Lacy Swing - the Director General of the International Organization for Migration.
The event will be moderated by Melanie Kolbe - Assistant Professor from the Graduate Institute of International and Development Studies in Geneva.
Join the conversation from 1800 CET (GMT+1) using the hashtag #RefugeeCrisis.