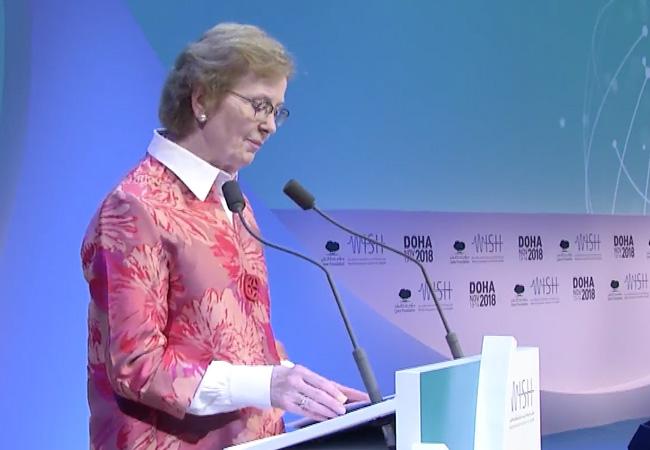 "Leaders need to realise that it is in their own interests, and those of their countries, to have a healthy population and a society with institutions and infrastructure that is sufficiently resilient in the face of climate change."
‍
Mary Robinson - Elder
Excellencies, Ladies and Gentlemen,
It is a pleasure to be with you here today at this impressive Summit. I am honoured to have the opportunity to talk about two topics that are close to my heart and deeply interlinked: climate change and planetary health.
Both issues constitute existential threats if they are not addressed rigorously and urgently; but equally, they open up the possibility of new opportunities for future growth and prosperity if a systematic and inclusive policy approach is developed by states, businesses and ordinary citizens.
It might sound ironic to say this at the beginning of a keynote speech, but I firmly believe that the time for talking is over.
We need to act – now, and fast.
As I am sure you all know, last month the Intergovernmental Panel on Climate Change issued a report on the consequences of global warming at 1.5 degrees Celsius and above.
This report makes it abundantly clear that we only have 12 years to take the necessary, radical action to cut emissions, end the consumption and subsidising of fossil fuels, and invest in sustainable, renewable energy to avert a rise in global temperatures above 1.5 degrees that would have catastrophic consequences for global health.
As my friend and fellow Elder Gro Brundtland said, the IPCC report is not a wake-up call, it is a ticking time-bomb.
The World Health Organization already predicts that between 2030 and 2050, climate change will cause approximately 250,000 additional deaths per year, from malnutrition, malaria, diarrhoea and heat stress.
The direct costs to health from climate change, excluding costs in health-determining sectors such as agriculture and water and sanitation, is estimated to be between US$2–4 billion per year by 2030.
Climate change threatens the huge amount of progress made on health and development in the past half century; it threatens to reverse the gains made through the Millennium Development Goals; and it threatens to undermine any efforts to achieve the Sustainable Development Goals – health related or otherwise.
The IPCC has also said it expects climate change to lead to increases in ill health in many regions, particularly those furthest away from the health sustainable development goal.
Examples include greater likelihood of injury, disease, and death due to more intense heat waves and fires; increased likelihood of under-nutrition resulting from diminished food production in poor regions; risks from lost work capacity and reduced labour productivity in vulnerable populations; and increased risks from food- and water-borne diseases.
What the latest report by the IPCC makes crystal clear is that the threats posed by a rise in temperatures above 1.5 degrees apply to every country in the world regardless of income level, and demand a concerted, joined-up global approach.
For example: I don't need to remind anyone in Qatar about the health risks of extreme heat – but had I been giving this lecture a year ago in northern Sweden, at this point the audience would probably have smiled and said "that's all very well, but it's not really a problem for us up here!"
If I were giving it there today though, I can assure you they would be nodding in sober agreement. This past summer we saw the almost unbelievable spectacle of wildfires in Sweden's Arctic Circle, as well as many other parts of Europe.
These heatwaves represent the new normal. They are more extreme, last longer and reach further because of climate change.
And they are not just isolated incidents. The long-term trend shows more and more people are being exposed to heatwaves as the earth's climate changes.
In 2016, over 150 million people were exposed to life-threatening heatwave conditions, and the threat is particularly acute for the young, the elderly, the disabled, and the poor.
Meeting this challenge will require the political will to commit substantial financial investment to climate-resilient health infrastructure.
It means embedding climate change mitigation, reaction and adaptation into long-term health planning, and ensuring environmental and economic policies are centred around health needs.
Hospitals and other health institutions need to consider this in practical, tangible terms: how do their buildings and operations contribute to greenhouse gas emissions, are their consumption models efficient and sustainable, how do they dispose of medical waste, and do they have a holistic approach that includes the needs of the wider community?
On a policy level, for the past three years The Elders have been championing Universal Health Coverage across the globe as the best way to meet the health SDG and provide accessible, affordable healthcare to all.
We are convinced that providing universal health coverage is one of the most important drivers of development, and a crucial means of tackling the health impacts of climate change.
And there is a crucial linkage between ending fossil fuel subsidies, improving health outcomes and building political consensus behind climate-resilient policies.
Subsidies to fossil fuel industries are clearly unacceptable and unsustainable, and The Elders have written on several occasions to the leaders of G20 and G7 countries to hold them to their word and demand a comprehensive abolition of these measures.
But consumer subsidies, for example on fuel products, are popular with the general population, particularly in developing countries, and leaders face considerable political challenges when seeking to reduce or end them.
However, countries such as Iran and Indonesia have shown that it is possible to reduce these subsidies when some of the saved public resources are channelled directly to increased spending on healthcare.
The public sees the immediate benefit as well as the longer-term advantages of a healthier environment, and leaders should then enjoy a broader mandate to pursue sustainable environmental, social and health policies.
But our responses cannot be driven solely by political expediency or enlightened self-interest.
I believe it is essential that we look at both climate change and healthcare through the prism of human rights, to which every person on Earth is entitled.
In this hall I see many talented medical professionals, representing world-class hospitals and research institutes, with an almost unparalleled capacity for technological innovation.
Yet given this abundance of global resources, how can it possibly be acceptable that hundreds of millions of our global citizens still cannot access or afford the healthcare they need for themselves and their families – including in some of the richest countries on the planet, including the United States?
Innovation in technology, surgical techniques and health systems has brought huge benefits to healthcare in recent decades and transformed our understanding of how the human body and mind works.
But innovation alone will not achieve the systemic changes needed to extend these benefits to the most vulnerable and marginalised people in our societies whose health needs are greatest.
Ultimately, this comes down to a question of political will and priorities. As with climate change, leaders need to realise that it is in their own interests, and those of their countries, to have a healthy population and a society with institutions and infrastructure that is sufficiently resilient in the face of climate change.
In both cases, the state remains the indispensable actor – and must therefore bear the chief responsibility for funding healthcare and climate policies.
These responsibilities cannot be abdicated or outsourced to the private sector.
You only have to look at the United States to see the damaging consequences of a market-driven health system where the profit motive trumps patients' healthcare needs, and where vested interests from private hospitals to the pharmaceutical industry spend billions of dollars to thwart even modest efforts to extend public insurance and healthcare provision.
Equally, although it is commendable that many businesses, including in the energy sector, are now acknowledging the realities of climate change and the need to take action, "corporate social responsibility" can only ever be a complement to rigorous state regulation, underpinned by internationally-agreed commitments.
In our globalised world, this can only be done by multilateral cooperation.
The Paris Agreement on climate change, and the Sustainable Development Goals, are two landmark multilateral achievements that serve as a rebuke to the cynics or so-called realpolitik advocates who argue that nations will never act out of altruism.
Both the Paris agreement and the SDGs are a declaration of solidarity not only with today's global citizens but future generations.
They offer a roadmap for genuine, transformative progress – but only if leaders are serious about their implementation, and show sustained ambition and commitment to the multilateral process.
The notion that the globalised nature of our economic and political order can in some way be halted or reversed is, frankly, illiterate.
Leaders who pursue a unilateral path, who disdain cooperation and who renege on previously-agreed commitments, need to go back to their history books.
I have in fact just come from Paris, where President Macron organised a major Peace Forum to mark the centenary of the end of the First World War.
This historical anniversary is a stark reminder of the catastrophe that can ensue when multilateral cooperation breaks down and leaders believe their interests can be best served by bellicose actions.
The war in Europe devastated a whole generation. It literally poisoned the land; some of the soil where the trenches lay is still contaminated by degraded munitions and poison gas.
Moreover, the devastating impact of the conflict on public health and medical institutions and infrastructure meant that when an epidemic of Spanish influenza broke out in the winter of 1918, just as the guns were falling silent, it spread like wildfire and ended up killing as many people as the war itself.
So all of us here – doctors, health experts, politicians and former politicians – have a responsibility to put pressure on leaders to take climate and health seriously, to see them as human rights issues that are inextricably intertwined, and to make these leaders understand that if they do not act in concert with each other, they are damning us all to failure, if not annihilation
As some of you will know, for many years I have advocated the need for a "climate justice" approach to tackling the challenges of global warming.
Climate justice is a transformative concept – compelling a shift from a discourse on greenhouse gases and melting icecaps into a civil rights movement with the people and communities most vulnerable to climate impacts at its heart.
Climate justice links human rights and development to achieve a human-centred approach, safeguarding the rights of the most vulnerable people and sharing the burdens and benefits of climate change and its impacts equitably and fairly.
I believe we also need to think about "health justice", to ensure that ordinary people are always at the heart of health policy and that their needs are paramount above the profit motives of industry or the short-term calculations of politicians.
It is clearly a grave health injustice when poor women and their newborn babies are detained in hospitals because their families can't afford their medical bills. But this is the reality for thousands of people in health systems dominated by private financing and weak governance.
Both climate and health policies need to understand the specific needs of vulnerable and marginalised groups who have been too often overlooked, including women, girls, adolescents, people with mental health issues, indigenous peoples, sexual minorities and nomadic communities.
They also need to understand the intersectionality of these diverse groups and needs. Injustice cannot be overcome if each issue is treated in its own individual silo, or without appreciating the complex interconnections between the different drivers of ill-health, poverty, prejudice and discrimination.
I have endeavoured to spend my life in the service of those marginalised or made vulnerable by discrimination because of gender, race or poverty.
I take as my guide Article 1 of the Universal Declaration of Human Rights – that essential text whose 70th anniversary we are marking this year -- which begins "All human beings are born free and equal in dignity and rights".
It is important to note, however, that the Declaration, signed in 1948, and the two International Human Rights Covenants, adopted in 1966, do not include any reference to a right to a healthy environment.
When I had the honour to serve as UN High Commissioner for Human Rights, from 1997 to 2002, climate change was not on the radar of human rights institutions. It was through my later work on human rights in Africa that I came to understand that any advances in development were threatened by the impacts of climate change.
Last year, together with my fellow Elder and sister Graça Machel, I visited Tanzaniato encourage that country's progress towards Universal Health Coverage.
We met rural women who still only had scant access to medical services and products despite the dedicated efforts of local doctors. If real and enduring progress is to be made towards UHC in Tanzania, the needs of these women needs to be at the top of the agenda for every official in the Ministry of Health – and, indeed, the Ministry of Finance and the Prime Minister's office.
Governments and companies need legitimacy and trust to be able to operate effectively in society. This applies to the Middle East as much as rural Africa, and indeed to the whole world. If these actors do not prioritise action on climate and health, they risk forfeiting this legitimacy and trust far sooner than any of us might anticipate.
But delivering effective policies on climate and health is not just a matter of sound investment or shrewd self-interest. It is a matter of human rights and justice. The economies and companies that have contributed most to global warming and unequal health outcomes have a responsibility to lead on finding solutions.
In surveying the complex array of global challenges, the devastating consequences of inaction and the often mediocre response by public leadership, it is easy to fall into despondency.
In the words of the great Irish poet WB Yeats, it can feel at times like "the best lack all conviction, while the worst are full of passionate intensity."
But despair is not an option! We cannot afford it, and our children and grandchildren will not forgive us if we do not step up and do what is right.
I remain inspired and invigorated by words of two great men with whom I have had the honour to work with as members of The Elders: Archbishop Desmond Tutu and the late Kofi Annan.
Archbishop Tutu – or Arch, as he always told us to call him – defines himself as a "prisoner of hope", a phrase which resonates deeply with me and inspires me to remain determined to fight for change.
And Kofi Annan always called himself a "stubborn optimist". His life-long commitment to justice and equality did not permit any other way of looking at the world. Kofi knew that a better world was possible, and worked to the very end to make it happen.
As we go forward today, let us all take heart from their legacies and work together for a world where everyone enjoys the right to health, a thriving environment and a peaceful planet to bequeath to subsequent generations.
Thank you.