Writing in Haaretz, Gro Harlem Brundtland and Jimmy Carter welcome the UN Human Rights Council's report into the 2014 Gaza conflict, arguing that it is a milestone to ending impunity for violations against international law.
"Continued impunity and lack of accountability will greatly increase the likelihood of fresh conflict and further war crimes."
The report by the UN Human Rights Council's Commission of Inquiry into the 2014 Gaza war highlights rights violations and possible war crimes committed by both sides. Its findings echo what we heard on our own visit to Israel and Palestine two months ago. We received many first-hand accounts of the effects of the war on both Palestinian and Israeli civilians.
We came away from Israel and Palestine convinced that political leaders in Israel, the Palestinian Authority and Hamas all need to be subject to greater accountability so that they uphold the rule of law.
This is why we welcome the Commission of Inquiry's report as a potential milestone on the path to accountability. The report is as objective and even-handed as circumstances allowed, as is to be expected with the highly regarded US judge Mary McGowan Davis as Commission Chair.
It is regrettable that neither Israel nor Hamas responded to the Commission's questions about specific incidents and legal and policy issues – unlike the Palestinian leadership in Ramallah, which did provide answers. Israel went further, refusing any cooperation and denying entry to Palestinian territories to members of the Commission on the grounds of "inherent bias" – a charge repeated again by Prime Minister Benjamin Netanyahu when the report was published.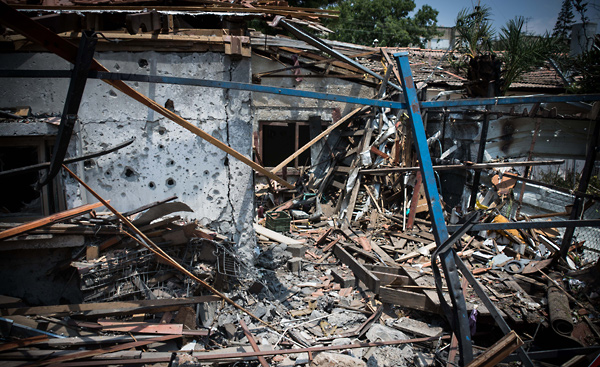 House in Israel destroyed by Hamas rocket. Photo: Israel Defence Forces
Israel regularly complains about perceived bias by the UN and its institutions (notably the Human Rights Council), and other international actors – including, on occasion, The Elders. In such a deep-rooted, protracted and torturous conflict, objectivity becomes a precarious commodity and accusations of bias can be easily deployed by both sides to deflect criticism.
It is worth noting that Hamas has also rejected the Commission's criticisms. When institutions, be they UN-related or respected NGOs, are loudly criticised by both parties to a dispute or conflict, the likelihood is that they have acted in a spirit of neutrality.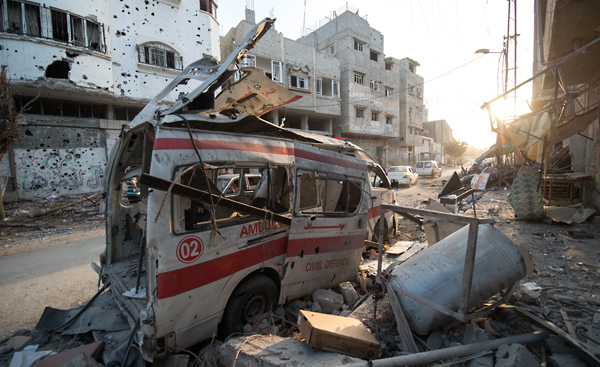 Destroyed ambulance in Gaza Strip Photo: Boris Niehaus
Ironically, Israel and Hamas both complain that they are being compared to one another in the report. Israel, as a sovereign, internationally-recognised state, objects to any comparison to what it calls a terrorist organisation; likewise, Hamas in its self-declared role as a "resistance movement" sees no comparison between its actions and those of an occupying military power.
These complaints obscure a wider point: the actions of both Israel and Hamas should be measured against international standards of behaviour. It is not a question of equivalence, but of equal and fair treatment under international law.
The Commission's report recommends that the parties to the Gaza conflict should themselves take responsibility for prosecuting and ensuring appropriate accountability for violations of international law. However, it seems that neither Israel nor Hamas can be relied upon to do so. Consistent with past practice in previous conflicts over Gaza, Israel's own report has exonerated its armed forces from any blame for civilian deaths in Gaza, including four children killed on a beach, attacks on UN schools where displaced inhabitants were taking shelter, and apparently deliberate destruction of civilian homes.
Hamas claims the report establishes a "false balance" between victims and killers – ignoring those killed by its own attacks. Impunity flourishes in this climate of denial and self-justification, making ordinary citizens on all sides more vulnerable to violent attacks and human rights abuses.
This is why The Elders support the Commission's main recommendation that "the parties should cooperate fully with the preliminary examination of the International Criminal Court (ICC) and with any subsequent investigation by the ICC that may be opened."
The decision by the Palestinian Authority to now submit evidence to the ICC on the Gaza war, illegal settlements in the West Bank and East Jerusalem, and the treatment of Palestinian prisoners shows this issue will only gain in political salience in the weeks and months ahead.
The ICC is one of the nearest institutions to objective neutrality that the community of nations possesses. The more it is used and respected, the more effective it will become. It was set up to be one of the principal means of achieving accountability for war crimes and minimising impunity. Regrettably neither Israel nor the US are parties to the Court. In our view, they should be.
As the Commission's report makes clear, impunity for breaches of international law, including war crimes, has prevailed "across the board" in recent conflicts between Israel and the Palestinians, not least in Gaza. Continued impunity and lack of accountability will greatly increase the likelihood of fresh conflict and further war crimes. Already, diplomats on the ground are grimly forecasting a new, and even bloodier, round over Gaza.
The peoples of Israel and Palestine are weary of conflict; the international community is weary of years of failed negotiations; the donors are weary of rebuilding destruction and seeing no results for their generosity. If, however, the ICC can now enforce accountability this could increase the incentive for all parties to act within the law and convince them that the only way to resolve the conflict is through peaceful diplomacy, not force of arms.