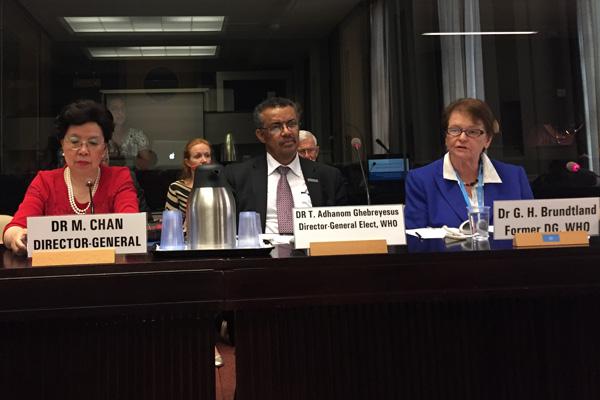 In a speech to the 70th World Health Assembly, Gro Harlem Brundtland explains why Universal Health Coverage is grounded in human rights and is possible for all, with genuine political commitment.
No one should be able to say that UHC is unaffordable or that they don't know how to do it. –Gro Harlem Brundtland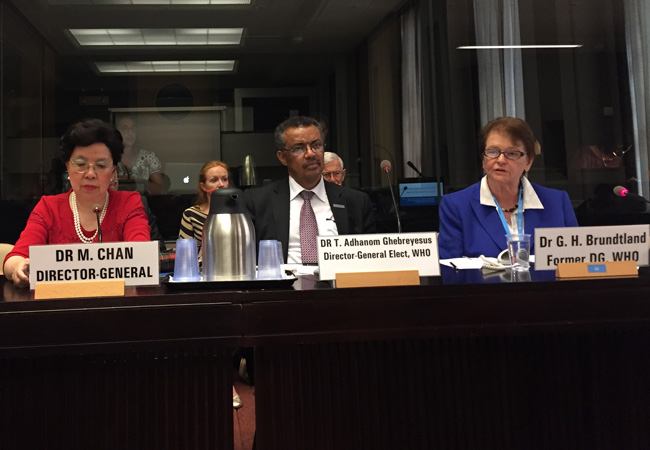 Three generations of WHO Directors-General speak about UHC at 70th World Health Assembly in May 2017.
On 25 May, a historic session at the 70th World Health Assembly saw three generations of WHO Directors-General speak about Universal Health Coverage as a human right. Flanked by her successors at WHO, outgoing Director-General Margaret Chan and the newly elected Director-General Dr Tedros Adhanom Ghebreyesus, Gro Harlem Brundtand explained how all countries can achieve UHC. What is required is genuine commitment by leaders.
Honourable Ministers of Health, Director-General of WHO and Director-General Elect, I am honoured and delighted to be returning to Geneva to talk about a topic which I know unites us all: Universal Health Coverage, where everybody on the planet receives the healthcare they need without suffering financial hardship.
Actually you can trace the origins back to the creation of the United Nations and WHO and to the passing of the Universal Declaration of Human Rights in 1948.
Before and in the early 20th century, countries tended to focus on improving the health of men with the intention of building a healthy work force - to fight wars and improve industrial output. By linking access to health care to employment status, women, children, the elderly, the chronically sick and people with disabilities were normally left behind.
But after the traumas of two world wars, countries across the world tried to build more inclusive societies where everybody would have basic rights, including the right to health. As well as in the Universal Declaration of Human Rights, this principle was enshrined in the WHO constitution:
"The enjoyment of the highest attainable standard of health is one of the fundamental rights of every human being without distinction of race, religion, political belief, economic or social condition."
And also that:
"Governments have a responsibility for the health of their peoples which can be fulfilled only by the provision of adequate health and social measures."
WHO has been at the forefront of realizing these rights over the last 70 years. Perhaps most famously, through the Alma-Ata Declaration of 1978 which called for Health for All by 2000 and which recognized the importance of universal primary healthcare in reaching this goal.
However, the reality is, to succeed, we must also address vital economic and political factors. This is why, when I was Director General, I established the Commission on Macroeconomics and Health, chaired by Professor Jeffrey Sachs, to demonstrate the huge impact health has on economic and social development, and to convince governments to invest in health.
Our World Health Report 2000 was completely focused on the priority of health systems, their key principles and best practices, in order to reach all.
Working with colleagues in the United Nations and with the Secretary General, and now my fellow Elder, Kofi Annan, we were successful in focusing 3 of the 8 Millennium Development Goals on health priorities.
I would like to recognize the tremendous role Margaret [Chan] has played in ensuring that UHC has become enshrined in the health SDG. Your message that "UHC is the single most powerful concept that public health has to offer" has been heeded by governments across the world and has propelled UHC to the top of the global health agenda.
I would also like to highlight the impact your World Health Report of 2010 had in helping the world realize that UHC can only be reached through public financing. After the failed development policies of the 1980s, that promoted private health financing, you spoke-up for billions when you said that "user fees punish the poor".
Now our greatest challenge lies ahead, in ensuring that all countries achieve UHC by 2030.
Each year we hear about more successes from countries that have extended coverage to more of their people. The experience of countries such as Thailand, Sri Lanka, the new health reforms being pioneered in Delhi, and progress being made in countries such as Ethiopia and Rwanda, demonstrate that ALL countries at ALL income levels can move towards UHC.
Malawi, Bhutan and Nepal have shown that it is perfectly feasible to sustain universal free primary healthcare for the entire population even at relatively low income levels.
No one should be able to say that UHC is unaffordable or that they don't know how to do it.
The Elders believe it is important to start by offering a package of primary healthcare services, free at the point of delivery for everyone, prioritizing the services that vulnerable groups and in particular women and children, need the most.
Learning from UHC successes, there are a few key reforms that ALL countries can take to create a functioning primary healthcare system accessible to all.
First, it is key to increase levels of public financing allocated to the health sector. Every Government should commit to spending at least 5% of GDP, of public financing, on health and to moving progressively towards this target.
All governments can afford this. If Costa Rica can find 6.8% of its GDP and Malawi 6% of its GDP to fund their public health systems, all countries can.
But in many countries, including big economies in South Asia where millions of people lack coverage, public health expenditure only accounts for around 1% of GDP. Clearly this needs to change.
Of course there remains a vital role for international aid to augment domestic public financing and fill funding gaps in countries with weak economies. In low income countries with binding resource constraints, development partners will provide support if they see clear leadership and a sensible strategy.
Second, countries that have introduced free primary healthcare successfully have prepared for this by recruiting more health workers, increasing salaries and cleaning up their health sector payrolls to ensure all frontline workers are paid on time every month.
Third, as demonstrated by Ethiopia and Rwanda, creating a network of community health workers is an important step that can bring rapid results, even with limited resources. Through mobile phones, community health workers will soon be able to provide a broader range of diagnostic, preventive and curative services. This will be more efficient and enable more people to receive vital healthcare.
Fourth, countries have focused on sorting out their medicine supply systems, so essential medicines and preventive commodities are always available, free of charge, at all health units.
Finally, implementing mass information campaigns is crucial to ensure that all population groups are aware of their rights to free primary care.
In carrying out these reforms, it is crucial that countries use the best available evidence to guide their design and implementation. And all countries should evaluate their reforms so they can feed back into the global pool of shared evidence.
What is now needed is genuine political commitment to UHC by Heads of State, their Ministers of Finance and their Ministers of Health.
Dr Tedros, you have been a champion of UHC for many years. So I am sure you will be working with all stakeholders to generate this elusive political commitment. We at The Elders would be delighted to help you in this critical process so that countries across the world unlock the enormous health, economic, social and political benefits that UHC has to offer.
I wish the new DG, the Ministers of Health gathered here today, and all of you, every success in your work to achieve UHC, making the right to health for all a reality.
---
Watch the full speech: