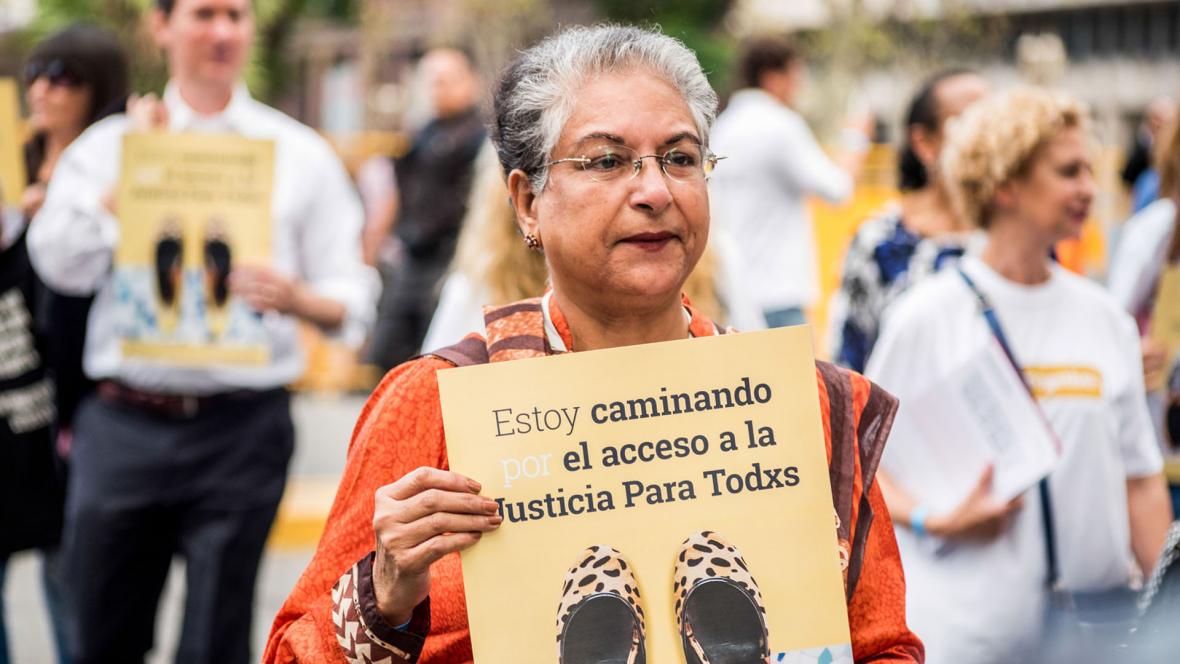 States must be held accountable for rights violations and the voices and values of civil society need to be supported more than ever if we are to achieve justice for all, says
Hina Jilani
.
This article was first published in Business Day.
As we mark international Human Rights Day on December 10, we should recall that human rights and justice are indivisible and indispensable concepts guiding the global struggle for emancipation.
It is no coincidence that Nelson Mandela and Mahatma Gandhi, two of the greatest freedom fighters the world has ever seen, both started their careers as lawyers. They knew that the law offered an avenue whereby people could claim and gain their rights, and that those who seek to abuse or deprive hard-won liberties could be held to account.
The need for accountability and protection by the law has been made abundantly clear by the events of the past year. Russia's illegal invasion of Ukraine has violated the core tenets of the UN Charter, and the growing evidence of war crimes committed against Ukrainian soldiers and civilians in occupied territory demands redress under international law.
In Iran, brave women have been joined by people from across all sections of society in protest against a brutal and discriminatory regime that runs roughshod over the fundamental rights to freedom of expression and assembly.
And in the US, the decision by the Supreme Court to overturn the long-established right to abortion has sparked a determined fightback by women's groups and wider civil society who are concerned about the encroachment of women's freedom of choice, bodily autonomy and social independence.
We must bring an end to state violence and collective punishment in all its forms, whether perpetrated by the Israeli state against Palestinians, by China against the Uyghur people, or by Iran against its citizens.
These examples are not exhaustive; all around the world, citizens are showing great courage and affirming their rights in the face of patriarchal oppression and systemic legal discrimination.
This is why the international community must demonstrate consistency in holding states accountable for rights violations, regardless of their political ideology, geopolitical alliances or economic strength. There is no other way to tackle impunity which otherwise spreads like a virus, corrupting and corroding laws, norms and institutions alike.
When ordinary women and men have unbridled access to justice in their communities, on their terms, they feel more empowered and connected to others in society. As the secretary-general of the UN Antonio Guterres has said in his "Our Common Agenda" report, "justice is an essential dimension of the social contract".
In this regard, efforts must be redoubled to promote a truly people-centred vision of justice in the broader context of working to achieve the UN's sustainable development goals.
Coalitions such as the Justice Action Coalition — 18 governments and 12 partnering organisations — are pushing for concerted action in 2023 to define and implement pathways to people-centred justice.
These efforts include gathering data on the justice people want and need and how they experience the judicial system; and developing strategies to become much better at resolving and preventing people's most common justice problems.
The principle of gender equality must inform all responses, and we need to see investment at scale to transform justice as it is delivered to and experienced by people.
Some of these reforms may seem prosaic in the face of the complex and heavily politicised contexts in which injustice currently thrives. But tangible, practical outcomes are essential if the fight for justice is to properly take root in the communities that need it the most.
One such example is the work of the Legal Development Network (LDN) in Ukraine — a coalition of 21 organisations that promote people-centred justice through aid, education, strategic advocacy and on-the-ground support.
Their work has been supported in this critical and challenging year by a grant from the Legal Empowerment Fund (LEF), a 10-year, multimillion-dollar initiative committed to closing the global justice gap through access to justice.
With the LEF's support, the LDN has helped people displaced by Russia's invasion of Ukraine. Lawyers from the coalition have provided advice and legal counselling on everything from relocation rights and temporary housing to registering births or deaths during wartime.
I am full of admiration for such committed and courageous activists. Although the contexts are different, they remind me of the struggles endured over the years by the women's movement in my native Pakistan.
For many years, these women fought against repressive and discriminatory attitudes as well as legislation that maligns the status of women. But at the same time, they stood their ground and for 25 years demanded relief from this repression, both social as well as legal.
In today's challenging times, the voices and values of civil society need to be supported more than ever, not ignored or oppressed in the name of expediency or authoritarianism. Without them, we will never achieve the human rights and justice that all of us deserve.