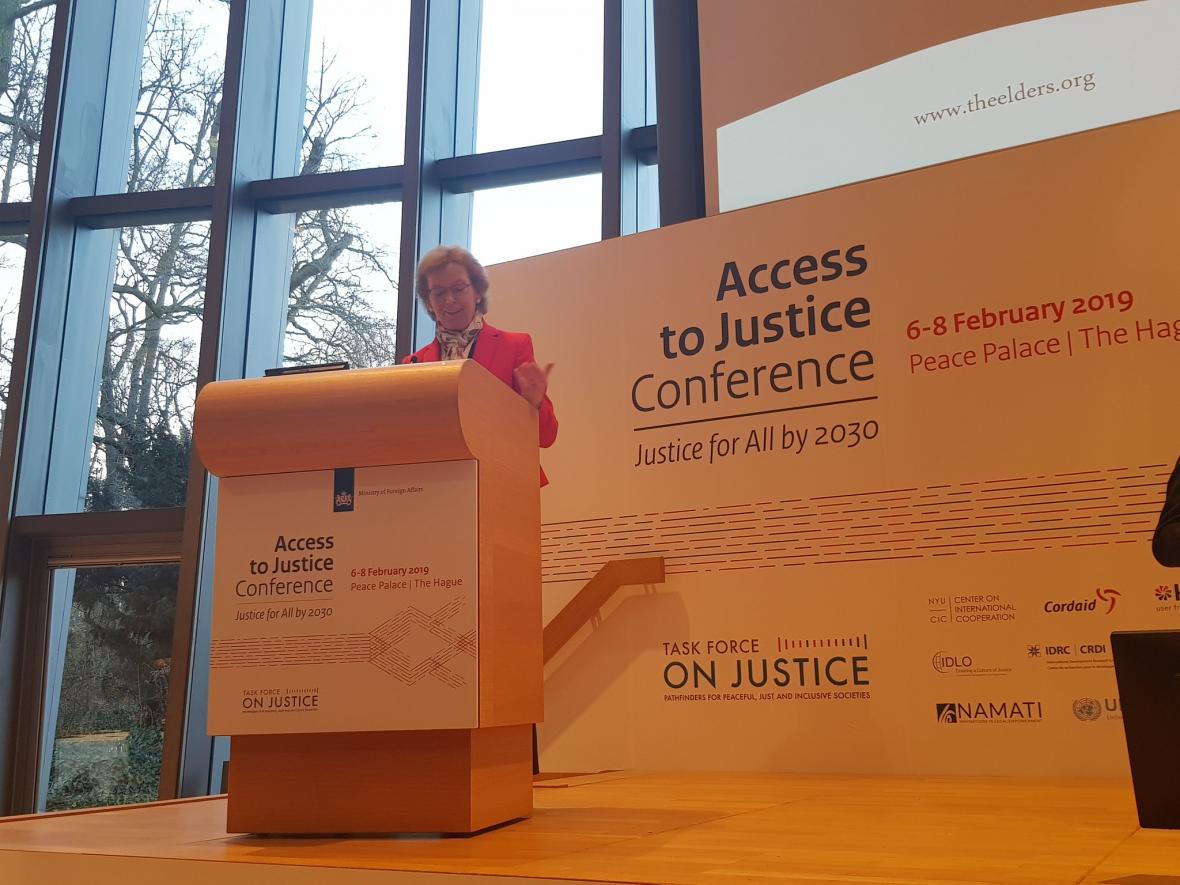 At the launch of The Elders' new programme on Access to Justice, Mary Robinson explains why the time is right for a new push for justice for all.
It is an honour to be here with you this evening, after a busy and stimulating day of discussions on the justice agenda in all its diverse aspects and ramifications.
As Sam just explained, and as you saw on the video, Hina and I are here as members of The Elders, the group of independent leaders founded by Nelson Mandela to work for peace, justice and human rights.
When Madiba launched our group in Johannesburg in 2007, he charged us with a clear mandate that inspires all our activities across a broad range of initiatives, and that was:
"Support courage where there is fear, foster agreement where there is conflict, and inspire hope where there is despair."
Today we are launching a new initiative for The Elders, championing access to justice for all. I know this is a subject close to the heart of everyone here so I will not repeat arguments, facts and figures that you will have already heard.
Rather, I want to explain why The Elders have decided to work on this issue. I want to show how it fits into the broader efforts to achieve the Sustainable Development Goals and build a world where human rights and dignity are universally respected.
The SDGs represent one of the great achievements of multilateral diplomacy in recent years. Together with the Paris Agreement on climate change, signed in the same year, they offer a clear pathway to progress, with clearly defined responsibilities and benchmarks by which to measure states' progress towards implementation.
In today's troubled and turbulent times, when the forces of populism, isolationism and unilateralism are on the rise, it is vital that all of us who believe in the promise and the vision of the SDGs stand firm in their defence.
We know from today's geopolitical landscape, and we know from the lessons of history, that populism, isolationism and unilateralism are invariably the handmaidens of injustice. When politics is driven by cynical self-interest; when classes, communities and nations are set against each other so the interests of the powerful go unchallenged; and when discrimination against women and minority groups is excused in the name of cultural tradition, this constitutes an assault on justice.
Justice is, in fact, at the heart of the UN's 2030 Development Agenda, which envisages a "just, equitable, tolerant, open and socially inclusive world in which the needs of the most vulnerable are met". World leaders acknowledged this when they signed up to the Goals in 2015. Our challenge today is to hold them to account.
Societies at every level of income and development are failing to ensure that everyone has equal access to justice regardless of income, gender, race or sexual orientation.
I was a member of the Commission on Legal Empowerment of the Poor, and our report in 2008 found that more than four billion people lived outside the protection of the law, meaning that they did not have effective access to legal systems when they need them. This has resulted in a continuing denial of the basic right to an effective remedy under the law. It is shaming to admit that, more than a decade on from that landmark report, the scale of the justice gap has worsened.
Today, as the Taskforce report makes clear, more than 5 billion people do not have meaningful access to justice. This includes at least 244 million people living in extreme conditions of injustice – they are modern slaves, are stateless, or their countries or communities are riddled with conflict, violence and lawlessness. Such situations can have a devastating impact on individual lives, families, communities and the wider social fabric.
Lack of justice undermines state legitimacy, threatening social peace and stability. It also undermines human dignity and creates a moral vacuum that risks being filled by those for whom morality is subjugated to power, domination and enrichment.
Violence against women and girls is a colossal and grave injustice in itself, and is a symptom of wider contempt for individual and collective rights and freedoms. The Elders will put a particular priority on defending women's rights and protecting them from violence as we pursue our justice initiative.
We agree with the Taskforce on the need for greater and smarter investment in justice systems, which can have transformative impacts on societies, particularly when formal and informal actors work together. We also believe that real progress in achieving access to justice for women, men and children, and the wider SDG agenda, can only be achieved with the full participation of civil society actors, and when measures are adopted to enable independent institutions and civil society to hold governments accountable and free from corruption.
As we embark on this new initiative as Elders, we are grateful for the support we have received from a wide range of civil society groups and activists who are working on the frontlines, often in circumstances of physical danger and political risk. We learned a lot from the Sparks of Hope during our 10th Anniversary events, including the march for justice which Hina and I attended in Buenos Aires.
We want our voices to complement and amplify civil society voices; we stand in solidarity with you and will do all we can to make your voices heard when we meet heads of state, government officials and policymakers in countries around the world.
Thank you.