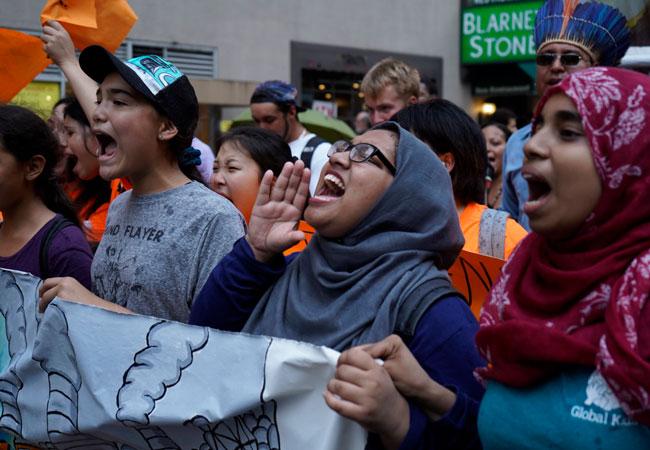 As people across the US and around the world #RiseForClimate, Mary Robinson urges politicians and business leaders due to gather at the Global Climate Action Summit in California to heed their call for climate justice.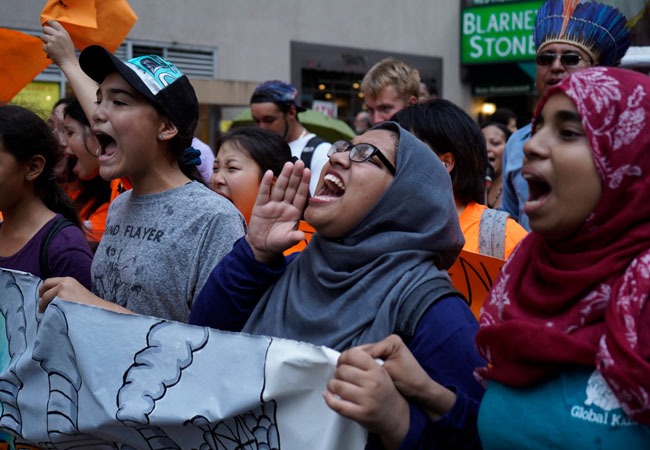 #RiseForClimate mobilisation in New York on 6 September (Credit: Cristián Cáceres Granda)
Since President Trump's announcement in 2017 that he was withdrawing from the Paris Agreement, I have been heartened by the vast mobilisation of American people in defence of this vital global deal. Governors, mayors, business leaders, labour unions, mothers, fathers and students have all taken a stand and shown their solidarity with people living in vulnerable communities and countries.
The Global Climate Action Summit being hosted this month by California's Governor Jerry Brown is an opportunity to galvanise political will for climate action and climate justice. As we all know California has a thriving economy, larger than most countries. Likewise, it experiences the same challenges in transitioning away from fossil fuels that countries around the world do; from safeguarding jobs to ensuring that climate policies don't burden the poorest people in society. As such it is well placed to demonstrate leadership on the national and international stage by ending fossil fuel investment and phasing out production.
"The marches are a call to action, a call for human rights protection and a call for justice."
The California Summit will be preceded by major civil society marches under the "Rise for Climate Mobilisation" banner across the State, the US and around the world. The marches are a call to action, a call for human rights protection and a call for justice. Their message must permeate the walls of the Summit and bring the impacts of climate change and climate action on people to the fore in the discussions between political and business leaders.
I am encouraged by the action being taken by states, cities and communities across the US to combat climate change. It shows what can be and is being done. The city of Washington, DC, together with 128 other US cities including Boston, Los Angeles and San Francisco, is a signatory to the Global Covenant of Mayors for Climate and Energy. As signatories to the Covenant, cities commit to voluntary actions to combat climate change and to move to a low emission, resilient society.
Major US universities including California State University, Stanford, Johns Hopkins and the University of Massachusetts are among 710 institutions worldwide which have made commitments to divest from fossil fuels, representing $5.5 trillion in assets. Faith groups including the US Center for Action and Contemplation and the New York Union Theological Seminary have also voted for fossil fuel divestment.
To be transformative, these actions need to reach and be informed by the needs of people at every level in society. Popular pressure is crucial to maintain ambition and to fight against vested industrial and financial interests, while legitimacy and trust between people and business, and communities and government, is critical to effective climate action.
For example, 5.4 million Californians currently live within a mile of a dirty oil or gas well. They to have their right to participate in climate decision-making respected and fulfilled. These people are more at risk of developing some forms of cancer and more likely to have asthma attacks and respiratory problems. Children are more likely to be born prematurely and with birth defects, while mothers experience more high risk pregnancies and low-birthweight babies than elsewhere in the state. Ending oil and gas production in their neighbourhoods would be a huge step towards meeting the goals set in the Paris Agreement while protecting public health and reducing healthcare costs.
The Fourth Climate Change Assessment, recently published by the Government of California, incorporates climate justice for the first time. It recommends the use of mapping tools and indices to identify climate-vulnerable communities and populations. As a next step, the codification of the involvement of the people most vulnerable to climate change early and often in every aspect of climate adaptation is recommended. These and other steps related to protecting the rights of vulnerable people and communities are prerequisites for achieving a just transition into a carbon-neutral economy.
"Climate action is not just a matter of sound investment or shrewd self-interest. It is a matter of human rights and justice."
Climate action is not just a matter of sound investment or shrewd self-interest. It is a matter of human rights and justice. The economies and companies that have contributed most to global warming have a responsibility to lead on finding solutions and reducing emissions. They also have a responsibility to protect and respect the rights of the people who are least responsible and most vulnerable to the impacts of climate change. Governments and companies need legitimacy and trust to be able to operate effectively in society. California is a rich state with vast wealth disparities that needs to establish and protect its social licence to decarbonise through a just transition that protects workers, school children, the elderly and those living on low incomes.
As an honorary member of the B Team, I am pleased that B Team leaders have committed to a just transition to zero carbon emissions in their companies by 2050. This means they are committed to making sure that their employees, suppliers and customers are part of a fair and inclusive transition to a zero carbon world. A transformation of the scale and speed we need to avoid dangerous climate change cannot be enforced on workers and communities, they must be included and empowered from the outset.
We still have time to address climate change comprehensively. Everyone has a role to play and no one should be left behind.