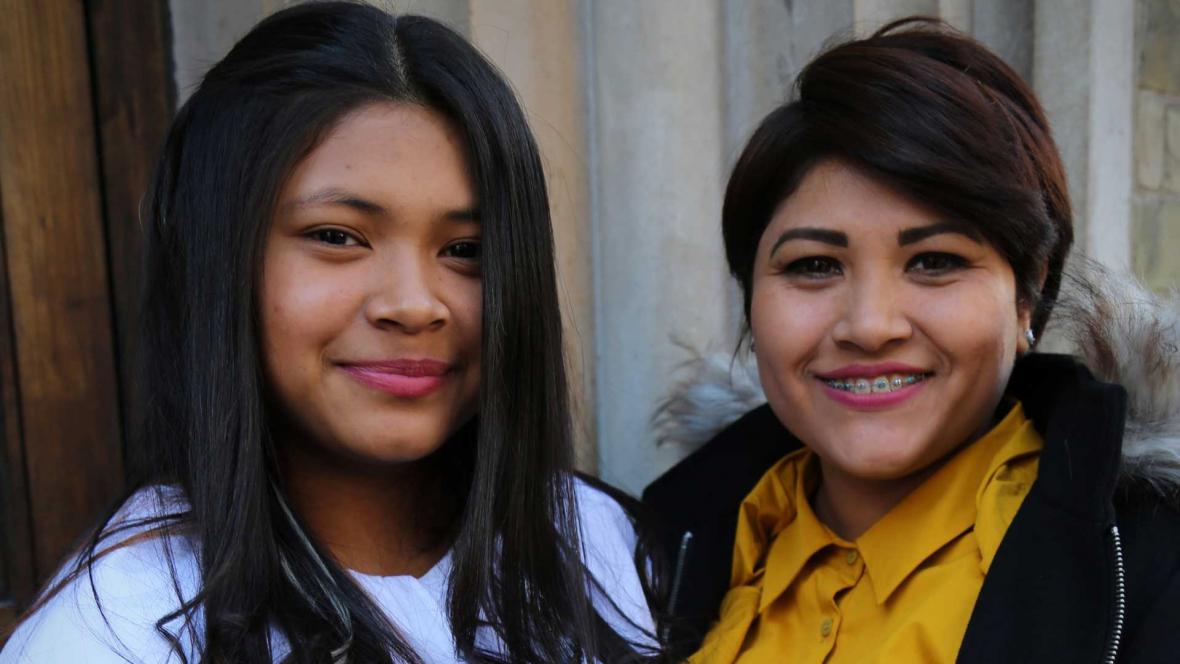 Nicolle and Sarahi discuss how information is key to claiming your rights and accessing justice, and how, during the COVID-19 pandemic, Artemisa Honduras continues to support and educate on sexual and reproductive rights in Honduras.
Promoting equality for women and girls is a key part of The Elders' work across all programmes and initiatives. With and For Girls is a unique collective united by the belief that girls are agents of change. On the occasion of their 2019 Awards, prizewinner Artemisa Honduras spoke to staff from The Elders Secretariat about their work.
What inspires you to do the work that you do, and why is it important?
Sarahi (pictured left): Something that really inspires me and makes me proud, is that we are here not representing one girl and one voice, but many voices. In the context of my country, Honduras, the issues we deal with are really serious and really delicate. Some of our girls can express themselves, but many are silenced and cannot speak out about their experiences. I am really emotional about this subject, but it also gives me hope and faith that we will achieve all our objectives eventually.
Nicolle (pictured right): What motivates me is the joy and pride of seeing each of our girls happy, and each girl that is transformed because we have achieved results in our work. The ability to inform and improve lives of girls is, for me, something that truly brings me joy.
What does Access to Justice mean to you?
Nicolle: To me, 'access' means the freedom to access information. Not every girl has this freedom to access information and knowledge. So, if you don't have access to information, you don't have access to justice. It is really important to equip girls with the necessary information, which gives them access to legal justice, and teaches them about all the rights that belong to them by law.
Sarahi: Information is so important and so valuable, because it lets us act when we know our rights, but most of the girls don't have this power, because they don't know. Many times, for example, girls are forced to dress in a way their parents want them to. When they know that have the freedom to dress how they want or say what they want, they can express themselves.
And why does it matter that girls have rights, and know about them?
Sarahi: To know that you have rights gives you a way of defending yourself and protecting what you want for yourself and your life. It also means you can defend and protect others- so if you are self-empowered, you can understand the comfort and confidence it brings, and you know you are happier. You are able to express this happiness with a new understanding – so, as a young person, when you go to other girls and empower them to know their own rights, no one can take that knowledge away from them. Not even adults.
In 2007, the founder of The Elders, Nelson Mandela, issued a call to action for younger generations. He said, 'it is in your hands to create a better world for all of those who live in it.' What does this mean to you?
Sarahi: It signifies many things and many ideas, but what comes to my mind is the image of adults being unable or unwilling to step back and put their work in the hands of younger people, and allow them to lead.
I work with young girls, and I tell you, there are so many extraordinary children that I know who have the most fantastic ideas. So to me, his words are a revolutionary call, calling for change in the face of current generations who think it is 'business as usual'.
It is really important for adults to step back, but I see this idea being confused sometimes: there are many adult-led organisation that say they work for the rights of girls. However this is very different to supporting girls leading their own organisations and implementing their own rights. It is very different to listening to the requests of girls that older people claim to work for – even just one request – and helping them to implement it.
What successes – personal or from the organisation – are you really proud of?
Nicolle: I love this question most of all because there are so many things that we are proud of in Artemisa Honduras. Many times we are unsure if we will succeed but we have succeeded every time.
Sarahi: In our country, we are the only group that works with diverse girls. These topics of sexual health, reproduction, they are so stigmatised or hidden. In my school the level of knowledge is mixed. So to try and address this, we put on plays about sexual rights in schools, featuring actors and characters that were diverse in their sexualities. And we had some girls coming forward saying that they could relate to some of the characters, and that were starting to realise their own sexuality as a result.
Nicolle: Something that I was proud of the fact that we have young girls working with us in Artemisa. When I see them and their energy, I can really see their potential. It really gives me that feeling of 'WOW! These girls can do anything!'
What would you say to other girls in other countries – or even in your own county – who are thinking, 'we need to change things but we are too young!' What advice would you give them?
Nicolle: Be bold and create a revolution, because otherwise you will be silenced by adults.
Sarahi: I agree, but before getting to a revolution you need first of all to believe in yourself. Trust yourself, because you cannot fight for others until you are able to fight for yourself. Once you have this power and this self-belief, you can go to the other stage – the revolution!
UPDATE: Since the outbreak of the COVID-19 pandemic, Artemisa Honduras has focussed its activities on the prevention of coronavirus and addressing the reported increase in violence being experienced by girls, adolescents and young people as a result of pandemic restrictions, using tools for identification and reporting. Artemisa Honduras' work also continues through the delivery of groceries and hygiene products.
---
Nicolle and Sarahi, who have asked to be addressed by their first names, represent Grupo Artemisa. An organisation based in Honduras, Grupo Artemisa works with women and girls, particularly those from the LBGTQI community, to provide support and education on sexual and reproductive rights. Grupo Artemisa is a 2019 winner of the With And For Girls Award. With and For Girls is a unique collaboration of eleven funders united by the belief that girls are agents of change. Its annual award recognises exceptional local organisations working on the frontlines to create a world where girls' rights and wellbeing are recognised, respected and realised.
---
Find out more about the importance of investing in women's leadership and grassroots organisations in this episode of Finding Humanity podcast, featuring The Elders' Mary Robinson and Ellen Johnson-Sirleaf. Listen here: