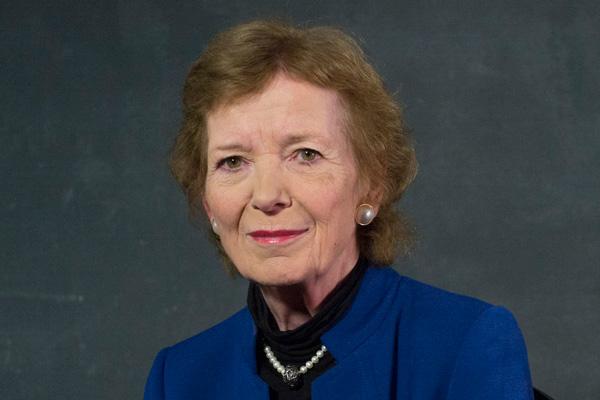 Delivering the keynote speech at the EU Colloquium on Fundamental Rights in Brussels on 20 November, Mary Robinson highlighted formidable challenges facing women's rights today and the importance of not losing hope.
"Women continue to face appalling levels of prejudice and discrimination at every level of society."
Mr. First Vice-President, Commissioner, Excellencies, Ladies and Gentlemen,
It is an honour and a privilege to speak to you tonight after the first day of this ever-timely Colloquium.
These are indeed turbulent times – for women's rights, for fundamental human rights, and for the very notion of our shared humanity.
The topics for discussion here highlight the scale of the challenge: the presence and normalisation of misogyny in society; its links to the violation of the fundamental rights of women in all spheres of life; persistent and systemic social and economic discrimination against women; shrinking space in many countries for civil society and attacks on the international women's movement.
Confronted with such a formidable and bleak array of problems, it could be easy to lose heart, lapse into fatalism and fear that no meaningful progress can ever be possible.
But on my way here today, I was reminded of a line in Charlotte Brontë's great novel "Villette", set in the fictional eponymous Belgian city which she modelled on Brussels. Her heroine states:
"To see and know the worst is to take from Fear her main advantage."
Sexism, misogyny and violence against women are all predicated on fear. Actions, policies and institutions are designed to keep women afraid – afraid of the violence they may suffer, afraid of the consequences of speaking out, afraid of standing up for their rights.
This is why events like this Colloquium are so important. They provide a safe space for women, and men, to share their experiences, to "see and know the worst", to reinforce their solidarity, and develop new ways of thinking and acting to fight prejudice and protect fundamental rights.
We need only open the pages of a newspaper or scroll down the screen of our smartphones to recognise the scale of the challenges facing women's rights today.
The values of decency, tolerance and respect that underpin and inform these rights – and which are central to the mission and work of the European Union – are under attack from a malign combination of political, economic and social forces.
Xenophobic populism, the widening inequalities resulting from certain economic models, and the rise of extremist social and religious narratives on- and offline all threaten the principles of equality, which many of us hoped in recent years had become an unquestioned part of Europe's social fabric.
As Europe still grapples with the costs and consequences of the global financial crisis, voters are being seduced, often successfully, by the siren songs of political populism that promises to turn back the clock and restore a supposed "golden age" of stability and prosperity.
In our era of globalised capital, deindustrialisation and fast-paced technological change, it is no surprise that this populist message resonates with people who feel they have been "left behind" – from the coalfields of Wallonia and South Wales to the shipyards of Poland or the banlieues of Marseilles, and millions of other Europeans in between.
But when you scratch the surface, this supposed gospel of comfort and reassurance reveals an ugly truth: the populists' world is one where women "know their place", "mind their own business" and are "seen but not heard".
Discrimination against women is the consistent and persistent thread that binds together these attacks. If sexism and misogyny go unopposed, then no meaningful progress will ever be made in tackling these broader challenges.
I know that I am largely preaching to the converted here. As the preamble to this Colloquium eloquently states:
"Women's and girls' rights need promotion and protection, as they continue to be challenged. Any regression is unacceptable. Gender equality has been a core value since the very creation of the European Union."
But if we look beyond this Hall of Mirrors and consider the wider reflection of our contemporary societies, we must acknowledge that these fine words will ring hollow for too many women across Europe today.
Women continue to face appalling levels of prejudice and discrimination at every level of society.
Much attention has rightly been paid in recent weeks to sickening revelations of systemic abuse and exploitation of women in the global entertainment industry and in political life.
Individuals who have admitted to or been proven to be implicated in such abuse must face the full force of the law.
But the institutions in which they worked must also be subject to rigorous scrutiny, to identify and change cultures of psychology and behaviour that indulged and gave impunity to abusers for so long.
And of course, this must apply not only to Hollywood and the film industry. It is imperative for all institutions and walks of public life, from local government and national parliaments to international bodies including the EU and UN, and not forgetting religious institutions which hold sway over the thoughts and beliefs of millions of people worldwide.
Two weeks ago today, I had the honour of meeting Pope Francis in the Vatican, together with Kofi Annan, Lakhdar Brahimi and Ricardo Lagos – fellow members of The Elders, the group of independent former leaders founded by Nelson Mandela in 2007.
The Elders have long admired this pope for his bold leadership on some of the key moral questions of our age, from refugees and migration to climate change.
I was able to present the Pope with a book of essays that constitutes the Irish response to his 2015 encyclical on climate change, Laudato si'. The Encyclical is a valuable contribution to global thinking on climate, justice and sustainability, but it is conspicuously silent on women.
In our discussions, we agreed that more should be done by the Church to emphasise the importance of empowering girls and women, respecting their rights and dignity, and valuing their contributions to society.
We need to recognise that women experience political, economic and social developments in distinct ways, and that this experience gives them valuable insights into how to resolve problems that needs to be fed into mainstream policymaking.
This is particularly true regarding climate change. Men and women are affected by climate change in different ways, because of the societal and cultural roles and responsibilities made on them by families and communities.
For example, in many communities women are the primary food producers and providers of water and cooking fuel for their families, therefore they have greater responsibility for family and community welfare.
Last week I attended the COP23 negotiations in Bonn as part of the work of my Foundation on Climate Justice. I was delighted to meet so many impressive grassroots women there, representing their communities and determined to shape the climate agenda to ensure justice, resilience and dignity are at its heart.
But as in every other sphere of public life, women need to be part of the decision-making process, not just members of the audience, for truly sustainable, equal and just policies to be developed.
Ensuring the participation of women, especially those at the grassroots level, in international fora is therefore a priority for my Foundation. It aims to strengthen women's leadership roles in order to facilitate more gender responsive action on the ground. This specifically includes promoting gender equality and improving the participation of women in the implementation of the Sustainable Development Goals.
Another issue that will determine the success of the SDGs is health, and here again a gendered perspective is essential. Women have higher health needs than men, but particularly in developing countries they often lack the resources to afford necessary care and medical treatment.
This is why The Elders have been working for the past two years to promote Universal Health Coverage as the best way to achieve the overall health SDG and improve the life chances of millions of women worldwide.
In July this year, Graça Machel and I visited Tanzania on an Elders' mission to see for ourselves the situation of rural women who have minimal access to health facilities and face costly insurance bills to cover treatment for them and their families.
Tanzania is fortunate to have a strong-willed female Health Minister who can argue her case in Cabinet – but as long as her male colleagues see health as less important than infrastructure and trade, progress will only ever be halting.
The same applies to conflict resolution and the vital role women can play as peacebuilders. Women's voices shouldn't only be heard because they are the victims of the war. The reason why their active participation to peace efforts is essential is that they are the most effective peace builders.
As men take up arms, women hold communities together in times of war. This makes them stronger and better equipped to play a key role in securing real peace, as I saw for myself in Northern Ireland.
When I served as the UN Secretary-General's Special Representative for the Great Lakes region of Africa in 2013-14, I felt a particular responsibility to the mothers, daughters and grandmothers who, since my first visit to the region as President of Ireland in 1994, have shared with me what they have suffered in Bujumbura, Bukavu, Goma, Kigali or Kinshasa.
I feel the same for all women displaced from their homes due to violent conflict, or climate change, or poverty, or any other of the myriad factors driving the current wave of the mass movement of people across the globe.
We know that all refugees enjoy specific rights and protections under the 1951 Refugee Convention. And all migrants must have their full human rights respected under whatever regulatory regime applies to them. But again: women face specific situations, are vulnerable to specific forms of abuse and exploitation, and deserve specific protection.
In all these situations, there is a fundamental truth: women's voices need to be heard, respected and believed.
This ought to be self-evident, but sadly we all know it is not.
Women who speak out, confront abusers, assert their rights and demand change are all too often subject to horrendous abuse, both in their workplaces and communities, and also online.
Social media has many emancipatory features. At its best, it can be a tool for solidarity that amplifies women's voices, as we have seen recently with the #metoo hashtag.
But without responsible governance and regulation, social media can empower and embolden the most toxic voices of hatred, who use the cowardly cloak of anonymity to spew bile against any woman who dares make her voice heard.
Violence online begets violence on the streets. It is just over eighteen months ago that a British MP, the late Jo Cox, whom I knew well when she worked for Oxfam, was assassinated by a man consumed by hate and immersed in a baleful world of online extremism.
In the immediate aftermath of Jo's death, we heard many pious declarations that the political and digital discourse needed to change – not only in her home country, but in the wider world.
It moves me still to hear people all over the world cite Jo's words that "we are far more united and have far more in common with each other than things that divide us".
But words are not enough. They can never be enough. We need action – and for that to be effective, we need our leaders to be bold, confront prejudice and discrimination wherever it lurks, be honest enough to confront their own records and demand better from themselves and their administrations.
This is what I call truly ethical leadership. It is a quality that lies at the heart of the work of The Elders, and for me is embodied above all in the figure of our founder, Nelson Mandela.
Madiba not only believed in feminism and female emancipation, he also used his position in public life to make a difference to women's lives.
In a speech for International Women's Day in 1996, he said:
"As long as women are bound by poverty and as long as they are looked down upon, human rights will lack substance. As long as outmoded ways of thinking prevent women from making a meaningful contribution to society, progress will be slow. As long as the nation refuses to acknowledge the equal role of more than half of itself, it is doomed to failure."
His words never fail to inspire, but they also cause me some sadness when, over two decades later, they are still so achingly necessary.
Next year, the world will come together to mark the centenary of Nelson Mandela's birth and the enduring power of his life and legacy. But as we do so, I recall another courageous feminist and freedom fighter whose words ring out across the decades.
Rosa Luxemburg fought for freedom in Poland and Germany before, during and after the First World War. She said that "freedom is always freedom for the one who thinks differently".
Her words are an inspiration and a challenge. Freedom means diversity, a relentless questioning, a refusal to accept orthodoxies and dogmas from any political movement.
But freedom also means responsibility for all citizens to engage in the public sphere and democratic process, not withdraw into apathy or virtual echo-chambers of the like-minded.
I hope that the discussions at this Colloquium today and tomorrow will lead to real engagement on how to assert and defend women's rights, and I look forward to standing alongside you in this struggle in the months and years ahead.
Thank you.