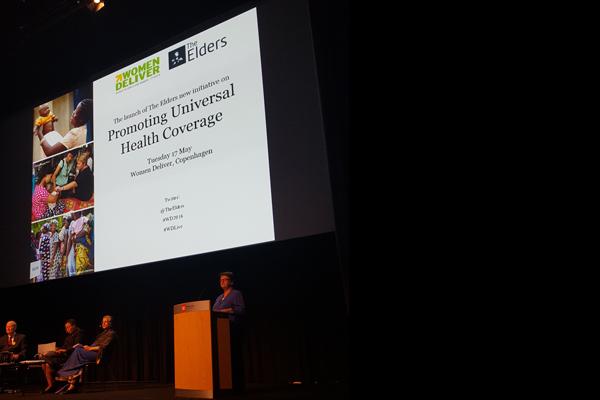 The Elders call for universal access to health care as a way of saving lives, tackling poverty, empowering women and achieving the Sustainable Development Goals.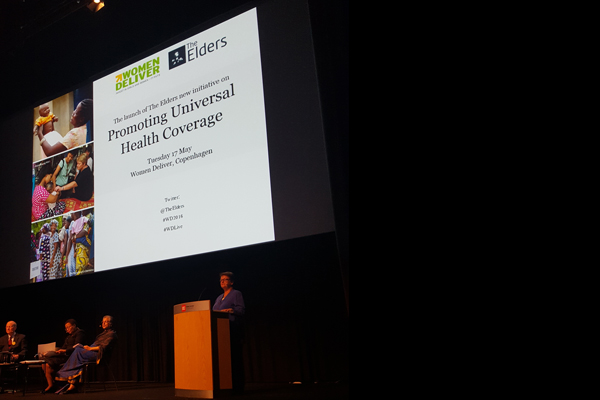 Gro Harlem Brundtland at Women Deliver in Copenhagen.
The Elders launched their new initiative on Universal Health Coverage (UHC) at the Women Deliver conference in Copenhagen, Denmark on 17 May 2016.
Gro Harlem Brundtland, Hina Jilani and Graça Machel took part in a panel discussion at the global conference on women's affairs to launch the campaign, which urges governments to introduce UHC as the best way to achieve the health Sustainable Development Goal.
The discussion was moderated by Michael Myers of the Rockefeller Foundation and featured interventions from representatives of the World Health Organisation as well as grassroots youth activists from Malawi, Uganda and South Africa.
The event also saw the screening of a new film by The Elders explaining their new UHC initiative, featuring contributions from the three Elders on the panel together with Kofi Annan, Jimmy Carter, Mary Robinson and Ernesto Zedillo.
Universal Health Coverage means that everybody receives the health services they need without financial hardship, and is a goal that all countries are committed to achieving by 2030 following the agreement of the United Nations Sustainable Development Goals.
The Elders' UHC initiative has four key messages:
Following the launch at Women Deliver, The Elders will continue to advocate strongly for UHC over the coming months, together with like-minded militants for equity and social justice.