The Elders visited Washington DC yesterday to discuss Israeli-Palestinian peace efforts with high-level officials, including US Secretary of State John Kerry and National Security Advisor Susan Rice. At a public debate that evening, they welcomed Kerry's efforts to restart negotiations and explained why there can be no military solution in Syria.
After US Secretary of State John Kerry announced on Friday that Israel and the Palestinians had agreed to discuss the resumption of peace talks, the Elders travelled to Washington DC yesterday for a series of meetings with high-level officials and policy experts.
Elders meet Secretary Kerry @statedept, as Washington visit focusing on Israeli-Palestinian peace efforts continues pic.twitter.com/CuMPKBzlNy

— The Elders (@TheElders) July 22, 2013

Speaking at the Carnegie Endowment for International Peace that evening, the Elders welcomed Kerry's efforts.
We've seen with great pleasure the intense efforts John Kerry has made to relaunch the peace process - Jimmy Carter #EldersDC

— The Elders (@TheElders) July 22, 2013

Jimmy Carter acknowledged that conditions are far more difficult now than during his presidency, with Israel's Prime Minister Benjamin Netanyahu and Palestinian Authority President Mahmoud Abbas constrained by their respective constituencies. Both leaders "would show great courage to come to the table and make concessions," he said.
During the discussion, UN-Arab League Syria envoy Lakhdar Brahimi also briefed the audience on the situation in Syria. Refusing to characterise either the regime or the opposition as 'winning' in the country's brutal civil war, he said that there can be no military victory: "you must leave from this vicious cycle and move to a political solution".
Lakhdar Brahimi: "The situation in #Syria is bad and getting worse." But room for optimism about U.S. and Russian engagement. #EldersDC

— Carnegie Endowment (@CarnegieEndow) July 22, 2013

Earlier in the day, the Elders also met with US National Security Advisor Susan Rice.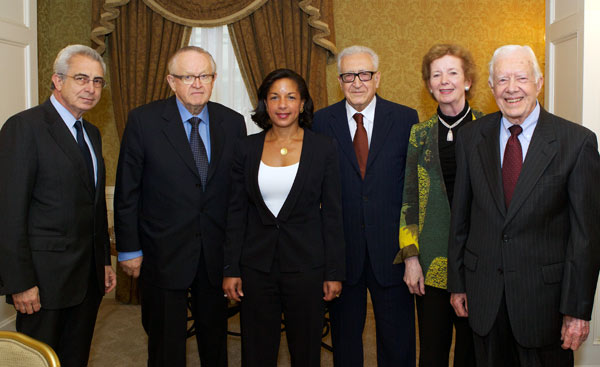 L-R: Ernesto Zedillo, Martti Ahtisaari, Susan Rice, Lakhdar Brahimi, Mary Robinson and Jimmy Carter
Appreciated the opportunity to meet @TheElders today. Discussed wide range of global issues. Their wisdom is always valuable.

— Susan Rice (@AmbassadorRice) July 22, 2013

Martti Ahtisaari, Lakhdar Brahimi and Jimmy Carter will travel to London on 24 July to continue high-level meetings on Middle East peace efforts. Chatham House will host a second public discussion on the question: can the two-state solution be saved? We will be live-tweeting the event – follow @TheElders for updates.