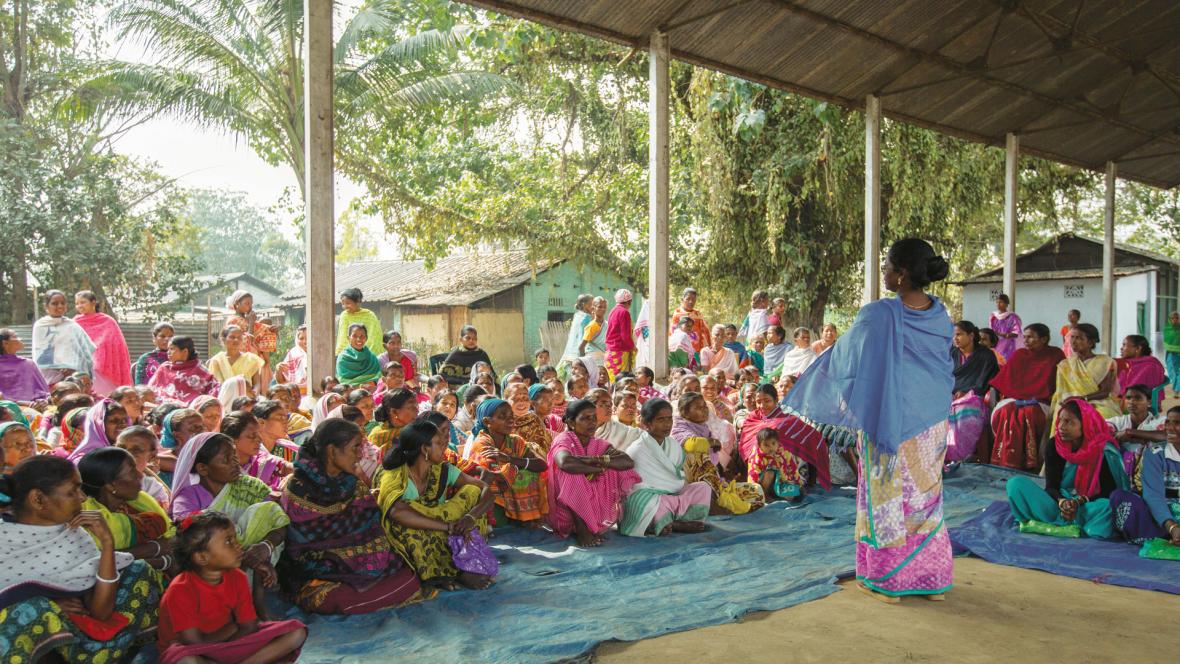 Jayshree Satpute and Tripti Poddar from Nazdeek, an Indian grassroots justice organisation, highlight the value of grassroots organisations and explain why they must be urgently and flexibly funded during the COVID-19 pandemic and beyond.
Many grassroots organisations are born out of local communities; their governing body and employees either belong to the community they work with or have a very good understanding of the local, social and political context. Grassroots organisations are the first point of contact and are closely connected to the marginalised community they work with. This enables them to build a relationship of trust. They are the first responders and stand alongside the community. International organisations can play a crucial role in connecting different movements and organisations and advance advocacy at the international level. When done in a sensitive manner, their work is strategically important for amplifying voices from the grassroots level.
Bringing access to justice closer to those who need it
Nazdeek is a legal empowerment organisation committed to bringing access to justice closer to marginalised communities in South Asia. We work with tea plantation workers, garment factory workers and slum dwellers who predominantly come from Dalit and Indigenous communities, to seek accountability from the government and employers.
Our model fuses grassroots legal education, community monitoring of service delivery, strategic research, advocacy and use of judicial and non-judicial remedies to advance socio-economic rights.
Nazdeek promote leadership amongst women for the redressal of community-wide and individual rights violations, through legal empowerment. We do this through a multi-pronged approach. We assess the nature of rights violations in a community and provide rights and skill-based training to women with a focus on the issues they recognise as most pressing. The women leaders are equipped to identify, monitor and report cases of rights violations. They take ownership of the process. Through realisation of socio-economic rights, we aim to democratise accountability seeking mechanisms while also making democracy itself more accessible.
The link between justice, gender equality and accessing basic rights and services
The onus of community and family caregiving falls on women, yet there are several issues which fall through the cracks, as they are largely seen as only 'women's issues'. Two case studies from our work exemplify this common theme.
Firstly, since 2015, Nazdeek has been training women paralegals in the area of Bheem Nagar, Nangloi. This is a community that houses approximately 1200 households. Paralegals have been working on securing access to two fundamental rights - the right to sanitation and the right to water. Women in this community who did not have toilets in their homes were forced to wait until nightfall to defecate, often using nearby railway tracks as functioning public toilets were only open for a few hours a day. Unrelenting advocacy and litigation led to the construction of publicly [1] maintained 24-hour community toilet complexes across Delhi and a new toilet complex became accessible to the entire community.
In another partner community, which is a government housing project known as Rajiv Ratan Awas Yojna in Baprola, our paralegals have been successful in seeking government accountability and securing access to crucial services for over 850 families: These include the opening of a community dispensary, three new local health and nutrition centres for mothers and their children, and a new government-mandated subsidised food shop in the community.
Adapting to a pandemic
The COVID-19 pandemic has highlighted that in times of crisis, vulnerable groups are disproportionately impacted, and further marginalised. This is also happening at a time of global ideological shift and political turmoil. Institutions like courts, which are critical to a functioning democratic system, are failing to uphold constitutional rights.
The pandemic has exacerbated challenges that women face in accessing their rights, exposing a highly fractured system. The communities we work with have been pushed further into poverty, vulnerability and deprivation. Some of the ways in which Nazdeek has adapted include intensifying engagement with other organisations and movements to set up urgent relief systems. Nazdeek has also moved a lot of work online, innovating our current tools for remote engagement and critical online discussions and working alongside international organisations to address the current difficulties in accessing courts and other legal systems.
Much of our work is providing immediate support to members of the community. For example, Gyan from Baprola was unable to access maternity healthcare that is guaranteed to pregnant women. She approached one of Nazdeek's community paralegals, Beeba, who filed complaints on Gyan's behalf and was able to secure the appropriate antenatal check-ups. The pandemic has magnified the problems in healthcare access for many due to a lack of public transport. The fractured systems meant that Gyan had to visit multiple health-care facilities to access basic healthcare. However, Beeba was well informed about the rights and entitlements that Gyan should have had access to which helped her quickly seek a redressal for Gyan.
Flexible funding during a time of crisis is important for a grassroots organisation like us because marginalised communities continue to bear greater burdens of injustice. Resources, including flexible funding, that enable accountability and investment in the community bring immense support to organisations like Nazdeek and the communities we serve. In these unprecedented times, reliable resources that are able to evolve and adapt like the COVID-19 Grassroots Justice Fund is crucial.
Jayshree Satpute: Jayshree Satpute is a human rights lawyer and co-founder of Nazdeek. Satpute has extensive experience advocating at the Supreme Court of India and various High Courts. Her ground-breaking work has focused on the realisation of the rights of most marginalised groups in India though grassroots legal education and strategic litigation. She received her L.L.B. from Dr. Babasaheb Ambedkar University College of Law, Nagpur and her L.L.M. from City University London.
Tripti Poddar: Tripti Poddar is a lawyer practicing in the Supreme Court of India, and various state High Courts. She works on legal empowerment projects in different parts of India and Nepal, where her work primarily concentrates on working with socio-economically marginalised communities, including various indigenous communities. Tripti holds a Masters of Public Administration from Cornell University and a B.A.,Ll.B (Hons.) from Christ University in Bangalore.
Nazdeek is one of the grantees of the COVID-19 Grassroots Justice Fund, announced 2 December 2020.
Views expressed are those of the author and do not necessarily represent those of The Elders or The Elders Foundation
Views expressed are those of the author and do not necessarily represent those of The Elders or The Elders Foundation