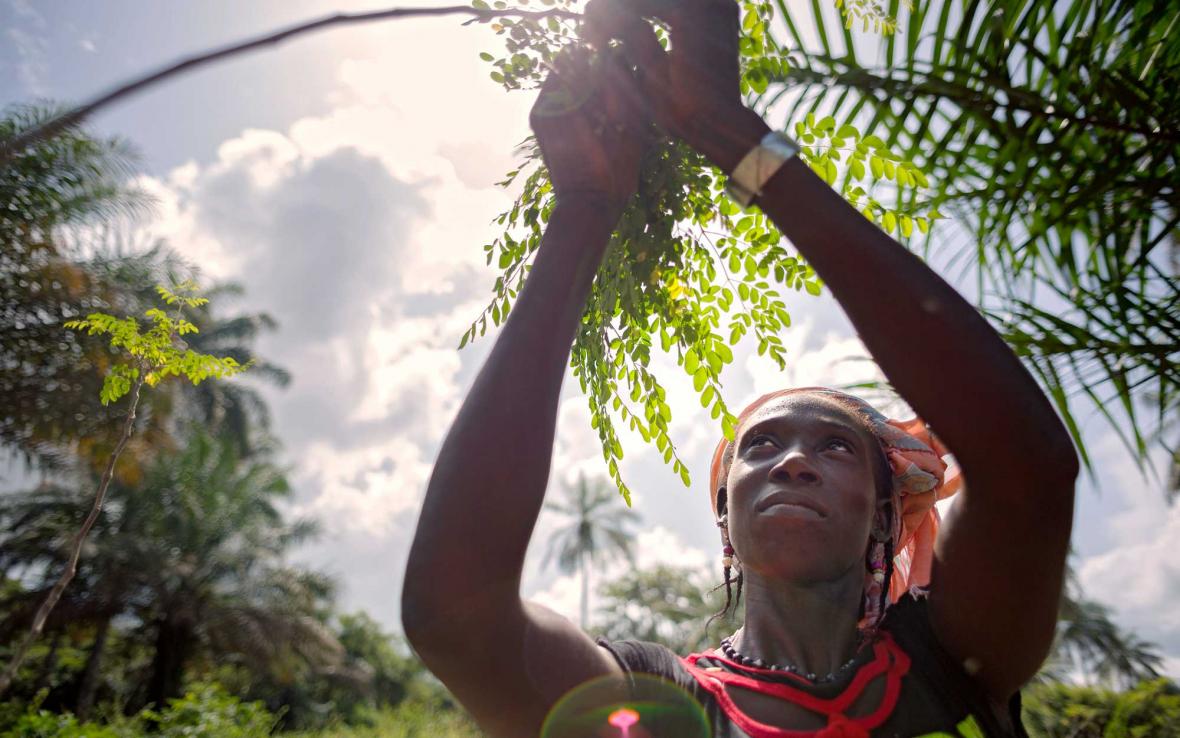 Increased and smarter financing of access to justice is urgently needed to empower communities to protect their lands, writes Sam Szoke-Burke and Kaitlin Y. Cordes of the Columbia Center on Sustainable Investment.
High global demand for land and natural resources has made protection of community lands and natural resources an urgent priority, particularly in countries with little or no legal protection for community land rights.
Increased and smarter financing is urgently needed to meet affected communities' justice and support needs.
Both before and after agricultural, forestry, mining, and energy projects arrive, community members frequently struggle to access the legal or technical support they need to protect their human rights and interests - in a large part because they cannot afford it. As a result, communities around the world risk losing access to critical land and resources, suffering human rights violations, or missing opportunities to benefit from investments.
What types of support do communities need in the context of resource investments?
Among many other things, communities may seek support when mapping their lands or developing internal bylaws or protocols, navigating company consultations and consent processes, monitoring company activities, or pursuing dispute resolution strategies as needed.
Support for those activities, all of which can increase communities' access to justice, may come from a range of support providers, including civil society organizations, paralegals, organizers, non-legal experts, and lawyers. In one case, paralegals and lawyers at the legal empowerment organization Namati supported landowners in Makpele chiefdom, Sierra Leone, whose land had been secretly leased to an agribusiness by an acting chief; thus supported, the community members were able to renegotiate the size of the lease from 30,000 to 2,300 hectares and to include opportunities for locals to grow and sell crops to the company.
Our organization, the Columbia Center on Sustainable Investment (CCSI), has identified a range of financing solutions to fill the support gaps that so many local communities face. While donors and other actors must continue to provide crucial support to communities and local actors, promising new opportunities—and sources of funding—exist. These new opportunities could significantly enhance access to justice for communities around the world; linking communities to the support they need enables them to assert their rights before injustices occur and to seek redress if their rights are violated.
Potential financing solutions for access to justice include:
1. Additional government marshalling. Governments seeking to host productive, conflict-free investments and to attract responsible companies can impose new taxes, fees, or penalties tied to investment to finance community support. Examples of governments marshalling additional funds for other public goods include the funding of Sierra Leone's Environmental Protection Agency through revenue collected for environmental authorisation application fees, and Australia's Telecommunications Industry Ombudsman's consumer complaints process, which is funded by penalties payable by companies based on how many complaints are lodged against them. Governments can also collect additional revenue from the legal profession, and can use social impact bonds to marshal funding from, and allocate risk to, impact investors.
2. Independently administered basket funds or "black box funds." Basket funds collect money from multiple sources and thus can complement and extend the finance provided by philanthropic and aid donors. For example, the Kumacaya initiative collects funding from multiple companies on a confidential basis to finance civil society monitoring projects in regions in which those companies operate or from which those companies source specific commodities like wood or palm oil.
Governments can also establish basket funds: Sierra Leone's National Land Policy includes the establishment of a legal assistance fund and that country's draft guidelines for sustainable agricultural and bioenergy investment call for a community justice fund that would be financed by producing companies.
Basket funds offer the promise of securing funding from private sector actors while minimising their actual or perceived influence over communities and support providers. This is done through various governance strategies, including by securing multiple funding sources to "dilute" the influence of any single funding source and by having a third-party entity administer and payout money according to rigorous standards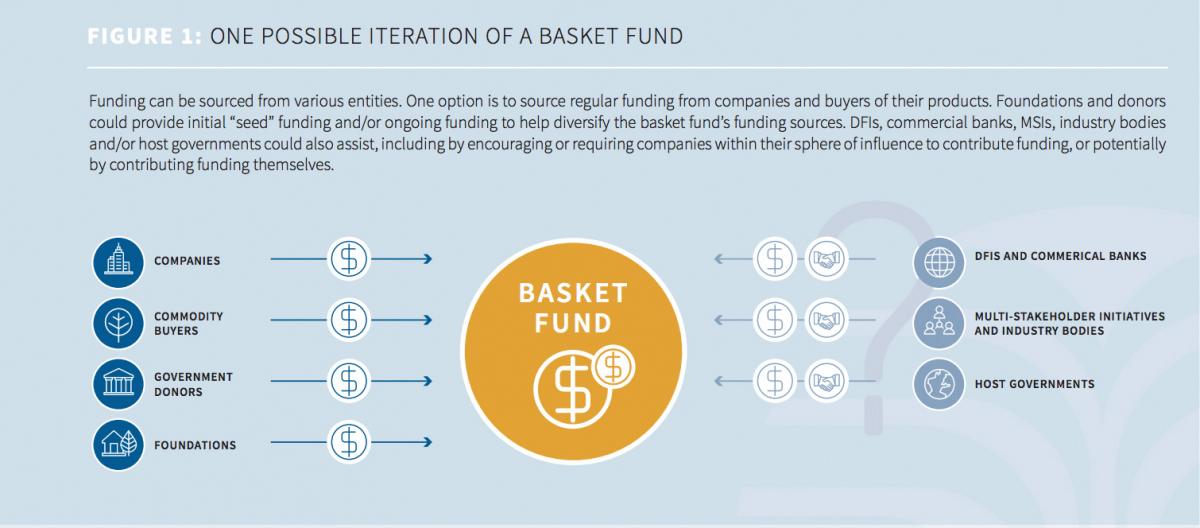 (Contributing to a basket fund is also a more suitable way for companies to pay for community support than directly financing support for specific projects. Direct company funding should be considered with extreme caution, as it risks unduly influencing communities or support providers who know that the company is paying for the support.)
3. Impact investments. Impact investments, which seek to achieve both a positive impact and a financial return, could theoretically be used to finance community support in a small subset of scenarios. Specifically, impact investments may feasibly finance support where the community expects to receive a significant amount of revenue—such as when negotiating a benefit agreement or litigating for damages.
Social impact bonds, where the funding for community support is repaid by a government or other "outcome payer" only if the support achieves a pre-defined goal, could also be used for certain situations. For example, to reduce recidivism at a UK jail and hence avoid future costs associated with prosecution and imprisonment, the government established a social impact bond where investors financed ex-prisoner rehabilitation services. The pre-agreed goal, a 7.5% reduction in recidivism, was achieved, and the government paid back the investors with interest. (A similar bond at in New York failed to reach a pre-agreed recidivism reduction goal, reducing the government's liability to pay back the impact investors.)
4. Third-party funding. Funders occasionally pay for the experts and lawyers that communities need to sue companies for damages, such as for large-scale environmental pollution. In exchange for covering those litigation costs, litigation funders are usually entitled to some of the damages awarded if the community's case is successful. While such funders can offer financial resources and strategic expertise to inexperienced community claimants, they also risk interfering with the lawyer-client relationship and influencing the litigation in ways that are not in the community's interests. For this reason, third party funding may not be feasible or appropriate if adequately robust legal frameworks and public institutions do not exist.
5. Other solutions. Supplementary funding for support can be raised in other ways as well, including through crowdfunding or profits from social enterprises. Further, support providers can sometimes charge contingency or uplift fees, which are only payable if a successful outcome is achieved. Fee shifting laws in some jurisdictions may also entitle successful community claimants to have their legal costs paid by the losing counter party.
Of course, each of the above solutions present their own challenges. These must be carefully addressed to achieve solutions that are financially and operationally feasible, that align with the incentives of funding sources, and that facilitate empowering and people-focused solutions.
CCSI is contributing to the advancement of independently administered basket funds in different ways. Key to our approach is the inclusion of civil society. In addition to preparing a practical guide on designing and implementing basket funds, we are coordinating with actors working towards similar funds in different countries.
As momentum builds for advancing access to justice, basket funds and other abovementioned solutions could be crucial tools for civil society allies pushing for increased access to justice in the context of investment. Now is the time to identify strategic moments to advance innovative financing solutions for community support.
Views expressed are those of the author and do not necessarily represent those of The Elders or The Elders Foundation