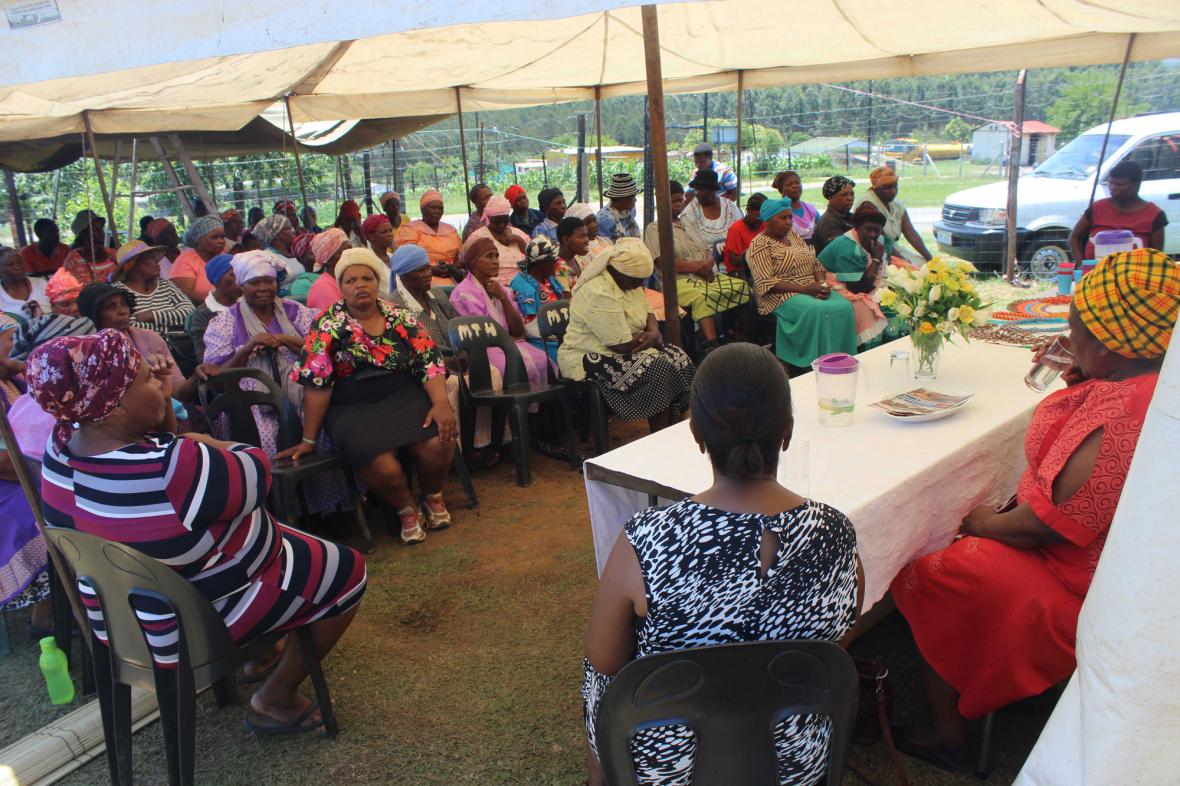 Nelson Mandela dedicated his life to fighting for freedom and justice. While South Africa gained its freedom in 1994, too many still suffer a lack of access to justice today. In this guest blog on Mandela Day, Dr Winnie Martins of the Centre for Community Justice and Development highlights the crucial role played by community paralegals in responding to day-to-day justice problems.
My organisation, the Centre for Community Justice and Development, provides access to justice at the grassroots level in KwaZulu-Natal, South Africa. In 1997, we developed a community justice programme and we currently have 15 community based advice offices across KwaZulu-Natal. These offices are run by twenty five women who have been trained in paralegal skills and who come from and live in the communities they serve.
Community-based paralegals directly serve the community by responding to day-to-day justice problems such as domestic violence, child maintenance, labour issues, evictions, securing identity documents, road accident claims and social problems linked to poverty and HIV/AIDS. Justice problems are widespread and varied and impact all areas of life.
On average, my organisation deals with 8,000 cases per year. Paralegals offer mediation, negotiation and other forms of non-judicial representation, helping community members to solve problems through approaches that encourage resolution without going to court. Most cases are resolved through dialogue with government institutions and negotiations with private institutions. This is more cost-effective than going to formal institutions, such as courts. Paralegals are like "'first aid' in helping people to access to justice and comparable to community health workers.
There are many examples of the impact of our work. For example, in 2018, our New Hanover Advice Office dealt successfully with a case of domestic violence, in which a husband was abusing his wife physically, verbally and emotionally. The wife came to the office for help in September. Our Paralegal explained various options to the client and she chose to seek a protection order. The paralegal helped the client to fill out the protection order application which was served to the husband in October. The client later wrote a letter to the office stating:
"I was abused by my husband and many years ago reported the matter to the police who did not help me. I was told to go to the advice office where I was warmly welcomed and never judged. They assisted me with the application for the protection order and after that the abuse stopped."
Justice was a key value that President Mandela fought for, not only as a lawyer but also as a leader. It is now my task to make sure that the values and ideals of Madiba are shared with future generations. He continues to inspire me in my work to make sure that access to justice is a right for all in South Africa and not just the privilege of a few.
---
Dr Winnie Martins studied law at the University of KwaZulu-Natalis and is the Founding Director of the Centre for Community Justice and Development. In 2016, Dr Martins completed a PhD thesis on the role of community-based paralegals in applying restorative justice in rural communities of KwaZulu-Natal.
Views expressed are those of the author and do not necessarily represent those of The Elders or The Elders Foundation