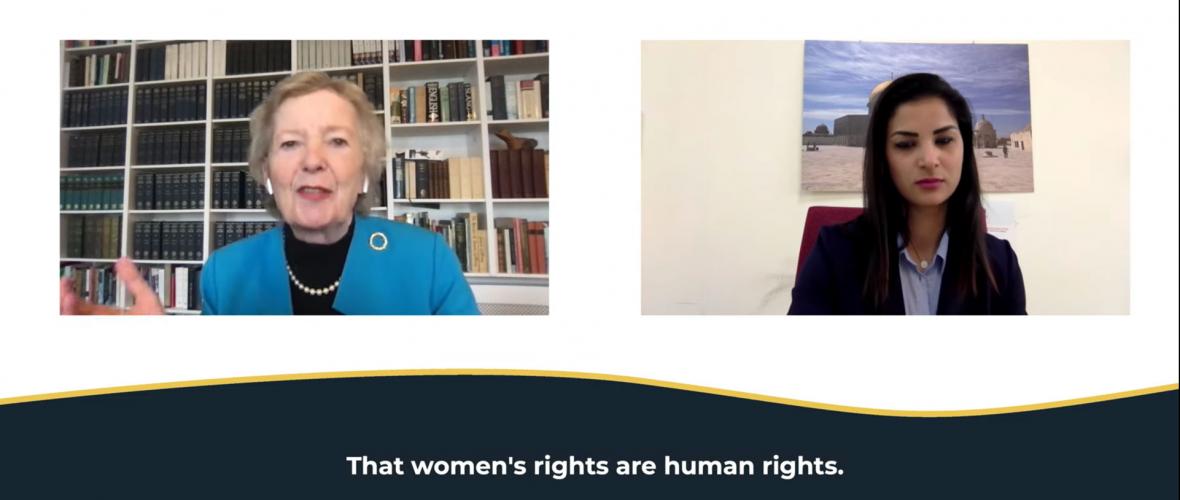 How do we accelerate the unfinished business of the landmark Beijing Declaration on women's rights? Mary Robinson and Amani Aruri, a member of the Global Youth Task Force on Beijing+25, in conversation.
COVID-19 is creating and exacerbating a gender equality crisis. The pandemic has worsened existing gender inequalities through its disproportional negative impact on millions of women and girls, threatening to halt or reverse the gains of decades of collective effort. However, despite the barriers, women, especially young women, are at the forefront of diverse and inclusive movements for change.
Over 25 years ago, the Beijing Platform for Action imagined a world where every woman and girl can exercise her freedoms and choices and realise her rights. To mark International Women's Day 2021, Mary Robinson and Amani Aruri, a young women's rights champion from Palestine, discussed the importance of access to justice in fulfilling some of the promises made to women in 1995:
Equality for women and girls is a cornerstone of the Elders' commitment to securing dignity and rights for all. Intergenerational dialogue – conversations across generations – is vital in building a peaceful, fair and more inclusive world.
Amani Aruri is a youth activist from Palestine. She was elected for the Youth Local Council of Eastern Bani Zaid in Palestine, a member of the assembly of the UN Women gender innovation program - AGORA, a member of the Global Youth Task Force on Beijing +25, and a member of the task force on the Generation Equality Compact on Women, Peace and Security and Humanitarian Action.