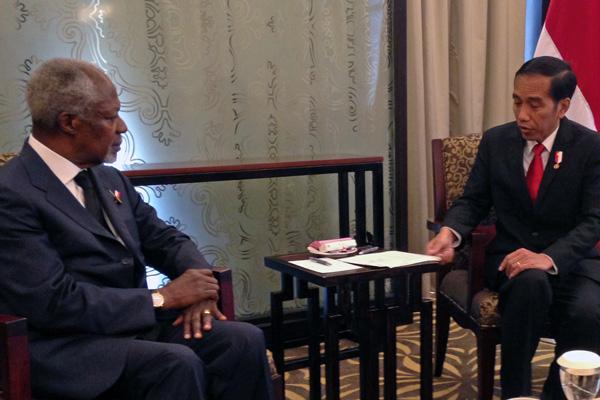 Chair of The Elders Kofi Annan holds talks with Indonesian President Joko Widowi ahead of the Bali Democracy Forum, with discussion focusing on key topics including Universal Health Coverage.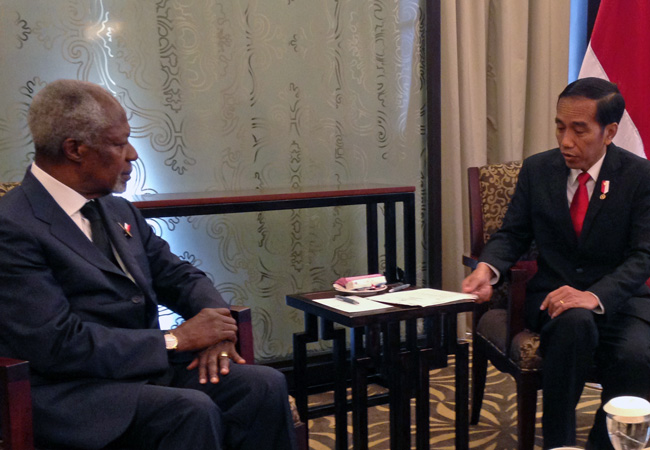 Kofi Annan discusses UHC with the President of Indonesia, Joko Widodo (Credit: Kofi Annan Foundation)
Kofi Annan, Chair of The Elders, discussed the importance of Universal Health Coverage with Indonesia's President, Joko Widodo, during a recent visit to the country.
In a meeting prior to his speech at the Bali Democracy Forum on 8 December, Mr Annan congratulated the President on Indonesia's progress in creating the biggest single-payer health system in the world, which now covers 168 million people.
He delivered a letter to the President on behalf of The Elders, setting out why The Elders are championing UHC and suggesting specific reforms which could enable Indonesia to reach full population coverage by 2019.
The Elders believe UHC is the best way to reach the wider health Sustainable Development Goal and delivers substantial health, economic and political benefits.