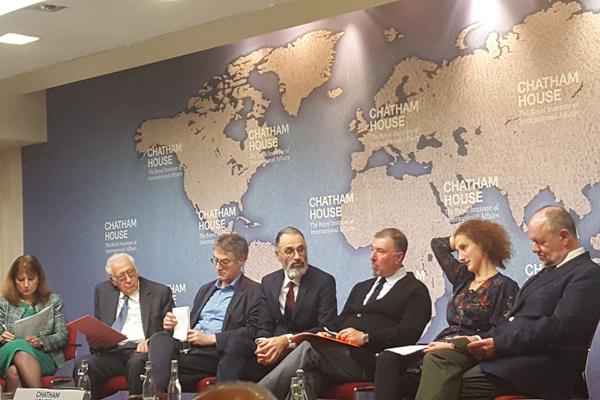 On 26 October, Lakhdar Brahimi joined a panel discussion at Chatham House, marking 100 years since the Balfour Declaration. Read his opening remarks in which he reflects on Britain's responsibility for political developments in the region since 1917 and the right of the Palestinian people to fight against injustice.
"Palestinians have rights and they also have the right to fight for their rights."
Good evening.
I am grateful for the opportunity to join this panel. I come here tonight as a member of The Elders, a group of retired statesmen and women and personalities brought together by Nelson Mandela 10 years ago. Our first Chair was Archbishop Desmond Tutu. He once said that "when there is a situation of injustice, to be neutral is to be on the side of injustice".
Of course this audience does not need reminding that a major power, as Britain was in 1917, does not really have a Foreign Policy. Only a national one, and Lord Balfour's Declaration was intended to serve Britain's interests, first and foremost. The aspirations of the Zionist movement were apparently secondary to Britain's competition with France in the Levant, and the need to secure the support of the Jews in Europe, East and West, for the war effort. Of even lower priority, then as today, were the pious words in the Declaration about protecting the rights of Palestine's "non-Jewish" residents. Little attention has been paid, throughout, to the lasting injustice inflicted on the Palestinian people.
In 1948, Balfour's pledge to Zionism was realised, with the creation of the state of Israel. Seventy years later, Israel is a nuclear power with a booming economy, a flourishing culture and is a leader in cutting-edge science and technology.
In contrast the Palestinians – those still in their shrinking homeland and those pushed into exile – are suffering systematic oppression, injustice and humiliation. When I addressed the United Nations Security Council in June I said that Israel had transformed Gaza into a concentration camp. The Israeli Ambassador to the UN immediately protested that as Israel was the home of survivors of the Shoah and their descendants, it was outrageous to accuse the Israeli Government of creating concentration camps. This immediately brought back to my memory the French Government vehemently denying any gross violations of human rights during Algeria's struggle for independence in the 1950s, because, they argued, France had been the homeland of the Déclaration des Droits de l'Homme et du Citoyen of 1789.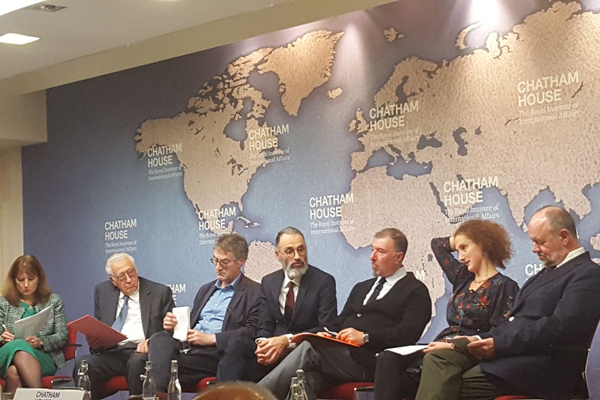 Lakhdar Brahimi on Chatham House panel in October 2017.
I will not speak of concentration camps this evening. I am sure that the knowledgeable audience at Chatham House knows very well what the reality in Gaza has been, and how an apartheid regime is being imposed all over Palestine.
I hope it will upset no one if I speak of a very well made documentary I watched recently on the Israeli TV channel i24 News. The film is about an Israeli Court Order to evict a young settler family who had forcibly established their home on the land of a Palestinian family in the West Bank. The settler family and numerous friends who came to support them had to forcibly be removed, one at a time, from the premises and the house was ultimately destroyed. The family was resettled elsewhere – in the West Bank, of course – but the young settler simply ignored the court order not to return to the farm he had illegally occupied. He returned there regularly to harvest grapes and other fruits because, and I quote his words, "the Court ordered the destruction of the house, not the trees". He also said – and these are also his words: "yes, a Palestinian was here before me but these people do not belong here. This land is ours; these people should go away". Where to, he did not say.
The film also tells us that the Palestinian owner never showed up to reclaim his property because he was afraid of the settlers. We hear nothing more of him: he has no name, no face, no history. I can't help thinking about him and his family all the time. Where are they now, what are they thinking? What are they doing?
Is this a situation of injustice of the kind Desmond Tutu had in mind? And what can, what should be done about it? By this nameless Palestinian and his family, by their neighbours and friends, by their people in general? And what should people further away do, including the British government and other governments ,and including us, in this room?
I for one simply say that Palestinians have rights and they also have the right to fight for their rights. I think that the overwhelming majority of Palestinians, inside and outside of Palestine want to use peaceful means in that struggle. One tool they are trying to use is what they call BDS - Boycott, Divestment and Sanctions. That is not very different from Gandhi's non-violent struggle or the international movement to boycott the apartheid regime in South Africa.
I know many people do support BDS in this country. But in France, it is a criminal offence to do so. And Congress in Washington is actively preparing a law to make BDS illegal all over the United States.
What kind of message is being sent to the Palestinian people by such initiatives? Are they being told that they do not have any rights, as a people and as individuals? Are they expected to accept occupation, repression and humiliation forever? If they cannot campaign peacefully for their freedom, if the rest of the world does not support their struggle, what then? A question you may wish to reflect upon.
Ladies and Gentlemen,
On Monday, the Elders led a walk for peace from Trafalgar Square to the Mandela Statue in Parliament Square. At the beginning of that walk, our Chair, Kofi Annan said:
"Mandela never abandoned hope; nor did he ever concede his principles or compromise on his commitment to the values of peace, justice and equality. When he spoke in this square 21 years ago he told the crowd [and these are the words of Mandela]:
"All over the globe there are men and women who fight injustice. They have a vision, and they are prepared to suffer for it".
As we meet here tonight to reflect on the centenary of the Balfour Declaration and its lasting consequences on the Palestinian people above all - but also on all of us, let us also remember Nelson Mandela, born just months after the Balfour Declaration. His lifelong commitment to fighting injustice – and passion for the Palestinian cause – should guide all of us to stand in solidarity with Palestinian victims of abuse, discrimination and humiliation. Equally, Madiba's spirit of magnanimity and reconciliation should inspire Palestinians and Israelis to strive for peace and equality, and demand the same of their respective leaders.