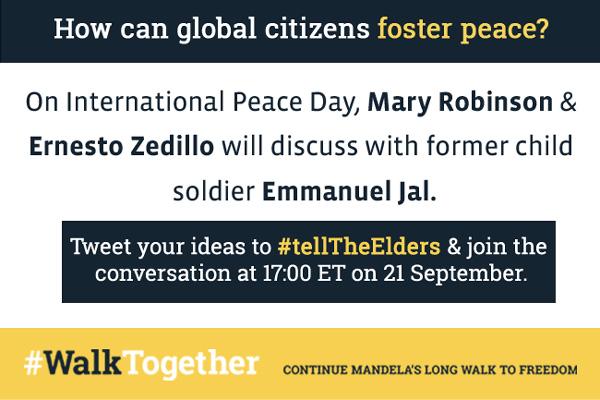 Mary Robinson and Ernesto Zedillo join Emmanuel Jal at "We The Future" to mark the International Day of Peace. Join the conversation by tweeting #tellTheElders and watch the livestream.
On 21 September, The Elders marked International Day of Peace by joining the We the Future event at the TED Theatre in New York.
In the next evolution of the #WalkTogether campaign, Walk to Peace, Mary Robinson and Ernesto Zedillo joined by former Sudanese child soldier Emmanuel Jal to consider why peace is everybody's responsibility and essential to the achievement of all the Sustainable Development Goals.
Moderated by Shamil Idriss, President and CEO of Search for Common Ground, they explored what people – and leaders – can do every day to advance SDG 16: peace, justice and strong institutions.
This conversation culminated an exciting day of discussion amongst innovators and changemakers to promote the acceleration of sustainable development solutions, jointly hosted by the Skoll Foundation, UN Foundation and TED.
Join the conversation by tweeting your ideas to @WalkTogether_ or by using the #tellTheElders hashtag.