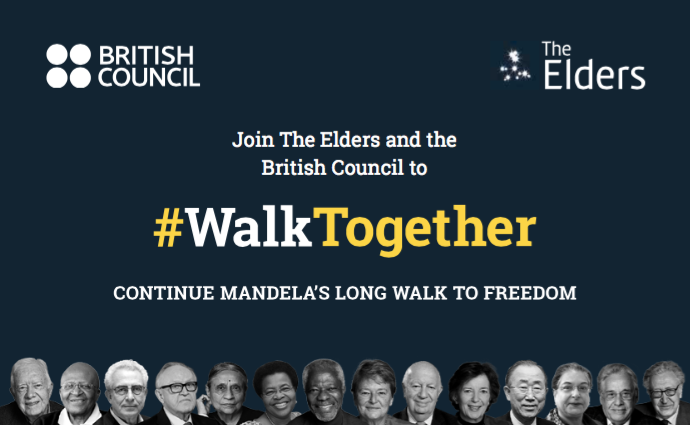 The Elders and emerging policy leaders from the UK and the world will discuss possible pathways to global peace. Watch the livestream and join the conversation by submitting your questions with #WalkTogether
On Monday 23 October, The Elders together with the British Council's #FutureLeadersConnect - a global network for emerging policy leaders from the UK and around the world - will discuss possible pathways to peace in today's complex world.
In a panel discussion with young leaders, Lakhdar Brahimi and Martti Ahtisaari will discuss the steps needed to build peace and bridge the fault lines. Ban Ki-moon and Ernesto Zedillo, will then take part in an intergenerational Q&A session in which they will discuss how youth leaders can lay the groundwork for peace.
If you have ever wanted to ask a global leader about tackling the toughest issues in the world – peace, human rights, or how to build a better future – now is your chance to ask.
Join the conversation at 19.30pm UK (BST) by submitting your question using #WalkTogether and watch the event on Facebook Live.
In the meantime, follow the conversation taking place already on:
Who are the Future Leaders?
Abdullah Bin Shabbir of Pakistan (founder and President of Together We Can Foundation)
Imani Jacqueline Brown of USA (Director of Programs at Antenna and co-founder of Blights Out)
Blessing Omakwu-Soremekun of Nigeria (policy consultant)
Nikki Giant of Wales, UK (founder and director of Full Circle Education)
Diego Mendiburu of Mexico (leader at Factico)
Imru Al Qays Talha Jebril of Morocco (adviser to the High Commissioner for Planning in foresight and intelligence)
Jimmy Paul of Scotland, UK (care expert)
Ayu Kartika Dewi of Indonesia (co-founder of SabanMerauke)
Yomna Akram Kattab of Egypt (senior economist and deputy director of the Macro-fiscal Policy Unit at the Technical office of the Egyptian Minister of Finance)
Jihene Ferchichi of Tunisia (legal consultant in Tunisia and deputy regional director of the International Chamber of Commerce of Paris)