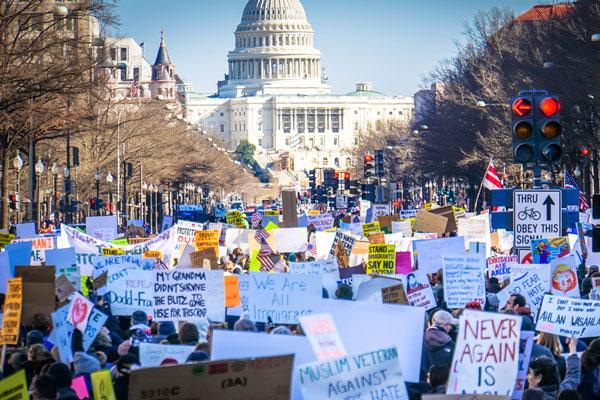 Mary Robinson calls on the international community to agree new ways of managing migration that recognise the realities of our globalised world, respects and protects human dignity, and shares the responsibility and benefits of integrating new migrants in a just and sustainable manner.
"This situation is not sustainable."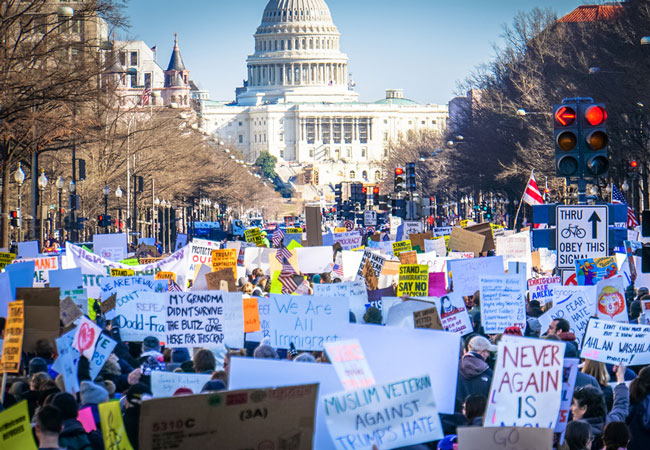 Protest against the Executive Order in Washington DC in February 2017 (Credit: Flickr/Ted Eytan)
One year ago, the world was reeling from the shock Executive Order by the new President of the United States, Donald Trump, to ban Syrian refugees from the country and restrict migration from seven predominantly Muslim countries.
This move flew in the face of proud American traditions of welcoming refugees and migrants and giving them the opportunity to start a new life, prosper and contribute to the country's growth and development.
Even though the initial ban was challenged and blocked by the courts –illustrating the importance of a free and independent judiciary – its influence on the US body politic remains a chilling example of the dangers posed by xenophobic nationalism to our common human values.
The plight of refugees and many migrants, half of them children, remains every bit as desperate, deplorable and shaming in 2018 as it did in 2017. The need for collective action to protect the vulnerable and defend their rights is urgent, as the threat from divisive populists shows no sign of receding.
We all need to remember that refugees and migrants are not a "horde" threatening livelihoods and security. Many "economic migrants" are prosperous professionals who travel via safe, regular and legal routes and are fully integrated into their new societies. But there are many others of course whose path is more perilous, and who are determined to protect and support their families in desperate circumstances.
I saw this for myself last year in Sicily when, together with Kofi Annan and Lakhdar Brahimi, I visited a refugee centre outside the port city of Catania. We met refugees and migrants who had fled war and deprivation, survived treacherous journeys and abuse from traffickers, and now wanted to provide security and stability to their families.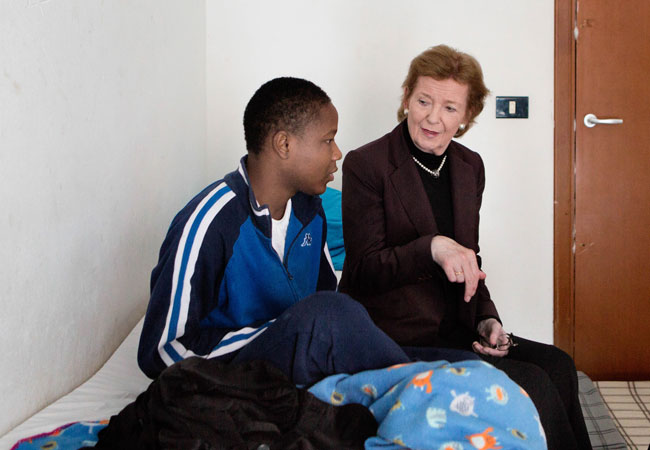 Mary Robinson at the Cara Mineo Refugee Centre (Credit: UNHCR/Alessandro Penso)
But many of them felt they were stuck in limbo due to the restrictions of the European Union's immigration policies: they did not want to stay in Sicily, or even Italy, but were not legally permitted to travel to other countries where family members lived and where jobs were available.
This situation is not sustainable. Migration is set to increase in the coming years, especially as the aggravating effects of climate change such as rising sea levels and extreme temperatures force people from their homes as their traditional livelihoods are no longer possible. The international community needs to agree new ways of managing migration that recognise the realities of our globalised world, respect and protect human dignity, and share the responsibility and benefits of integrating new migrants in a just and sustainable manner. Important work is already being done to answer these questions and develop fair solutions. I warmly welcome the new report on migration issued in January by the United Nations Secretary-General António Guterres, which draws heavily on the work of his Special Representative for International Migration, Louise Arbour.
As the UN Deputy Secretary-General, Amina Mohammed, put it well in a speech on 22 January to a Symposium on the Role of Religion and Faith-Based Organisations on Migration in New York:
"Human beings have moved from place to place since the beginning of time, by choice and under duress, and will continue to do so. Refugees and migrants are not 'others'. They are 'us'. They are as diverse as the human family itself."
The new report is called "Making Migration work for all" and is intended to feed into the broader ongoing work of developing a new Global Compact on Migration, as agreed at a special UN summit in New York in September 2016.
It analyses the global situation with clarity and compassion, and argues that the development of the Global Compact must keep four key considerations in mind:
• The benefits of migration to society as a whole should be maximised
• The rule of law should be strengthened at every level
• Security concerns must be taken seriously
• Migration should never have to be an act of desperation
This new report is an important step towards developing a humane and human rights-focused international approach to managing migration. It complements The Elders' own report, "In Challenge Lies Opportunity", which we issued in September 2016. The international community must now move from words to actions and show bold leadership in 2018 to protect the rights, dignity and security of all refugees and migrants.