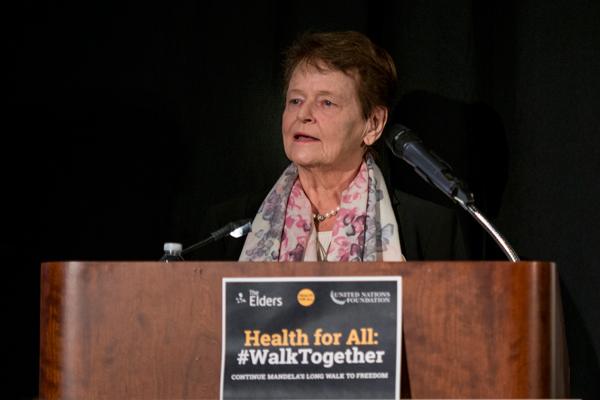 Addressing a historic gathering of policymakers, health professionals and civil society in New York on 8 November, Gro Harlem Brundtland called for progressive leaders to lead the charge and promote policies that bring people together to deliver universal health coverage in the United States.
"I am an optimist and I believe that in the next decade, we will see America make the same transition to a publicly financed health system." –Gro Harlem Brundtland

Gro Harlem Brundtland at #WalkTogether for Health For All in New York in November 2017. (Credit: Andrew Seng)
"Life, liberty and the pursuit of happiness" are the inalienable rights at the heart of the Declaration of Independence of the United States of America. The text is as dear today to the hearts of the American people as it was when Thomas Jefferson first penned his words nearly two and a half centuries ago.
Distinguished guests, ladies and gentleman,
Tonight has been a historic gathering. It represents the first time that the global campaign for Universal Health Coverage has engaged with the domestic campaign for UHC here in the United States. Worldwide, over 1,000 civil society organisations are now members of the UHC Coalition. Yet the momentum and interactions on this critical issue between countries have not included America. Strange, don't you think? Are the needs of the American people for access to health services and financial protection different to people in other countries?
Well, we know this isn't true. As my fellow Elder, Ban Ki-moon, has emphasised, the Sustainable Development Goals, including UHC are in fact, universal. Here in New York, in agreeing to the Sustainable Development Goals, the US Government committed itself to the aspirational aim of giving all of its people access to affordable, high quality healthcare. Given this country's enormous health expenditure and its wealth, it is extraordinary that 28 million Americans still lack health insurance and 10.5 million were pushed into poverty last year due to medical expenses.
It is therefore about time that the global health community stands with health activists here in America. We are here to walk together with you, the dedicated US healthcare professionals, patient advocates and health activists, as you strive to close the coverage gaps. I hope tonight's event marks the start of our successful collaboration on the walk to health for all in the United States.
Today is a step forward. But we recognise that many battles lie on the road ahead. They will require courage and determination. As Elders, we are committed to speak out and hold up the voices of the courageous moral leaders here today. We encourage you – activists, healthcare professionals and citizens – to speak out, get involved and demand the right to healthcare everywhere.
Tonight, you have heard from policymakers, from community health workers and dedicated health professionals, letting it be known that health for all is achievable. This means world class health care can and should be available to ALL. Superb services, like those here at Bellevue Hospital, should be readily available to ALL citizens, no matter the country in which they live or the amount of money they have.
As a former Prime Minister, a medical doctor and a former WHO Director General, I am honoured to share a platform with political leaders fighting for UHC. Because experience has shown that Universal Health Coverage is as much a political issue as it is a technical one.
We have seen over the decades that as countries get richer they spend more money on health. That's what their populations demand. But another transition also takes place, which sees countries switching from a private financing system, where only the rich get services, to a public system where everyone gets the care they need. This latter transition is a political process, usually led by progressive politicians responding to direct pressure from citizens.
Great political leaders recognise the importance of Universal Health Coverage, not only in improving the health of their people, but also in stimulating economic growth and reducing inequalities in society. This leadership has been demonstrated by many American Presidents in the last century who have tried to extend health care benefits to cover more of the American people. These leaders include: President Truman in the 1940s, President Johnson in the 1960s, President Nixon and our fellow Elder, President Carter in the 1970s. More recently President Obama's health reforms represented a major milestone in America's journey towards UHC, when his Affordable Care Act made health insurance compulsory. I am sure when the history books are written President Obama's contribution to UHC in America will be seen to be immense.
Of course I and my fellow Elders are fully aware that health care debates in the United States are fraught with tension and divisiveness.The tide has turned in the White House over the last 12 months. President Trump seems intent on dismantling his predecessor's reforms, through successive executive orders, including a halt on federal funding to provide health insurance coverage for nine million vulnerable children. Denying health care to poor children to help fund tax cuts for the rich is not what we would expect of a compassionate society.
This is not the time to emphasise and reinforce divisions in American society. Now is the time for progressive leaders to fight back and promote policies that bring people together and recognise that if we are to advance as a global community, we cannot leave anyone behind. That is why we are walking together for health for all. UHC is a policy decision proven to build social justice across the world.
I am an optimist and I believe that in the next decade, we will see America make the same transition to a publicly financed health system. We commend the national and state-level leaders campaigning on this issue. This includes politicians here in New York State who have inspired us here tonight. Other states including California, Ohio, Colorado, and Vermont are witnessing attempts to bring publicly-financed UHC at a state level. We urge them, with the state of New York, to lead the way for the country. There should be no excuse for vested interests to regain the initiative and block progress.
The Elders encourage you – the political leaders, the dedicated healthcare professionals, the mothers and citizens of this great nation, to join forces and fight for a universal health coverage system that will benefit all Americans. Not only will this right an injustice that denies 28 million Americans access to healthcare, it will also help inspire other countries to reach this goal.
When you leave here today, we hope you will join us as we walk together for health for all people. For two years The Elders have been campaigning for Universal Health Coverage. We will not cease until this growing movement realizes its ambition. So let this be one of many steps on the walk towards achieving UHC and a positive step towards the celebration of UHC Day on the 12th of December. Join us, as we Walk Together for the freedom for health for all people, everywhere.