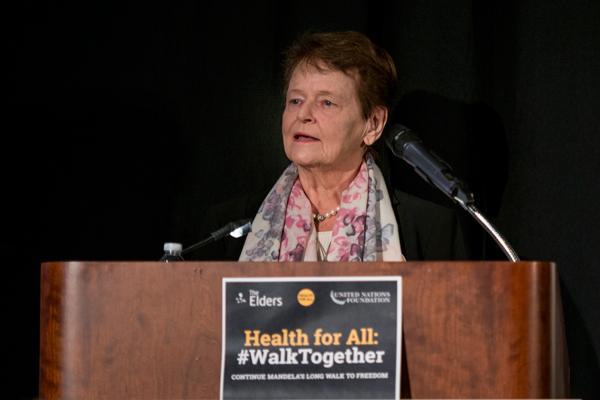 In this article for WAN-INFRA, Martti Ahtisaari and Lakhdar Brahimi explore the recent 'Arab Spring' and the positive outcomes for freedom of expression the peoples' revolutions will bring.
Everyone in the Arab world, including its present leaders, recognise that major change is needed, is urgent and cannot be resisted much longer. The courage of the young people campaigning across the region for their political and economic rights, and perhaps above all for their dignity, has won widespread admiration all over the world.
The change achieved so far in Egypt and Tunisia is fragile but promising; most importantly, it has given millions of people hope. Desmond Tutu, our chair, embraced the spirit and method of the protest movement in a Twitter message: "Brothers & sisters of #Egypt, you have given the world the most precious gift: the belief that ultimately right will prevail." He seemed to strike a chord – the message was re-tweeted by thousands of people.
The young in Egypt and Tunisia are still mobilised. They see that their achievements, though remarkable, are far from complete. Many, perhaps most of them, consider that if the old order has gone, a new, better one is still struggling to firmly establish itself.
They have been shocked, for example, by the court martial and three-year imprisonment of an Egyptian blogger for his criticisms of the military. They are rightly disturbed by reports of arrests, disappearances and torture of fellow activists since the transitional government, led by the Supreme Military Council, was formed. They see that websites reporting such incidents are being blocked and old laws are being used to try to silence critics.
A culture of accountability will not be achieved overnight, despite the detention of former President Mubarak and high profile corruption cases against several ministers. Some journalists have acknowledged that under current circumstances, the old habit of self-censorship has not disappeared completely.
What happens in Egypt matters. The country has traditionally played a leading role both in the Arab world and in Africa. People are looking to Cairo to steer this wind of change in the right direction. The broad popular effort to establish a truly representative government, if allowed to run its course effectively, will liberate strong forces for the rebuilding of Egypt itself and send a powerful signal throughout the region.
Already it is clear that the wave of demand for real, not cosmetic, change is being resisted through the use of excessive, unacceptable force in Yemen, Libya and Syria. In Bahrain, legitimate demands for freedom and equality have led to dangerous regional tensions.
In the longer term, the impact of the Arab Spring will be hard to contain. Indeed, it is already clear that an important outcome of the peoples' revolutions will be an irreversible gain in freedom of expression – for ordinary citizens and the media. New media ventures are already springing up and we hope there are more.
Greater access to information and engagement by ordinary people in decisions affecting their lives is essential to resolving their underlying sources of grievance including unemployment and inequality. The growing demand for justice should energise international efforts to achieve, at long last, a just resolution to the Israeli-Palestinian conflict.
As we have seen repeatedly throughout the world, censorship and control of information serves the interest of the privileged few; the rule of law is negatively affected, human rights ignored and impunity and corruption unchecked.
In contrast, a free, diverse and responsible media promotes transparency and accountability, informs public debate and helps to ensure governments address the concerns and aspirations of all citizens.
There is no room for complacency.
National constitutions and international treaties may guarantee freedom of expression but the reality on the ground is often different. Millions of people around the world live in countries where the flow of information is tightly controlled, censorship is routine and freedom of expression discouraged or worse. Restrictive defamation laws preventing criticism are all too common.
This is still largely true in the Middle East and North Africa. One recent survey suggests that three out of four people in the region live without any free press at all – and only one in 20 enjoys access to completely free media.
In the latest Press Freedom Index from Reporters without Borders, only Lebanon figures in the top 80 countries. In contrast, Iran, Syria and Yemen all feature in the bottom ten.
Repressive regimes everywhere are finding it much harder to control the flow of information. Where security forces have tried to close down the internet, people are often quick to find ways around the censors. The economy needs the internet too; regimes are learning that shutting down the web affects the entire country.
This does not mean that expressing views through the new media is without risk. Bloggers, campaigners and journalists have been identified and targeted through social media. They have been victims of intimidation, assaults, arrests and even killings. We should all speak out about these abuses, call for the immediate release of those jailed and demand that countries pay more than lip service to the freedom of expression they have guaranteed.
World Press Freedom Day provides us with the opportunity to reflect on the importance of a free media in fulfilling ambitions of humankind for a fairer world. We need to redouble our efforts to deliver its protections and benefits for everyone who shares our planet.